Shark Tank Season 13 Episode 20 brings a product designed to keep your cat stimulated; a product used for potty-training; an entrepreneur presents his measuring tool for cutting hair; an inclusive product line providing aid to minor injuries.
Season 13 Episode 20 in depth
Guest sharks this season include Emma Grede, CEO and co-founder of Good American and founding partner of Skims; actor and comedian Kevin Hart; Peter Jones, dragon on Dragons' Den; Daniel Lubetzky, founder and executive chairman of Kind; and Nirav Tolia, co-founder of Nextdoor.
You may also like
Shark Tank Season Episodes
Follow the green, not the dream.

Mark Cuban
We listed below every entrepreneur and business who has appeared on Shark Tank Season 13 Episode 20. Many scammers claim they've received big investments from the Sharks or they have been on the show. They were not actually on Shark Tank if you don't see a business on this list. Some of the top places you can use to check are on Wikipedia and also ABC's episode guide.
List with all the appearances in season 13 episode 20:
---
Shark Tank Air Date: 04/15/22 – Season 13 – Episode 20
Cat Amazing – Feeding puzzle toys for cats
| | | |
| --- | --- | --- |
| ASKED FOR | GOT | SHARK |
| $200,000 for 10% | $200,000 for 22% equity, with 5% from each share for shelter cats | Lori Greiner |
Entrepreneurs: Andrey Grigoryev
If you're looking for the perfect cat toy to keep your furry friend entertained, then look no further than the Cat Amazing Classic Cat Puzzle Feeder! This interactive enrichment toy is designed to stimulate and engage cats of all ages. The unique puzzle box encourages cats to hunt and problem-solve in order to access their treats, providing hours of mental stimulation and reward.
This food maze for indoor cats is easy to assemble and use – simply fill it with your cat's favorite treats or kibble, twist the adjustable dial, and watch as your feline friend attempts to locate their reward! With its adjustable difficulty levels, this best cat toy ever can be tailored specifically for each individual pet. Plus, it helps prevent boredom and destructive behavior by engaging cats in a healthy activity that keeps them occupied for hours on end.
The interactive treat maze is an incredible form of exercise for your cat. This fun and stimulating toy will provide hours of entertainment while encouraging them to stay active. Professional pet owners and veterinarians highly recommend the treat maze as a great way to keep cats entertained, engaged, and energized.
The maze allows cats to use their natural hunting skills as they search for hidden treats or toys inside the labyrinth of tunnels. Cats must focus intensely on finding the food or toy, helping them remain mentally stimulated while also building up their strength with physical exercise. As they circle, spring, and hunt through the maze, both their physical and mental wellbeing are improved.
This amazing toy offers an innovative way for cats to stay healthy and active – providing more than just basic playtime activities such as chasing a laser pointer or batting at a wand toy. Cat Amazing's feeder toy is an ideal choice for cats of all ages and sizes. Not only does it provide hours of entertainment and fun, but it's also eco-friendly too – made from 100% recycled materials!
---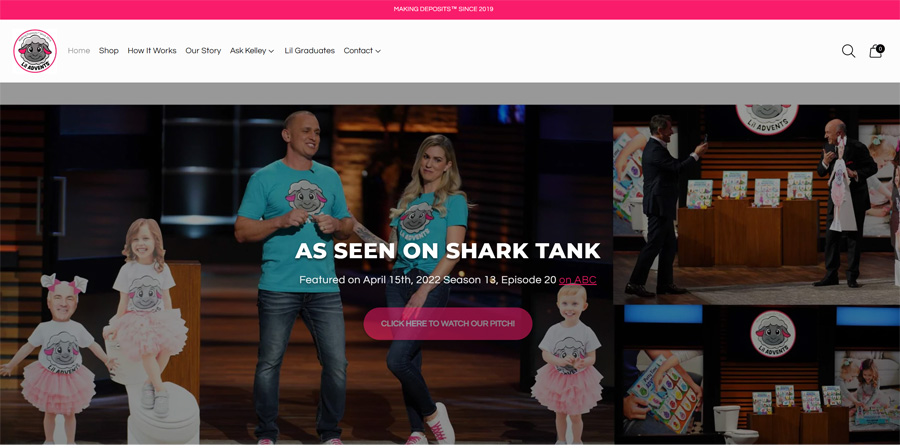 Lil Advents – Potty training chart and advent game
| | | |
| --- | --- | --- |
| ASKED FOR | GOT | SHARK |
| $300,000 for 15% | NO DEAL | NO SHARK |
Entrepreneurs: Mindy Wright and Brandon Wright
Lil Advents Potty Time Adventures is a fun and educational potty training tool designed to make toilet training an adventure. As seen on Shark Tank, this potty time game is sure to excite your kids as they embark on their journey of mastering the bathroom.
The wooden blocks come in various colors and can be used for stackable games, as well as serving other imaginative purposes like pretend play. The blocks are made from eco-friendly materials and provide a safe, non-toxic playing alternative for kids. With Lil Advents Potty Time Adventures, you won't only be teaching your children the importance of proper hygiene but also helping them develop their creative thinking skills through play.
Lil Advents is a brand new product that combines potty training and an advent game into one fun activity. Parents can use Lil Advents to help their children learn proper potty habits while also enjoying the excitement of an advent game. Each Lil Advent contains 14 cards, activity board, shape stickers, themed stickers, & sticker of completion badge that show appropriate bathroom behavior, such as going to the bathroom at regular intervals, washing hands after using the restroom and more. With each successful attempt, your child can open a card in order to reveal fun treats or rewards as part of their very own holiday countdown!
These cards are designed with vibrant colors and easy-to-understand images so even young children can follow along without any confusion. Plus, each card has an added surprise so kids will be motivated to keep up their good habits!
---
HairFin – Hair Cutting Tool
| | | |
| --- | --- | --- |
| ASKED FOR | GOT | SHARK |
| $25,000 for 20% | $25,000 for 30% | Daymond John |
Entrepreneurs: Tony Litwinowicz
HairFin is a revolutionary hair cutting tool that makes it easier for the average person to cut their own hair. The device features patented technology that uses ultrasonic waves to quickly and safely trim hair at home. HairFin is designed to provide an easy and affordable solution for people who want salon-quality haircuts without the hassle of going to a professional stylist.
HairFin works by attaching onto any standard clipper blade, giving users access to an advanced level of precision and control over their hairstyle. Each device contains two different types of blades – one for wet cuts and one for dry cuts – allowing users to customize their look with ease. With its innovative design, HairFin makes it simple for anyone to achieve perfect results every time they use it. Additionally, its ergonomic shape offers comfortable handling during use, ensuring maximum comfort while styling your hair.
The revolutionary HairFin Haircut Tool Kit, Set of 3 is something you'll want to get your hands on if you're looking for the perfect cut. This made-in-USA product was recently featured on Shark Tank and has been making waves ever since. The set of 3 includes 2, 3, and 4 hair cutting guides that can help create precise lines and even length for a professional look. Whether you're a seasoned barber or a DIY hair trimmer, these tools are easy to use and offer precise results every time.
Using the HairFin kit is easy – just attach it to any pair of scissors or clippers with the adjustable fin clips, then adjust the guide knob until it fits snugly against your head. Follow up by trimming or clipping along with the guides to ensure an even cut that looks great every time.
---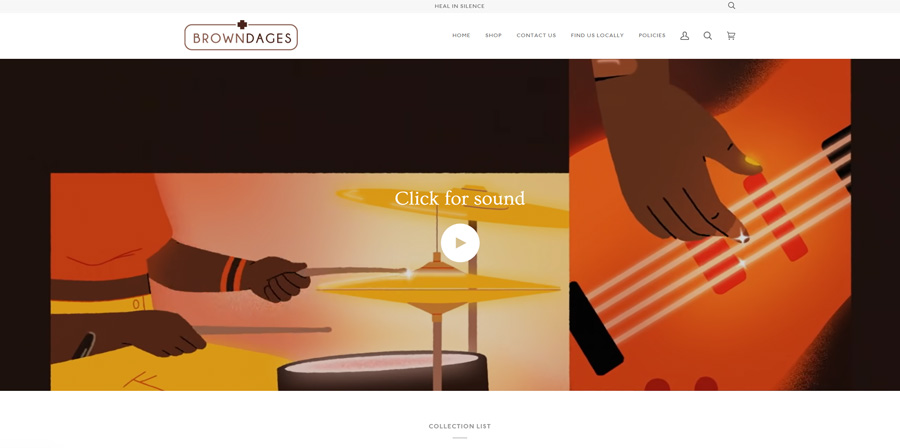 Browndages – Skin Tone Bandages
| | | |
| --- | --- | --- |
| ASKED FOR | GOT | SHARK |
| $75,000 for 7.5% | $100,000 for 25% equity + a $75,000 line of credit | Mark Cuban, Daymond John, and Lori Greiner |
Entrepreneurs: Intisar Bashir and Rashid Mahdi
The color of bandages has been a problem for many families. For some, the traditional white color didn't match the shades of different family members' skin tones. That is until Browndages came along and solved the problem!
Browndages are bandages designed to blend in with various skin tones. They come in a variety of colors, from light to dark, allowing people of all backgrounds to find a bandage that works for them. Additionally, Browndages are made with high-quality materials that make them extremely durable and long-lasting. With their innovative design and quality construction, Browndages have quickly become the go-to choice for those looking for a bandage that matches their own unique skin tone.
Browndages, a small business specializing in clothing and accessories, is making headlines in the world of business. This unique store recently won the FedEx Small Business Grant in 2021 and is now expanding its product range to include pajamas, first aid kits, hats and children's books. Since its founding a few years ago, Browndages has been known for its quality products at affordable prices. Now with its selection of new items as well as a grant from FedEx, Browndages is poised to make an even bigger impact on customers' lives.
The addition of pajamas, first aid kits and more will give customers more ways to express themselves through their wardrobe choices. With these new items ranging from trendy to classic styles, shoppers can find something that suits their individual fashion sense.
---
More from Shark Tank
Recommended
Watch full episodes of shark tank online with Amazon Video
Summary
Executive producer Mark Burnett and Sony Pictures TV and bring another season of the business-themed reality show Shark Tank where major investors, aka "sharks" pitch business ideas from contestants. The show is based on the Japanese reality show "Dragon's Den."