Shark Tank season 11 episode 12 introduces an entrepreneur from Redondo Beach, California, who presents to the Sharks his healthy coconut beverage. A husband and wife duo from Eagle, Indiana, present their unique twist to a typical household item, while entrepreneurs from Los Angeles, California, hope the Sharks will invest in their food allergy prevention system for babies. Finally, an entrepreneur from Erie, Colorado, pitches his healthy snack product line using an ancient grain.
Season 11 Episode 12 in depth
---
In season 11 guest sharks are Katrina Lake, founder and CEO of Stitch Fix; tennis player Maria Sharapova, Daniel Lubetzky, founder and CEO of Kind; and Anne Wojcicki, CEO and co-founder of 23andMe. Matt Higgins and Rohan Oza are the recurring Sharks this season.
In this season 11 episode 12, the guest judge is Rohan Oza.
Rohan Oza
Rohan Oza is an American businessman, investor, and marketing expert behind several large brands.
At age 20, Oza starts his career as the manufacturing manager behind Mars' M&M's, and then later became the youngest manager to run the Snickers brand.
Source: Wikipedia
After working for Mars, Oza began a career at The Coca-Cola Company where he revived the Powerade and Sprite brands using innovative methods.
Oza became a partner in Vitamin Water, after resigning from Coca-Cola in 2002, doing business as Glacéau, whose sales at the time hovered around $25 million.
You may also like
Shark Tank Season 8
What does it take to be a successful entrepreneur? It takes willingness to learn, to be able to focus, to absorb information, and to always realize that business is a 24/7 job where someone is always out there to kick your ass.

Mark Cuban
We listed below every entrepreneur and business who has appeared on Shark Tank Season 11 Episode 12. Many scammers claim they've received big investments from the Sharks or they have been on the show. If you don't see a business on this list, they were not actually on Shark Tank. Some of the top places you can use to check are on Wikipedia and also ABC's episode guide.
List with all the appearances in season 11 episode 12:
---
Shark Tank Air Date: 01/19/20 – Season 11 – Episode 12
Ready, Set, Food! Allergen Introduction for Babies
| | | |
| --- | --- | --- |
| ASKED FOR | GOT | SHARK |
| $350,000 for 7% | $350,000 for 10% | Mark Cuban |
Entrepreneurs: Katie Marks-Cogan, Andrew Leitner, and Daniel Zakowski
For the development of Ready, Set, Food! helped an all-star team of physicians, and was advised by leading experts in allergy research
Ready, Set, Food! for your baby is used as a daily supplement that gently introduces egg, peanut, and milk. These are the three most common childhood food allergens. The risk of developing allergies reduce by up to 80%, using this approach, according to studies that have and helps our system makes it easy. Simply add to your baby's breast milk, food starting or formula, a packet of Ready, Set, Food! between 4-11 months of age. Continue the process for the next 6 months or until these foods became regularly in the diet your baby is eating.
In May 2018 Ready, Set, Food! was founded by Daniel Zakowski and Dr. Andrew Leitner. The reason for this was Dr. Leitner's son and Zakowski's nephew, Abe, suffered an allergic reaction to peanut butter.
They learned that Abe was also allergic to eggs and dairy, after further testing.
---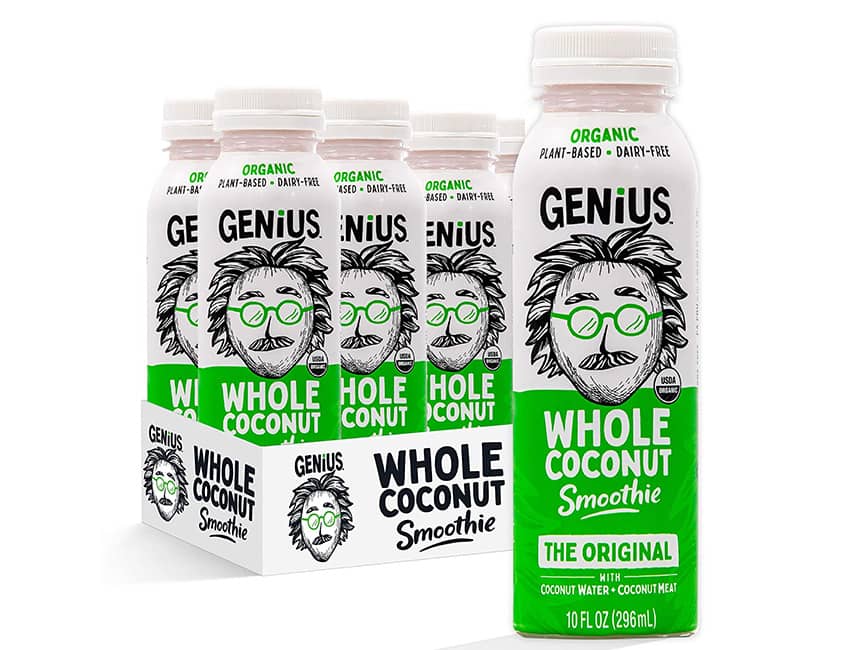 Genius Juice Coconut Smoothies
| | | |
| --- | --- | --- |
| ASKED FOR | GOT | SHARK |
| $250,000 for 7% | $500,000 for 25% | Mark Cuban and Barbara Corcoran |
Entrepreneurs: Alex Bayer
'Genius' is a source of organic, fresh, young Thai coconuts, called 'Nam Hom' coconuts. They extract the coconut water and the coconut meat and blend the two together to make a creamy, delicious & filling organic coconut smoothie.
Coconut Meat and Coconut Water are the 2 base Ingredients it is made from and no stabilizers, no gums, no preservatives and no added sugars are used.
Genius Juice smoothies are non-GMO, gluten-free, USDA Organic, and soy-free. They have more fiber and potassium than the leading coconut water drink and are vegan certified.
They are rich in electrolytes, potassium, MCT's (medium-chain triglycerides) and good fats. BevNet named them 'Smoothie of the Year. They sustainably source their coconuts from Thailand and have a zero-waste, eco-friendly mission.
---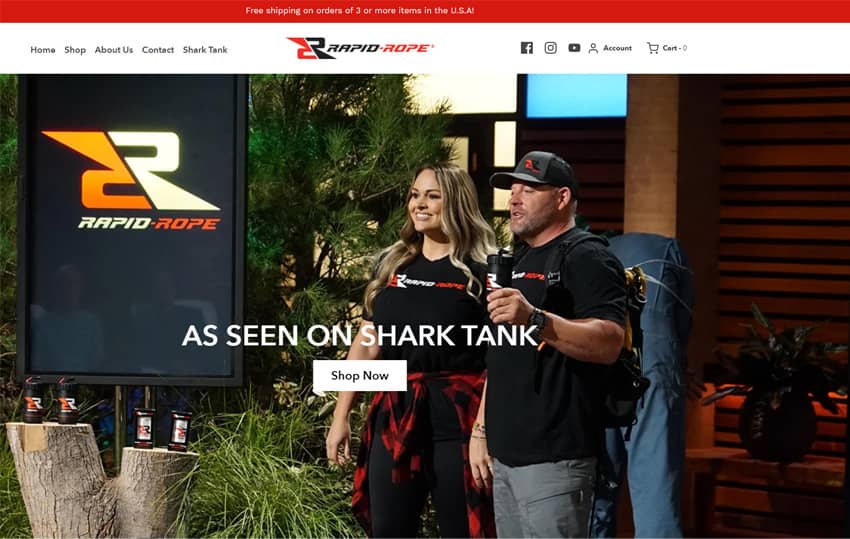 Rapid Rope Dispenser
| | | |
| --- | --- | --- |
| ASKED FOR | GOT | SHARK |
| $200,000 for 20% | $200,000 for 30% | Barbara Corcoran |
Entrepreneurs: Geanie Rodgers and Chris Rodgers
The strength and durability of this rope will amaze you with its 1100 lbs Ultimate Tensile Strength Tying knots with this rope is even better you imagine.
When you need rope, this is a compact and convenient way to store and access it! The Rapid Rope canister contains 120 feet of flat commercial-grade poly rope and it is shatterproof and weather-resistant.
Ready at all times, Rapid Rope has a cut insert and it is simple just by wrapping the rope around the cut insert and pull, cutting the rope. This way you can tackle any job and pull the desired length of rope.
Rapid Rope CEO Chris Rodgers said, "This opportunity and exposure on a national platform will really help take us places we couldn't have imagined. Input from the Shark Tank advisors and experience gained from our pitch time will carry us into an exciting 2020!"
---
Ka-Pop Whole Grain Snacks
| | | |
| --- | --- | --- |
| ASKED FOR | GOT | SHARK |
| $350,000 for 5% | NO DEAL | NO SHARK |
Entrepreneurs: Dustin Finkel
A small family start-up out of Colorado founded Ka-Pop based on their simple belief that clean and healthy snacks shouldn't compromise on authenticity, taste, or joy.
Shark Tank Season 11 Episode 12 introduced Dustin Finkel who is a health enthusiast, a CrossFit instructor and a nutrition counselor is the founder and CEO and Christina, his wife is Chief Marketing Officer.
What pushed them to come up with this product was that there are no healthy chips and the ones available were high in calories and bad fats and, they didn't taste all that good.
Produced with leading sustainability practices, Ka-Pop! Chips use only non-GMO, 100% USA-grown sorghum. Their healthy chips never have any artificial colors, flavors or sweeteners. They never use any wheat, corn, rice, or potatoes in our products. 100% Plant-Based and Paleo-Friendly!
---
More from Shark Tank
Recommended
Watch full episodes of shark tank online with Amazon Video
Summary
---
Executive producer Mark Burnett and Sony Pictures TV and bring another season of the business-themed reality show Shark Tank where major investors, aka "sharks" pitch business ideas from contestants. The show is based on the Japanese reality show "Dragon's Den."