Shark Tank season 11 episode 24 introduces businesses that help babies sleep through the night; a personalized body care brand; favorite comfort food plant-based alternative; a new and stylish version of outdoor comfortable accessory.
Season 11 Episode 24 in depth
---
In season 11 guest sharks are tennis player Maria Sharapova; Katrina Lake, founder and CEO of Stitch Fix; Daniel Lubetzky, founder and CEO of Kind; and Anne Wojcicki, CEO and co-founder of 23andMe. Matt Higgins and Rohan Oza are the recurring Sharks this season.
In this season 11 episode 24, the guest judge is Daniel Lubetzky.
Daniel Lubetzky
Daniel Lubetzky (born 1968) is a Mexican-American billionaire businessman, founder of snack company Kind LLC, philanthropist, author, and executive chairman.
To counteract the food industry's influence on public health and food policy, he launched in 2017 a public advocacy organization called Feed the Truth.
He joined the Anti-Defamation League's Inaugural Board of Directors in 2019.
Source: Wikipedia
You may also like
Shark Tank Season 8
"Nobody has a monopoly on good ideas."

Kevin O'Leary
We listed below every entrepreneur and business who has appeared on Shark Tank Season 11 Episode 24. Received big investments from the Sharks or they have been on the show are some of the many scammers' claims. If you don't see a business on this list, they were not actually on Shark Tank. ABC's episode guide and on Wikipedia are some of the top places you can use to check.
List with all the appearances in season 11 episode 24:
---
Shark Tank Air Date: 05/15/20 – Season 11 – Episode 24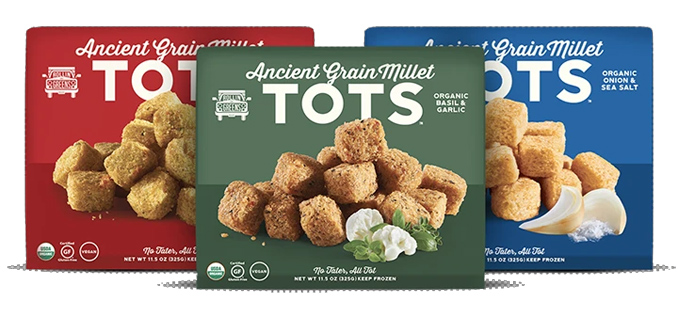 RollinGreens Plant Based Wings and Tots
| | | |
| --- | --- | --- |
| ASKED FOR | GOT | SHARK |
| $500,000 for 10% | $500,000 for 20% | Robert Herhavec |
Entrepreneurs: Ryan Cunningham and Lindsay Cunningham
In this season 11 episode 24 of Shark Tank, chef Ryan Cunningham and his wife Lindsey present their "healthier" plant-based alternative comfort food called RollinGreens Millet Tots.
The idea for this product goes way back to 1980 when Ryan's mom and dad ran a food truck in Boulder called Rolling Greens. Thirty years later, Ryan Cunningham, who is a trained chef and his wife Lindsey decided to reborn Ryan's parents' idea and reopen the truck and serve the Boulder community again. After a few years in this adventure, they made the decision to close the truck and change the business model.
And here is when they began selling Rollin Greens Millet Tots online. Ryan uses his mom's old recipe to make the tots and the millet is an ancient grain that grows in their native Colorado state. Another name you can find them is cauliflower "chicken wings."
The Crispy Cauliflower Wings also come in three flavors: Teriyaki, Spicy and Sweet Mustard.
---
Dreamland Baby Weighted Blanket
| | | |
| --- | --- | --- |
| ASKED FOR | GOT | SHARK |
| $100,000 for 10% | $100,000 for 22.5% | Lori Greiner |
Entrepreneurs: Tara Williams
What inspired the idea for Dreamland weighted baby blanket product developed by Tara Williams was her husband Rob's need for sleep. Tara researched the Internet hoping to find weighted blankets for babies, but what she found was only for older kids, adults, or pets – dogs and cats.
Tara teamed with Ron's mother, who is a seamstress and together they came up with the wearable weighted blanket. This blanket is made of 100% soft, natural cotton which helps to regulate the overall temperature of the fabric. To make it easy for access when a diaper needs to be changed was added a two-way zipper.
This baby-weighted blanket helps babies sleep better and longer whether during a daytime nap or the night. Dreamland partnered with NICU nurses, pediatricians, and certified sleep consults to design the Dreamland Baby's wearable weighted blankets.
Dreamland Baby is Safety Certified, has exceeded all United States Consumer Product Safety Commission standards
---
| | | |
| --- | --- | --- |
| ASKED FOR | GOT | SHARK |
| $60,000 for 10% | $60,000 for 20% | Mark Cuban |
The Mad Optimist Soap and Bath Products
Entrepreneurs: Anthony Duncan, Mohamed A. and Mohamed M. Mahdi
The Mad Optimist company was started by three best friends whose business is centered around community, kindness, transparency and equality. Their products are always 100% vegan and halal, all-natural, cruelty-free, and sustainably sourced.
Mohammed M. Mahdi, his brother Mohammed A. Mahdi, and their friend, Anthony Duncan formed the company in 2012 with just a soaps line selling in retail locations in the Midwest such as Fresh Thyme, Whole Foods, Marsh, and Lucky's.
In 2016 they launched a Kickstarter campaign which was unfortunately unsuccessful but this didn't stop them. They launched a full line of body care products, from lip balms, body mists and bath soaks to soaps and shampoo bars. Their products are created by using only non-GMO ingredients, high-quality, plant-based, and essential oils.
---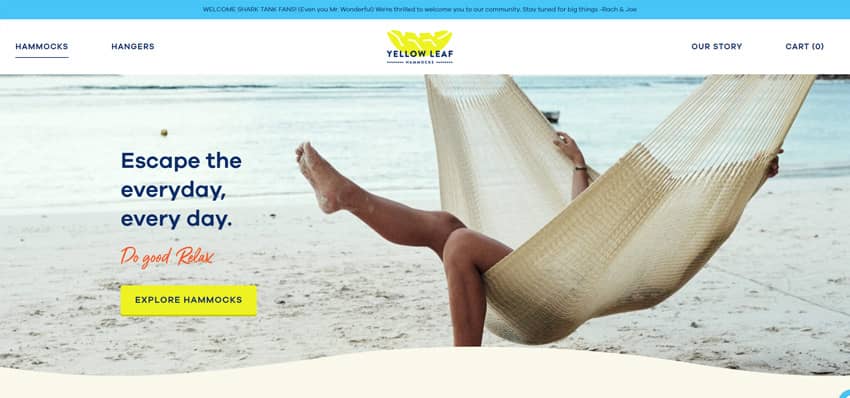 Yellow Leaf Hammocks
| | | |
| --- | --- | --- |
| ASKED FOR | GOT | SHARK |
| $400,000 for 7% | $1 MILLION for 25% | Daniel Lubetsky |
Entrepreneurs: Joe Demin and Rachel Connors
Yellow Leaf Hammocks is based in California and it was established in 2011 and benefits the Mlabri people of Northern Thailand through the sale of their hammocks. During his trip to Thailand, Joe Demin met with a tribe of women and their craftsmanship and the idea was born. When he got back home he wanted to help the tribe and their community.
And the idea was born and they started distributing durable, 100% hand-woven hammocks and provide sustainable economic opportunities for the people who make them.
Their Signature hammock comes in two sizes: king and double. You can use it to sit with the Hanging Chair hammock or if you want to change it just stretch out in it. If you want more customer design you can definitely do that with the help of the Yellow Leaf Hammocks design team.
---
More from Shark Tank
Recommended
---
Full episodes of Shark Tank are available online with Amazon Video
Summary
---
Executive producer Mark Burnett and Sony Pictures TV and bring another season of the business-themed reality show Shark Tank where major investors, aka "sharks" pitch business ideas from contestants. The show is based on the Japanese reality show "Dragon's Den."