Shark Tank Season 12 Episode 4 introduces a healthy alternative to salt; a spring-loaded cake stand; an entertaining approach to the tried-and-true carving knives often used during holidays; a product designed to attach a cellphone to almost any surface.
Season 12 Episode 4 in depth
Guest sharks this season include Blake Mycoskie, founder of TOMS and co-founder of Madefor, and Kendra Scott, founder and CEO of Kendra Scott LLC. Returning guest Sharks include Alex Rodriguez, baseball player and founder and CEO of A-Rod Corp, and Daniel Lubetzky, founder and executive chairman of Kind.
You may also like
Shark Tank Season 8
If people haven't laughed at your dreams, then you aren't dreaming big enough, just keep pushing forward.

Daymond John
We listed below every entrepreneur and business who has appeared on Shark Tank Season 12 Episode 4. Many scammers claim they've received big investments from the Sharks or they have been on the show. They were not actually on Shark Tank if you don't see a business on this list. Some of the top places you can use to check are on Wikipedia and also ABC's episode guide.
List with all the appearances in season 12 episode 4:
---
Shark Tank Air Date: 11/06/20 – Season 12 – Episode 4
Jada Spices
| | | |
| --- | --- | --- |
| ASKED FOR | GOT | SHARK |
| $250,000 for 20% | $250,000 for 33% | Barbara Corcoran |
Entrepreneurs: Dr.Khasha Touloei and Maynard Okereke
On Shark Tank Season 12 Episode 4, Dr. Khasha Touloei and Maynard Okereke pitched their business Jada Spices and their vegan chicken salts. Their products are also GMO-free, soy-free and Kosher certified. There are currently five varieties available: Turmeric Salt, Plant-Based Chicken Mix, Plant-Based Porkless Mix, and Plant-Based Mediterranean Chicken Mix.
Their product is a healthy alternative to the seasoning table salt. They also into the development of their plant-based chicken. The flavor of the salts and tastes of the plant-based chicken are really impressive. They also have good margins as the chicken salt flavor sells for $8.99 on Amazon and $4.99 in stores while it cost $0.80 to make. 
They have pretty good sales numbers and according to them in 2019 they had sold $319,000 worth of chicken salt while in 2020 they continue to grow and almost double their sales. In the end, Dr.Khasha Touloei and Maynard Okereke accepted an offer from Barbara Corcoran for a 33% stake in their business.
---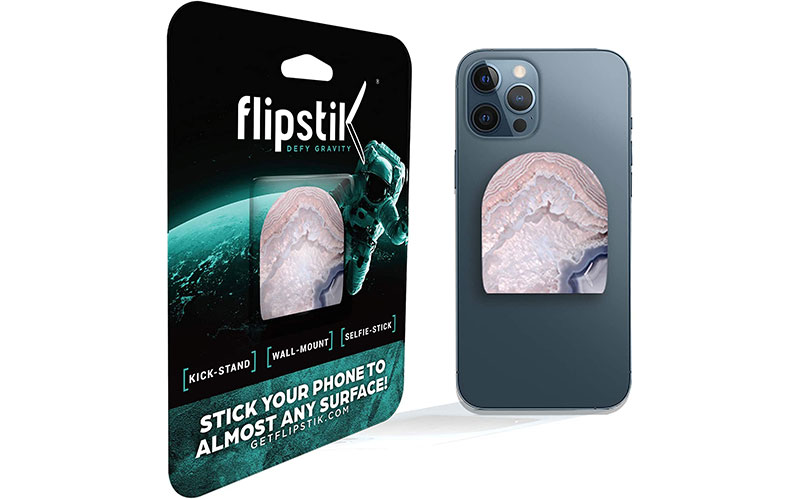 Flipstik
| | | |
| --- | --- | --- |
| ASKED FOR | GOT | SHARK |
| $100,000 for 20% | $100,000 for 25% | Lori Greiner |
Entrepreneurs: Akeem Shannon
Akeem Shannon introduced to the sharks the Flipstik – a thin device that attaches to the back of your phone, and it is compatible with different phones. The adhesive is also reusable and can stick to almost any surface. If it gets dirty simply wash the adhesive or use alcohol pads, and reuse it. It holds up to 2 lbs of weight.
Flipstik was born after a successful Kickstarter campaign where Akeem Shannon set a goal of only $1,865 which was reached within 24 hours. He ended up raising over $10000 and in the middle of 2018, his company was born. In 2019 a CES Retail Pitch competition held by TechStars nominated Flipstik for 1st Place.
Akeem got the idea for reusable adhesives from his uncle, a NASA engineer. Before bringing his idea to life, Akeem worked as a salesperson for different mobile companies. In the last two and half years, he had only sold $115,000 in sales. Although he has great margins where he is selling anywhere from $15-30 while it cost him only $0.58 cents to manufacture.
This attracted the sharks and Akeem Shannon decided to go with Lori Greiner and accepted her offer for 25% of his company.
---
The Mighty Carver – Electric Carving Knife
| | | |
| --- | --- | --- |
| ASKED FOR | GOT | SHARK |
| $100,000 for 20% | $100,000 for 25% | Daymond John |
Entrepreneurs: Lance Burney and Kim Burney
Founders Lance and Kim Burney presented the Mighty Carver to the sharks in Season 12 Episode 4. They are the creators who transformed the electric carving knife into a chainsaw. Their product the Mighty Carver is an electric knife that can be used to cut your bread, Thanksgiving turkey, meat and more. 
With dual stainless steel blades and a carving fork, the Mighty Carver can be used on almost any food including fruit and vegetables. The Mighty Carver had generated around $200,000 in sales in the past 12 months. The husband and wife started the company back in 2016.
Kim and Lance accepted a deal from Daymond for a $100,000 investment for 25% equity in their company.
---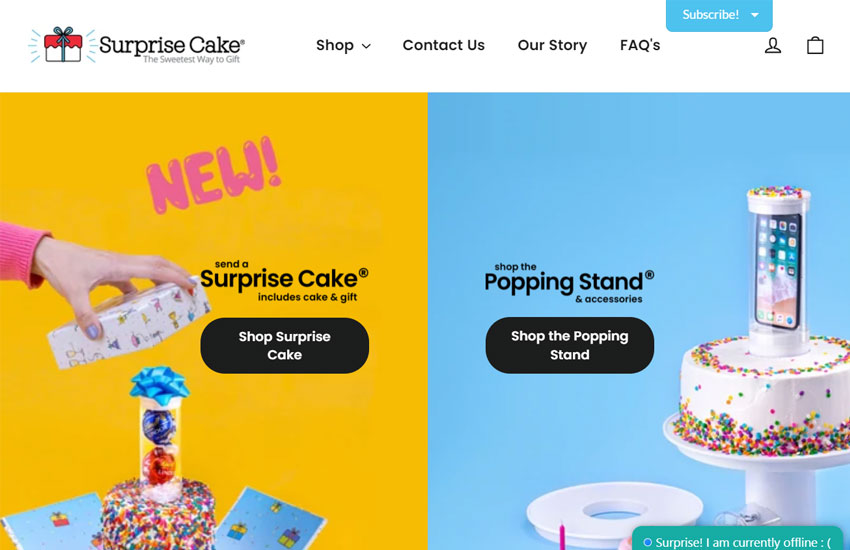 Surprise Cake – Popping Cake Stand
| | | |
| --- | --- | --- |
| ASKED FOR | GOT | SHARK |
| $200,000 for 8% | NO DEAL | NO SHARK |
Entrepreneurs: Jordan Long and Liz Charm
Mother and son entrepreneurs Liz Charm and Jordan Long from Newton, Massachusetts entered the Shark Tank with their product Surprise Cake. It's a little tube that is hidden in the cake stand and it can hold candies, gifts, and whatever else you can hide inside the cake and when triggered can show up out the top of the cake.
This reusable 2-in-1 Popping Stand can fit cakes up to 10″ in diameter and 6″ tall or 18 standard-sized cupcakes. Surprise Cake can be purchased from their website and from Amazon.
Despite the fact that no deal was made at the show after the company was featured on Shark Tank, the sales spiked significantly raised reaching revenue of one million dollars in 2020. 
---
More from Shark Tank
Recommended
Watch full episodes of shark tank online with Amazon Video
---
Summary
Executive producer Mark Burnett and Sony Pictures TV and bring another season of the business-themed reality show Shark Tank where major investors, aka "sharks" pitch business ideas from contestants. The show is based on the Japanese reality show "Dragon's Den."