Shark Tank season 5 episode 29 introduces reusable storage box; reinvented cookware; an iPad app that measures foot sizes; a solution to tying water balloons; follow-ups on past entrepreneurs.
Season 5 Episode 29 in depth
---
John Paul Mitchell Systems co-founder John Paul DeJoria and New York Giants owner Steve Tisch appeared as guest sharks this season.
In season 5 episode 29, there is no guest judge.
You may also like
Shark Tank Season 8
Forget about perfection; it doesn't exist.

Barbara Corcoran
We listed below every entrepreneur and business who has appeared on Shark Tank Season 5 Episode 29. Many scammers claim they've received big investments from the Sharks or they have been on the show. They were not actually on Shark Tank if you don't see a business on this list. Some of the top places you can use to check are on Wikipedia and also ABC's episode guide.
List with all the appearances in season 5 episode 29:
---
Shark Tank Air Date: 05/16/14 – Season 5 – Episode 29
Tie-Not – Water Balloon Tool
| | | |
| --- | --- | --- |
| ASKED FOR | GOT | SHARK |
| $125,000 for 10% | NO DEAL | NO SHARK |
Entrepreneurs: Wayne Sikorcin and Scott Smith
Tie-Not is a simple solution to an age-old problem: how to quickly and easily tie water balloons without spilling. With Tie-Not, the kids can tie their own water balloons, and without wasting any more precious playtime than necessary! The patented design of Tie-Not allows anyone to seal their water balloons shut with a quick spin. The package includes a special filling nozzle, a knot-tying device, and some balloons to get you started! Made in the USA from recycled materials, this is a must-have accessory for a fun summer!
The entrepreneurs behind the Tie-Not Water Balloon products are Wayne Sikorcin and Scott Smith. Simply fill the water balloon with water, flip it around a little cylinder, and slip the balloon off the hose. In seconds, you have a water balloon that is entirely self-contained!
---
BZBox – Flat Folding Storage Box
| | | |
| --- | --- | --- |
| ASKED FOR | GOT | SHARK |
| $50,000 for 20% | $50,000 for 40% | Lori Greiner |
Entrepreneurs: Kaeya Majmunder
BZBox is a collapsible storage box designed for ease of use. BZBox pops open with one movement and collapses flat again just as easily. BZBox is sturdier and more versatile than the typical cardboard box.
BZbox is the most durable, eye-catching and easy to use storage box out there. Perfect for organizing and cutting down on clutter, the BZbox adds fun and functionality to your space!
---
Baker's Edge – Kitchen Innovations
| | | |
| --- | --- | --- |
| ASKED FOR | GOT | SHARK |
| $400,000 for 20% | NO DEAL | NO SHARK |
Entrepreneurs: Matthew and Emily Griffin
Baker's Edge brings you the award-winning Edge Brownie Pan, which adds two chewy edges to every brownie in the pan! The patented design has one continuous chamber but much more edge than traditional pans. It also circulates air towards the center, which usually takes longer to bake, creating more even results throughout the pan.
Of course, there's more, as the founding duo behind this brownie pan hasn't rested on their laurels since launching the Edge Brownie Pan in 2006. On Shark Tank, they also introduced their Better Muffin Pan, which reconfigures the 12 muffin cups into a new space-saving and mess-preventing arrangement. It won't add more edges to your muffins, but it does allow for more muffins to fit in your oven, and that alone makes it a win.
The Edge Brownie Pan has quickly become a best-seller – and has garnered rave reviews from bakers everywhere. The Edge Brownie Pan is 100% made in the USA, and each pan comes complete with a flexible nylon spatula and a brownie recipes insert.
---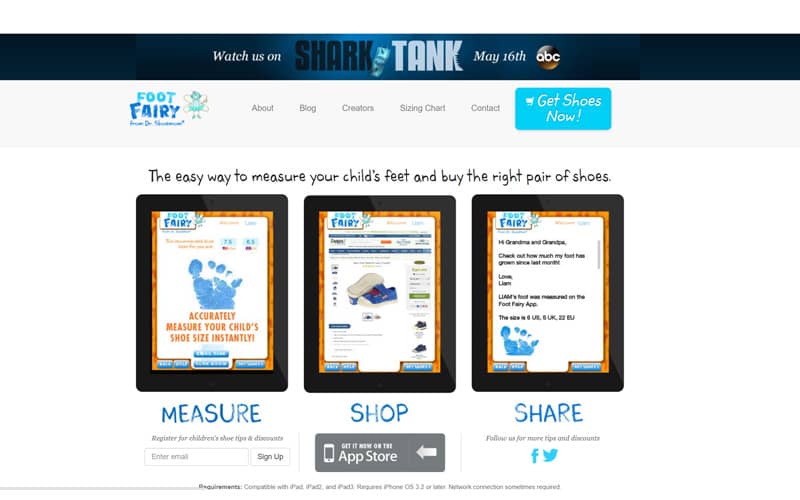 Foot Fairy – Easily Find Shoe Sizes
| | | |
| --- | --- | --- |
| ASKED FOR | GOT | SHARK |
| $75,000 for 15% | $100,000 for 40% | Mark Cuban |
Entrepreneurs: Sylvie Shapiro and Nicole Brooks
Foot Fairy is a free iPad app that effortlessly measures a child's feet, then connects them to an online store to easily find shoes that fit.
The idea is to skip the painful trip to the shoe store and buy shoes from home online. To use the application, take the ipad, take your child's foot and place it against the iPad surface, wait for the chime, and the application will have determined your child's shoe size.
The company website is no longer up, and the app is no longer available on iTunes.
Status: OUT OF BUSINESS
---
More from Shark Tank
Recommended
Watch full episodes of shark tank online with Amazon Video
Summary
---
Executive producer Mark Burnett and Sony Pictures TV and bring another season of the business-themed reality show Shark Tank where major investors, aka "sharks" pitch business ideas from contestants. The show is based on the Japanese reality show "Dragon's Den."