Shark Tank season 11 episode 19 introduces businesses such as an entrepreneur from Madison, Wisconsin, goes all in on his state's staple food. Can best friends from Los Angeles, California, convince the Sharks to invest in their energy product which keeps people awake and alert on the go? Moms from Evanston, Illinois, try to sell the Sharks on the business of slime with their play-driven environment for kids. Finally, a family of entrepreneurs from Okarche, Oklahoma, pitch their garden product designed to keep homes pest-free without risking harm to those inside.
Season 11 Episode 19 in depth
---
In season 11 guest sharks are Katrina Lake, founder and CEO of Stitch Fix; tennis player Maria Sharapova, Daniel Lubetzky, founder and CEO of Kind; and Anne Wojcicki, CEO and co-founder of 23andMe. Matt Higgins and Rohan Oza are the recurring Sharks this season.
In this season 11 episode 19, the guest judge is Daniel Lubetzky.
Daniel Lubetzky
Daniel Lubetzky (born 1968) is a Mexican-American billionaire businessman, author, philanthropist, and executive chairman and founder of snack company Kind LLC.
To counteract the food industry's influence on public health and food policy, he launched in 2017 a public advocacy organization called Feed the Truth.
He joined the Anti-Defamation League's Inaugural Board of Directors in 2019.
Source: Wikipedia
You may also like
Shark Tank Season 8
People want to do business with someone they like. If people like you, they're going to want to do business with you. And if they don't, you're going to have an almost insurmountable obstacle to overcome.

Barbara Corcoran
We listed below every entrepreneur and business who has appeared on Shark Tank Season 11 Episode 19. Received big investments from the Sharks or they have been on the show are some of the many scammers' claims. If you don't see a business on this list, they were not actually on Shark Tank. ABC's episode guide and Wikipedia are some of the top places where you can check.
List with all the appearances in season 11 episode 19:
---
Shark Tank Air Date: 04/10/20 – Season 11 – Episode 19
Just The Cheese Snack Bars
| | | |
| --- | --- | --- |
| ASKED FOR | GOT | SHARK |
| $500,000 for 5% | NO DEAL | NO SHARK |
Entrepreneurs: David Scharfman
Just The Cheese Snack Bars are all-natural crunchy, yummy and delicious baked cheese snacks. The low-carb snack is gluten-free and only 75 calories per bar, use no artificial flavors, are perfect for on-the-go snacking.
Scharfman and his wife get into digital marketing to sell products online and take over other protein snacks such as beef jerky.
The company said, Just the Cheese was redeveloped in 2017. It's now the No. 1 cheese snack on Amazon and projecting to get into store chains across the U.S.
Just the Cheese is baked into mini bites and bars from 100 percent Wisconsin cheese. Their "Just the Cheese Bars Crunchy Baked Low Carb Bars" have over 4,000 reviews at 4.7 stars out of 5 on Amazon.com.
---
First Saturday Lime Insect Repellent
| | | |
| --- | --- | --- |
| ASKED FOR | GOT | SHARK |
| $100,000 for 10% | $100,000 for 25% + funding of all purchase orders | Kevin O'Leary |
Entrepreneurs: Zac McDaniel, Jana McDaniel, & Jessica Jacobs
The company was created around the idea of a healthy alternative to pesticides. Their bestselling product is their insect repellent, which comes in a 20 or 5 lb. monthly supply.
The product is produced by using a non-caustic lime and limestone solution which is tough enough to get rid of those pesky bugs, but still diluted enough to be safe for humans and pets.
This product is First Saturday is a patent-pending, eco-friendly insect repellent and antimicrobial that is lab proven and field-tested to powerfully repel unwanted bugs. Certified laboratory testing shows that First Saturday is effective at repelling invasive insects without the toxic chemicals that can harm people, animals and our eco-system.
You can use it in animal bedding by applying as an antimicrobial for lice, mites, and odor causing bacteria, as well as it can be used for repelling gnats, ticks, ants, garden pests, fleas, wood-boring insects, biting bugs, and more.
---
Neuro Energy Gum
| | | |
| --- | --- | --- |
| ASKED FOR | GOT | SHARK |
| $750,000 for 5% | NO DEAL | NO SHARK |
Entrepreneurs: Ken Yoshimura and Ryan Chen
Neuro Energy & Focus is specially formulated with natural caffeine, L-theanine, and B-vitamins to sustain the mental endurance necessary to stay focused.
A patented cold-compression method is used by Neuro to combine the ingredients. In the production process, nothing gets broken downenhancing the bioavailability for cleaner, more effective absorption.
The founders of Neuro Energy Gum are Kent Yoshimura and Ryan Chen who met at the University of California.
The idea behind this product is clean and balanced energy to challenge the minds and bodies to the maximum capacity.
---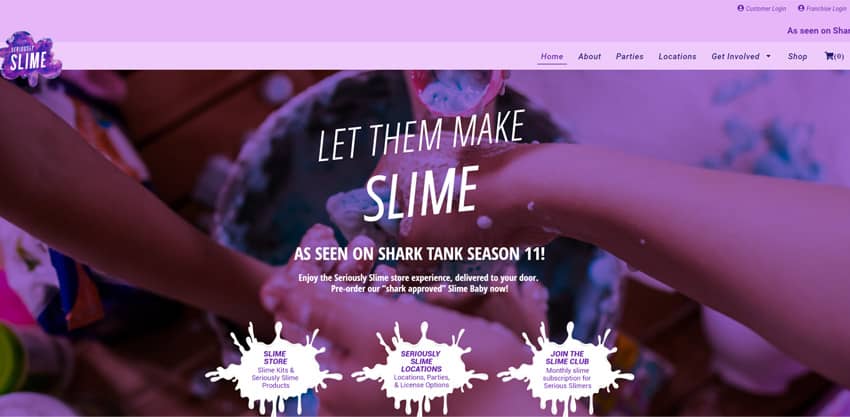 Seriously Slime
| | | |
| --- | --- | --- |
| ASKED FOR | GOT | SHARK |
| $90,000 for 15% | NO DEAL | NO SHARK |
Entrepreneurs: Shannon Valko and Sarah McDermott
Seriously Slime on Shark Tank is a company that saves the big mess parents hate and let kids play with slime. The founders of Seriously Slime are Shannon Valko and Sarah McDermott.
Sarah and Shannon tested out their product by hosting slime workshops, which later give them the idea of hosting slime parties.
All kits come with shaving cream, storage bowls, glue, stirrers, activator, foam beads, glitter, 2 scents, model magic, 3 colors, snow, charms. Also includes slime game instructions, a video link, and a seriously slime birthday banner.
Seriously Slime is just one of the Illinois based companies to appear on Shark Tank. Other companies from Illinois include men's cleaning product Dude Wipes, student loan repayment app ChangEd, lighting device LuminAID, and home rental startup Rent Like a Champion.
---
More from Shark Tank
Recommended
Watch full episodes of shark tank online with Amazon Video
Summary
---
Executive producer Mark Burnett and Sony Pictures TV and bring another season of the business-themed reality show Shark Tank where major investors, aka "sharks" pitch business ideas from contestants. The show is based on the Japanese reality show "Dragon's Den."