Shark Tank Season 13 Episode 3 brings a learning platform to empower students to reach their creative potential through art; an oat-based spread; a boozy spin on a wedding day essential; a fun and edible innovation designed to reduce single-use plastics; guest shark Daniel Lubetzky.
Season 13 Episode 3 in depth
Guest sharks this season include Emma Grede, CEO and co-founder of Good American and founding partner of Skims; actor and comedian Kevin Hart; Peter Jones, dragon on Dragons' Den; Daniel Lubetzky, founder and executive chairman of Kind; and Nirav Tolia, co-founder of Nextdoor.
You may also like
Shark Tank Season Episodes
You can always find a solution if you try hard enough.

Lori Greiner
We listed below every entrepreneur and business who has appeared on Shark Tank Season 13 Episode 3. Many scammers claim they've received big investments from the Sharks or they have been on the show. They were not actually on Shark Tank if you don't see a business on this list. Some of the top places you can use to check are on Wikipedia and also ABC's episode guide.
List with all the appearances in season 13 episode 3:
---
Shark Tank Air Date: 10/22/21 – Season 13 – Episode 3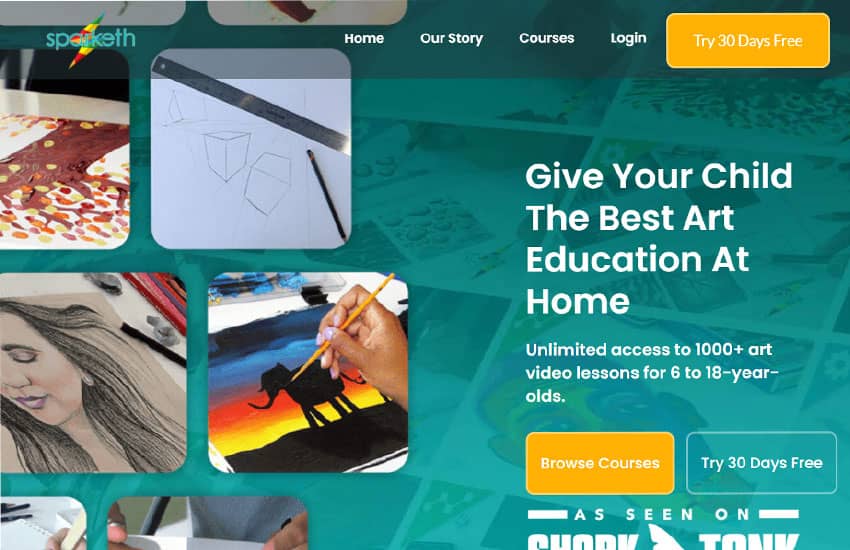 Sparketh – Online Art Courses
| | | |
| --- | --- | --- |
| ASKED FOR | GOT | SHARK |
| $100,000 For 8% | $100,000 For 20% Contingent On Making A Profit Within 6 Months | Barbara Corcoran And Daniel Lubetzky |
Entrepreneurs: Tim Samuel and Dwayne Walker
Tim Samuel and Dwayne Walker are the founders of a learning platform called Sparketh. The platform is designed for kids and teens from ages 6 to 19 to develop their creative potential through art. There are over 1000 art lessons for kids accessible online via the platform Sparketh.
In 2015 the founders launched Sparketh with just $500. According to Walker and Samuel they did $300,000 in sales in 2020. In 2021 they are on track to bring $500,000, although their subscribers are typically not staying for longer than one year.
Unfortunately the platform is not profitable yet and Tim Samuel and Dwayne Walker say they'll use the money to create more content and build a better website. Sparketh is using a monthly subscription model although you have one month free trial to test the platform and then the monthly cost is $25, or you can subscribe for a whole year and pay $250 saving $50.
---
IncrEdible Spoons
| | | |
| --- | --- | --- |
| ASKED FOR | GOT | SHARK |
| $500,000 For 7% | $500,000 For 12% | Lori Greiner |
Entrepreneurs: Dinesh Tadepalli
IncrEdible Eats is founded by Dinesh Tadepalli who moved from India to United States to get a Master's Degree in Electrical Engineering. IncrEdible Spoons is the company's first product – a line of edible cutlery.
Their goal is this edible spoon "designed to reduce single-use plastics in an effort to help preserve the world's oceans." The company had sold prior its air on Shark Tank only $170,000. After its appearance on the show sold $50 00 in preorders.
Incredible Eats spoons are made to be low-calorie from a mix of oats, chickpeas, corn, wheat, and brown rice, and has two flavors – chocolate and vanilla. These edible spoons can be used with cold food or warm / hot food such as soup.
According to Dinesh Tadepalli vision, soon will be available edible chopsticks and straws, a new version of their spoon. Unfortunately for some people the spoons are 10-20x more expensive than plastic spoons. IncrEdible Spoons are priced at packs of 15 for $11.99. They are also available for wholesale.
---
Flasky Flowers
| | | |
| --- | --- | --- |
| ASKED FOR | GOT | SHARK |
| $50,000 For 10% | $75,000 For 30% | Kevin O'Leary, Mark Cuban, And Lori Greiner |
Entrepreneurs: Ryan and Kelly Moynihan
Flasky Flowers from Shark Tank Season 13 Episode 3 is a startup company founded by the couple Ryan and Kelly Moynihan. You can create a unique or very traditional flower arrangement with this refillable 12 ounce flask. Live or artificial flowers can be used with Flasky Flower and placed in the bouquet holder, then the reservoir is filled with the drink of your choice and can be accessed with a hidden flexible straw.
Although the couple didn't have impressive sales, only $21,000 in sales, their impressed the Sharks with their product margins. These flower and drinks bouquets only cost $1.77 to make but are priced at $25 for one or $62.99 for a pack of 4.
The product is 100% made in the USA and the Flasky can be ordered with either their exclusive dry foam sphere made for artificial flowers or wet foam for a genuine flower arrangement. Their primary sale channel is through their website although they have an Etsy store. After their appearance on Shark Tank they sold out in 15 minutes.
---
Granola Butter from Oat Haus
| | | |
| --- | --- | --- |
| ASKED FOR | GOT | SHARK |
| $375,000 For 5% | NO DEAL | NO SHARK |
Entrepreneurs: Eric Katz, Ali Bonar, and Ari Shaer
Granola Butter from Oat Haus is created by the couple Eric Katz and Ali Bonar and their friend Ari Schraer. Ali created Granola Butter during her recovery process from disordered eating. This butter spread can be used on a sandwich or for baking. The Granola Butter is low in sugar and nut-free which is perfect for those with allergic reactions. It is made from granola and oats, and it comes in six flavors, including cinnamon, chocolate, blueberry, strawberry, pumpkin and vanilla.
Ali has a background as a B.S. in Nutrition. The company was founded in 2018 and also have a strong group of affiliate supporters – over 3000. It sales the products across several states in at health and wellness retail stores. On their website they also sells gift cards and branded apparel.
They sell it for $9-$12.95 on their website, while the costs to make a jar of Granola Butter is $3.25. Although the Oat Haus company shows impressive sales with $2.7 million in sales since its launch in March 2018, they didn't close any deal with the Sharks.
---
More from Shark Tank
Recommended
Watch full episodes of shark tank online with Amazon Video
Summary
Executive producer Mark Burnett and Sony Pictures TV and bring another season of the business-themed reality show Shark Tank where major investors, aka "sharks" pitch business ideas from contestants. The show is based on the Japanese reality show "Dragon's Den."