In Shark Tank Season 13 Episode 2 entrepreneurs from Chattanooga, Tennessee, introduce their one-of-a-kind custom song service to the Sharks. Entrepreneurs from Sacramento, California, pitch their work-from-home product. A proper sibling duo from Austin, Texas, presents their meal service that does not require refrigeration. Siblings from Seabrook, New Hampshire, pitch their apparel company focused on helping clean the world's oceans. Guest Shark Peter Jones brings his expertise from across the pond into the Tank.
Season 13 Episode 2 in depth
Guest sharks this season include Emma Grede, CEO and co-founder of Good American and founding partner of Skims; actor and comedian Kevin Hart; Peter Jones, dragon on Dragons' Den; Daniel Lubetzky, founder and executive chairman of Kind; and Nirav Tolia, co-founder of Nextdoor.
You may also like
Shark Tank Season 8
I consider rejection a lucky charm.

Barbara Corcoran
We listed below every entrepreneur and business who has appeared on Shark Tank Season 13 Episode 2. Many scammers claim they've received big investments from the Sharks or they have been on the show. They were not actually on Shark Tank if you don't see a business on this list. Some of the top places you can use to check are on Wikipedia and also ABC's episode guide.
List with all the appearances in season 13 episode 2:
---
Shark Tank Air Date: 10/15/21 – Season 13 – Episode 2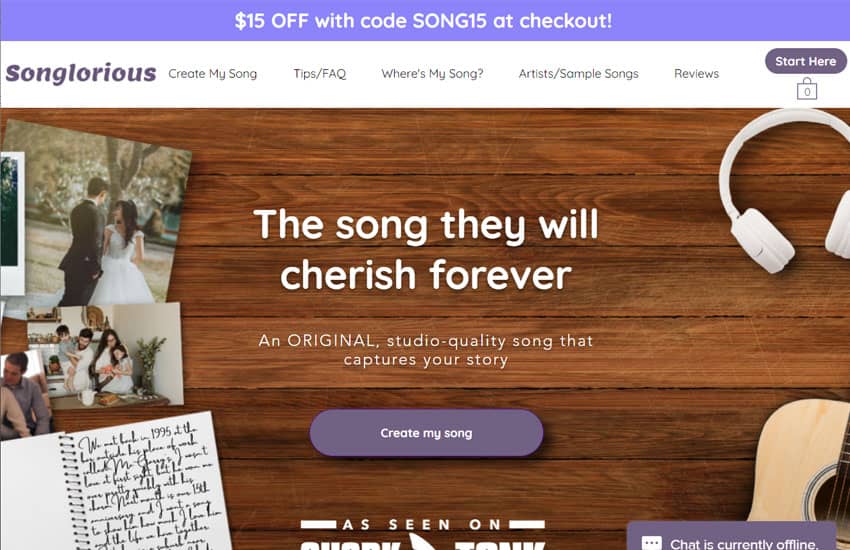 Songlorious – Send a Personalized Song
| | | |
| --- | --- | --- |
| ASKED FOR | GOT | SHARK |
| $400,000 For 10% | $500,000 For 40% | Mark Cuban, Daymond John, Kevin O'Leary And Peter Jones |
Entrepreneurs: Ellen Hodges And Omayya Atout
Songlorious is an online music company that creates custom songs. It is owned and operated by musician co-founders and husband and wife, Omayya Atout and Ellen Hodges based in Chattanooga, Tennessee. The company started in June 2020, after the duo quit their jobs and started Songlorious.
In the initial weeks of the site launch, they received more than a hundred orders and later expanded to include independent artists and currently they have approximately 120. The artists are allowed to maintain the rights to the songs they create by Songlorious.
They offer different prices ranging from $45 for an acoustic 30-second song to a full song at a price of $200+. The process of song creation involves the user picking details such as genre, mood and length of the song. Based on the preferences of the user the musicians collaborate to create a personalized song.
---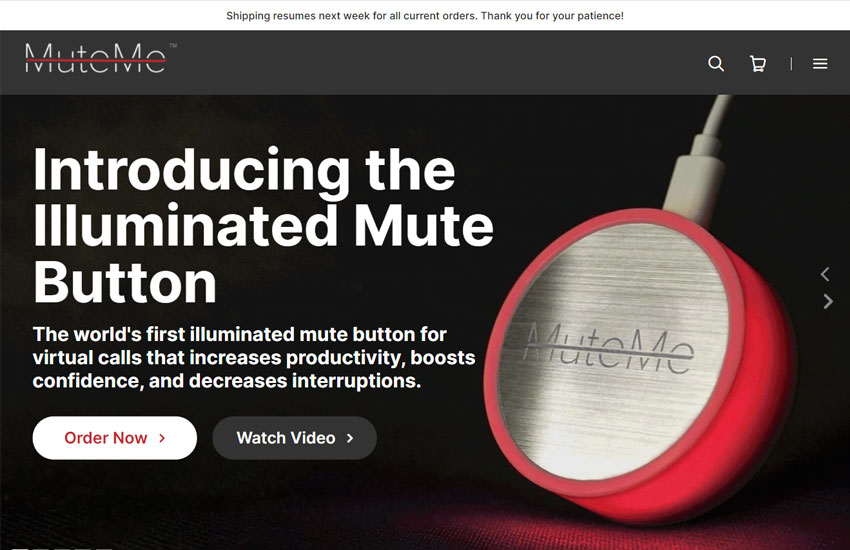 MuteMe
| | | |
| --- | --- | --- |
| ASKED FOR | GOT | SHARK |
| $200,000 For 10% | Offer Rescinded | NO SHARK |
Entrepreneurs: Parm Dhoot And Tye Davis
Parm Dhoot and Tye Davis, two entrepreneurs from Sacramento, California, presented to the Sharks their work-at-home product, MuteMe. This is the "first illuminated button that stays in sync with your video conferencing" which increases productivity by decreasing interruptions.
MuteMe works and stays in sync with many video conferencing tools including Webex, Skype, Teams, Zoom, Google Meet. You can quickly mute and unmute yourself, and choose from four different effects and eight different colors. The concept is very simple – you plug it into your computer and mute your microphone when touched. It is very easy to use and the visual lighting confirmation to red let you know that you are muted.
MuteMe adds push-to-talk to any video call and by simple tap allows you to push-to-talk or push-to-mute. Unfortunately, the Sharks were not impressed with their idea and were not able to close a deal in Shark Tank.
---
Proper Good
| | | |
| --- | --- | --- |
| ASKED FOR | GOT | SHARK |
| $400,000 For 10% | $400,000 For 20% | Mark Cuban |
Entrepreneurs: Christopher Jane and Jennifer Jane
Christopher Jaane and Jennifer Jaane, founders of the healthy ready-made meals company Proper Good. They impressed the Sharks in season 13 episode 2 of Shark Tank with their Net Worth estimated at $950,000.
Proper Good is using clean and healthy ingredients in ready-to-eat meals and are low in sodium, no added sugar, made with coconut milk and turmeric. Their soup is ready-to-eat right away or heated in 90 seconds in the microwave and eaten hot.
Proper Good, offers also many vegan options and an inexpensive subscription service to a box of 12 about $72 which makes each meal cost about $5.99. There is no need to refrigerate as the meals have an 8-month shelf life.
Although their impressive sales numbers, starting in April 2020, they've made about $556,000 in sales, while in the first half of 2021, they've already done $1 million in sales, Christopher and Jennifer Jane reveal that they aren't profitable yet and that they are losing about $80,000 a month. One of the main reasons is that the costs of acquiring customers are pretty high.
---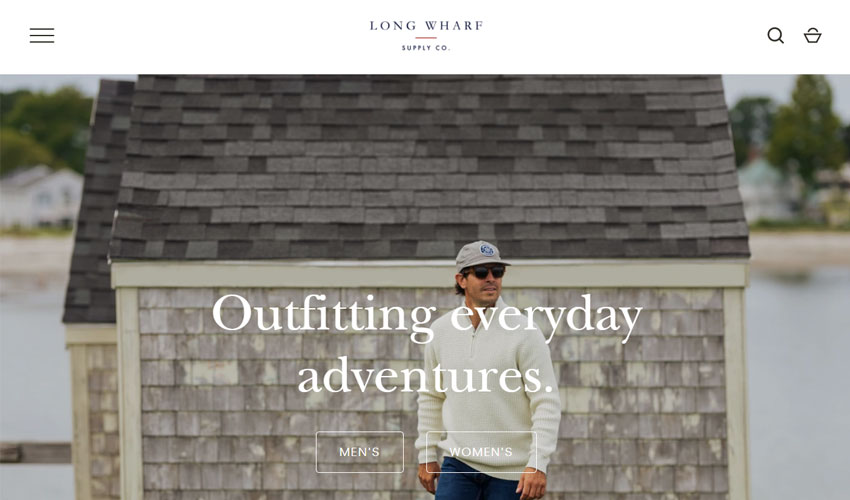 Long Wharf
| | | |
| --- | --- | --- |
| ASKED FOR | GOT | SHARK |
| $375,000 For 15% | Offer Rejected | NO SHARK |
Entrepreneurs: Lauren Lamagna and Mike Lamagna
Lauren Lamagna and Mike Lamagna founded the clothing company Long Wharf focused on creating sustainable clothing from mixing recycled plastic with crushed Oyster shells. The siblings created the Long Wharf company back in 2016, but just recently they start selling sweaters. Although they sold almost $500,000 in sweaters the price and the customer acquisition cost are quite high.
The company makes the sweaters for $22.50 to $33.50 and sells them for about $128 to $158. Long Wharf also supports projects for general sea-life monitoring and preservation projects.
Millions of pounds of oyster shells are discarded and end up in landfills every year turning toxic over time while contributing to global waste. Every sweater they sold directly reseeds coastal oyster reefs and so far they helped reseed over 70,000 oysters which naturally filter 3.5 million gallons of seawater every day.
---
More from Shark Tank
Recommended
Watch full episodes of shark tank online with Amazon Video
Summary
Executive producer Mark Burnett and Sony Pictures TV and bring another season of the business-themed reality show Shark Tank where major investors, aka "sharks" pitch business ideas from contestants. The show is based on the Japanese reality show "Dragon's Den."