Shark Tank Season 13 Episode 5 An entrepreneur from Denver, Colorado, presents her online wedding planning service. Another native Denver, Colorado, introduces her laundry gadget that prevents bedding from tangling; an entrepreneur from New Rochelle, New York, pitches his way to avoid early morning meetings. A kidpreneur from Lansdowne, Pennsylvania, showcases his trendy clothing brand.
Season 13 Episode 5 in depth
Guest sharks this season include Emma Grede, CEO and co-founder of Good American and founding partner of Skims; actor and comedian Kevin Hart; Peter Jones, dragon on Dragons' Den; Daniel Lubetzky, founder and executive chairman of Kind; and Nirav Tolia, co-founder of Nextdoor.
You may also like
Shark Tank Season Episodes
The joy is in the getting there. The beginning years of starting your business, the camaraderie when you're in the pit together, are the best years of your life.

Barbara Corcoran
We listed below every entrepreneur and business who has appeared on Shark Tank Season 13 Episode 5. Many scammers claim they've received big investments from the Sharks or they have been on the show. They were not actually on Shark Tank if you don't see a business on this list. Some of the top places you can use to check are on Wikipedia and also ABC's episode guide.
List with all the appearances in season 13 episode 5:
---
Shark Tank Air Date: 11/05/21 – Season 13 – Episode 5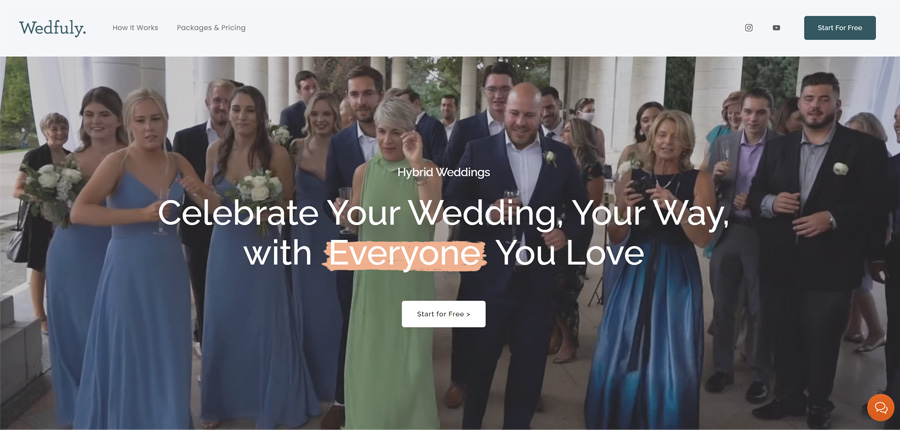 Wedfuly – Virtual Wedding Planning Service
| | | |
| --- | --- | --- |
| ASKED FOR | GOT | SHARK |
| $200,000 For 5% | $200,000 for 10% | Robert Herjavec |
Entrepreneurs: Carolyn Creidenberg
Wedfuly, which made its début in 2017, focuses mainly on modernizing the wedding market by making online planning accessible. Spend your special day how you want, with your closest friends! Livestream digital wedding features are changing the wedding arena.
Caroline Chreidenberg, cofounder and CEO of Wedfuly, is working on realizing the possibilities that virtual weddings provide those who are seeking a classic marriage in a beautiful but modest fashion at a reasonable price. Caroline Croudienberg earned her bachelor's degree in computer science from the University of Denver and from the Eidgen EWischen Hochschule of Zurich.
It can be set up using a laptop, tripods, and Zoom platform in the form of an interactive pop-up performance that offers a front-row experience with ample opportunities for audience involvement. Caroline's presentation style is full of creative elements.
---
Wad-Free for Bed Sheets
| | | |
| --- | --- | --- |
| ASKED FOR | GOT | SHARK |
| $200,000 For 5% | $200,000 for 10% $1.5 royalty until $1 million is paid | Kevin O'Leary |
Entrepreneurs: Cyndi Bray
Cyndi Bray put up the product by June 2020 on Amazon, Walmart, social media, and in her own e-commerce store. As of then, she has had $513,000 in lifetime sales and a net profit of 38%.
The Wad-Free device manages the edges of your coverless or fitted sheet, preventing the sheet from wad up nicely in the dryer, trapping other clothing, or entangling. It's very simple to utilize, and Cyndi has a utility patent, trademark, and copyright on the product.
Wad-Free prevents sheets from tangling, twisting, and balling-up in both washer and dryer. Wad-Free is the first product to solve this problem for so many people when laundering sheets!
Wad-Free is suitable for both flat and fitted sheets, and is also suitable for tablecloths or pre-washing fabric for sewing. Each sheet (or item in the load) must be connected to its own Wad-Free.
---
Beulr – Meeting Bot App
| | | |
| --- | --- | --- |
| ASKED FOR | GOT | SHARK |
| $150,000 For 20% | NO DEAL | NO SHARK |
Entrepreneurs: Peter Solimine
Beurlr is a Zoom meeting and class meeting bot that is pre-programmed to sign in you can use Zoom with the unique user ID to enter your meeting even if you aren't attending it. Visit Beurlr.com to learn more about how to start with meetings. Record Video Calls, Teams, and Meets. Automatically generate a meeting.
Beulr is a meeting bot designed for screen meetings. Begin scheduling your meetings simple. Record with the Zoom and Teams apps automatically, as well as meetings. Automatically capture meeting notes with MeetingBot and send bots to a meeting immediately or pre-schedule your bots to record a phone call.
Beulr, the revolutionary new meeting bot app, is set to disrupt the way businesses plan and schedule meetings. With its artificial intelligence-driven software and cloud-based services, Beulr promises to revolutionize how companies handle their scheduling needs.
---
Spergo
| | | |
| --- | --- | --- |
| ASKED FOR | GOT | SHARK |
| $300,000 For 10% | $300,000 For 20% | Daymond John |
Entrepreneurs: Trey Brown and Sherell Peterson
Spergo is the talk of the town in Philadelphia and beyond. Founded and operated by 14-year-old, this unique unisex designer lifestyle brand has been making waves with their stellar products. Whether you're looking for quality apparel or accessories, Spergo provides everything you need to express your own personal style.
Since its launch, Spergo has been committed to creating modern pieces that are both affordable and stylish. With an eye for detail, they provide a wide variety of items such as hats, scarves, belts and more that can be mixed and matched to create a unique look all one's own. The brand also emphasizes sustainability practices in order to minimize their environmental footprint.
Spergo offers something special for everyone who loves fashion – from classic staples to statement pieces that make a bold statement.
Their first collection consists of bold designs featuring vibrant colors and intricate details. From shorts to hoodies, each piece has been carefully crafted with attention paid to every detail. The company also uses various recycled materials in their production process in order to minimize waste and create a positive environmental impact.
---
More from Shark Tank
Recommended
Watch full episodes of shark tank online with Amazon Video
Summary
Executive producer Mark Burnett and Sony Pictures TV and bring another season of the business-themed reality show Shark Tank where major investors, aka "sharks" pitch business ideas from contestants. The show is based on the Japanese reality show "Dragon's Den."