Shark Tank Season 13 Episode 6 is an episode you don't want to miss. It features Nextdoor co-founder Nirav Tolia as a guest shark; a healthy food delivery service; an online platform for couples about to tie the knot; a nutritious take on a classic dessert; an online tool to help off-duty firefighters make additional income.
Season 13 Episode 6 in depth
Guest sharks this season include Emma Grede, CEO and co-founder of Good American and founding partner of Skims; actor and comedian Kevin Hart; Peter Jones, dragon on Dragons' Den; Daniel Lubetzky, founder and executive chairman of Kind; and Nirav Tolia, co-founder of Nextdoor.
You may also like
Shark Tank Season Episodes
Finding opportunity is a matter of believing it's there.

Barbara Corcoran
We listed below every entrepreneur and business who has appeared on Shark Tank Season 13 Episode 6. Many scammers claim they've received big investments from the Sharks or they have been on the show. They were not actually on Shark Tank if you don't see a business on this list. Some of the top places you can use to check are on Wikipedia and also ABC's episode guide.
List with all the appearances in season 13 episode 6:
---
Shark Tank Air Date: 11/12/21 – Season 13 – Episode 6
Fish Fixe – fish delivery service
| | | |
| --- | --- | --- |
| ASKED FOR | GOT | SHARK |
| $200,000 for 15% | $200,000 for 25% | Lori Greiner |
Entrepreneurs: Emily Castro and Melissa Harrington
Emily and Melissa were featured on Season 13, Episode 6 of Shark Tank, where they were offering 15% of their company in return for a $200,000 investment. The duo discussed their company and listed the advantages related to consuming seafood regularly.
Fish Fixe is a unique fish delivery service that has revolutionized the way we buy seafood. With Fish Fixe, customers can shop for their favorite catches right from the comfort of their own homes. The company provides access to fresh, sustainably sourced seafood with minimal packaging and no added preservatives or additives.
For $129, you can buy the standard Fish Fixe box, which has a 16-portion serving. You can also buy a single or multiple boxes to be delivered every month or up to every four months.
The business made approximately $821,000 in revenue last year, placing 100 percent of its sales through the direct-to-consumer channel. Only $20,000 of this was profit. Its production cost related to each average order of $148 was approximately $111.
---
Hello Prenup – online platform for creating prenups
| | | |
| --- | --- | --- |
| ASKED FOR | GOT | SHARK |
| $150,000 for 10% | $150,000 for 30% | Kevin O'Leary and Nirv Tolia |
Entrepreneurs: Julia Rodgers and SarahBeth Jaffe
Hello Prenup is an innovative online platform designed to simplify the process of creating prenuptial agreements. The user-friendly platform makes it easy for couples to create a legally binding contract prior to tying the knot. With Hello Prenup, soon-to-be spouses can agree on important financial decisions and protect their assets in case of potential divorce proceedings or death.
Increasingly engaged couples are selecting prenuptial agreements, but the process itself is complicated, time consuming and expensive. The licensing fee may reach as high as $2,500 and months to process. Hello Prenup is an efficient way for you to handle the matter.
Lawyer Julia Rodgers and software engineer Sarabeth Jaffe are working together to develop a process that is simpler, faster, and more inexpensive
Designed with convenience in mind, Hello Prenup allows couples to access the service anytime, anywhere. Users can log onto the secure website from their computers or mobile devices and fill out a questionnaire to create their personalized prenup agreement. It's one less hassle for couples as they embark on their journey towards marriage.
---
Deux – cookie dough with functional ingredients
| | | |
| --- | --- | --- |
| ASKED FOR | GOT | SHARK |
| $300,000 for 10% | NO DEAL | NO SHARK |
Entrepreneurs: Sabeena Ladha
Sabeena Ladha is the founder of the Deux cookie – a line of gluten-free, plant-based, doughs. Deux is a new type of cookie dough that will revolutionize the way you think about snack time. This innovative, ready-to-eat cookie dough is made with all natural ingredients and contains functional benefits to help fuel your body and mind. From high protein to improved gut health, Deux has something for everyone.
Unlike traditional cookie dough, Deux does not contain any added sugar or artificial flavors. Instead it relies on natural sweeteners such as honey and dates to provide a delicious taste without the unnecessary sugar rush. And because it's packed with plant-based proteins from chia seeds and oats, you can be sure that each bite of Deux cookie dough offers the satisfaction of healthy snacking without the guilt. Plus, there are no preservatives or additives found in this product which makes it ideal for those who want to indulge without sacrificing their overall health goals.
Deux Vegan Cookie Dough is the perfect choice for an indulgent treat that won't break your diet. Whether you're craving something sweet or looking for a healthier alternative to conventional cookies, Deux has you covered. Their selection of delicious vegan cookie doughs are made with wholesome ingredients and free from gluten and dairy, so everyone can enjoy the indulgence guilt-free.
---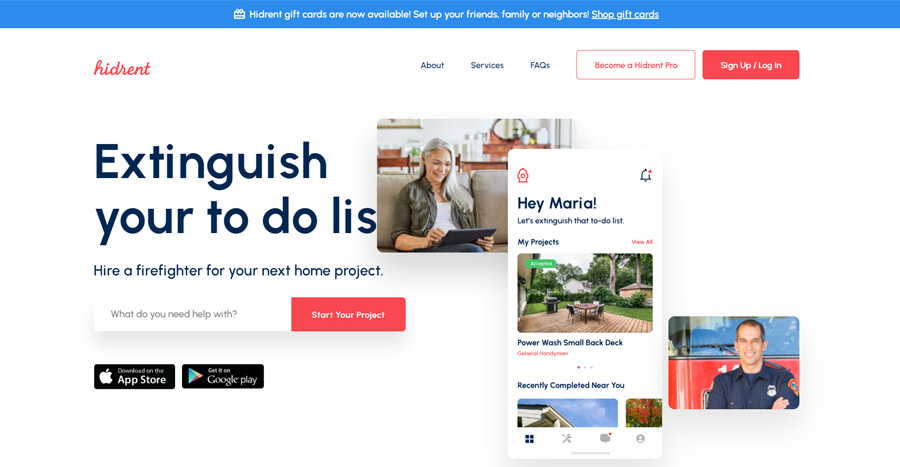 Hidrent – Home Service Firefighters
| | | |
| --- | --- | --- |
| ASKED FOR | GOT | SHARK |
| $300,000 for 8% | $300,000 for 33.3% | Robert Herjavec and Lori Greiner |
Entrepreneurs: Dave Heimbuch
Hidrent is revolutionizing the way people receive firefighting services. Through their innovative home service, they are making it easier than ever to stay safe and secure in your own home. Hidrent works by connecting professional firefighters with homeowners who need help with any kind of fire-related issue. Whether it's extinguishing a small kitchen fire or replacing a faulty smoke detector, Hidrent has you covered.
Using their app or website, users can easily book a firefighter for an on-site visit in as little as 48 hours. Once booked, the firefighter will arrive at the specified time and address to offer protection and peace of mind from potential fires or hazardous conditions within the home. Every one of their firefighters is certified and has up-to-date training on all safety regulations so that you can be sure you're getting the highest quality service possible.
The Hidrent application was developed to provide firefighters with an easy means to find easy access to short-term gigs through an instinctive tap or swipe. Linking homeowners and organizations with members, firemen have an opportunity to get furniture moving, gutter cleaning, hauling, hanging, and other odd jobs completed. Firefighters typically perform no more than ten 24-hour shifts per month.
Hidrent offers its services to firefighters to summarize the costs for their services, and then imposes a 20 percent charge later.
---
More from Shark Tank
Recommended
Watch full episodes of shark tank online with Amazon Video
Summary
Executive producer Mark Burnett and Sony Pictures TV and bring another season of the business-themed reality show Shark Tank where major investors, aka "sharks" pitch business ideas from contestants. The show is based on the Japanese reality show "Dragon's Den."