Shark Tank Season 13 Episode 8 introduce a woman committed to bringing smiles into every home with her magical designs; a product for keeping holiday ornaments safe; a personalized digital business; a product for helping children communicate with the North Pole; an update on Holibal.
Season 13 Episode 8 in depth
Guest sharks this season include Emma Grede, CEO and co-founder of Good American and founding partner of Skims; actor and comedian Kevin Hart; Peter Jones, dragon on Dragons' Den; Daniel Lubetzky, founder and executive chairman of Kind; and Nirav Tolia, co-founder of Nextdoor.
You may also like
Shark Tank Season Episodes
What does it take to be a successful entrepreneur? It takes willingness to learn, to be able to focus, to absorb information, and to always realize that business is a 24/7 job where someone is always out there to kick your ass.

Mark Cuban
We listed below every entrepreneur and business who has appeared on Shark Tank Season 13 Episode 8
Many scammers claim they've received big investments from the Sharks or they have been on the show. They were not actually on Shark Tank if you don't see a business on this list. Some of the top places you can use to check are on Wikipedia and also ABC's episode guide.
List with all the appearances in season 13 episode 8:
---
Shark Tank Air Date: 12/10/21 – Season 13 – Episode 8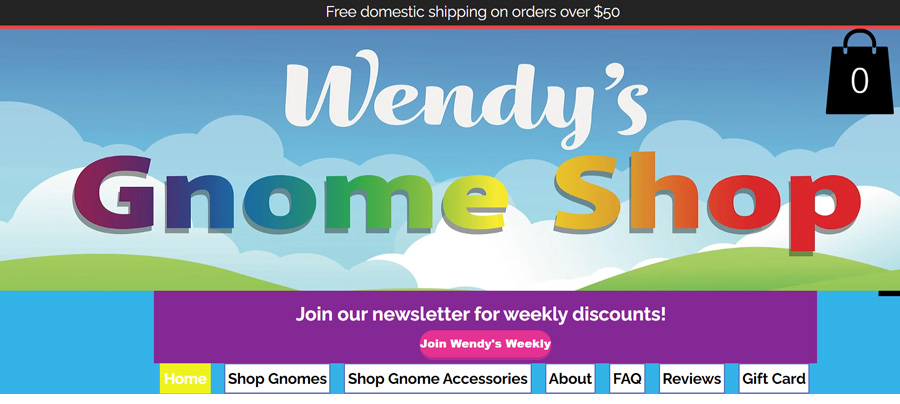 Wendy's Gnome Shop – Handmade Home Decor Gnomes
| | | |
| --- | --- | --- |
| ASKED FOR | GOT | SHARK |
| $200,000 for 20% | $200,000 for 30% | Daymond John |
Entrepreneurs: Wendy Hoffmeister
Wendy's Gnome Shop is a unique business that creates handmade home decor gnomes. Each gnome is made with the utmost love and care, creating an enchanting addition to any home. The shop was founded by Wendy Smith, a local crafter who wanted to share her passion for home decor with others. Wendy's Gnome Shop offers a wide variety of styles and designs, so you can find the perfect gnome for your own decor style.
From traditional red-hatted gardeners to Nordic-style snowmen, there's something for every taste in her shop! Every piece is carefully crafted from high quality materials and created to bring a touch of whimsy into your life. Whether placed in your garden or around the house, these delightful little gnomes will add charm and personality wherever they go!
Wendy's Gnome Shop has come a long way in just two short years. Two years ago, Wendy started making gnomes as a hobby because she thought they were cute. Little did she know that her handmade creations would soon become one of the most sought-after home decorations in America. Today, Wendy's Gnome Shop is established and respected in every state across the nation.
From humble beginnings with only one original design, Wendy now offers over 50 different types of gnomes for customers to choose from. Each of her designs are made with quality materials and craftsmanship, creating unique and memorable pieces that can be cherished for years to come. Not only does Wendy offer classic styles but also intricate custom designs that reflect the uniqueness of each customer's personality.
---
Ornament Anchor
| | | |
| --- | --- | --- |
| ASKED FOR | GOT | SHARK |
| $90,000 for 5% | NO DEAL | NO SHARK |
Entrepreneurs: Sofia, Amanda, Ayaan, Hamza, and Mika'il Naqvi
Looking for an easy way to hang your holiday decorations with confidence? Ornament Anchor provides heavy duty no-slip hooks that will help you create the perfect Christmas tree this year. These ornament anchors are designed specifically to support heavier ornaments without slipping off of your tree branches. Not only can these hooks help give your holiday decorations a polished look, but they also provide a secure and reliable hold for any kind of ornament or decoration.
The Ornament Anchor is made from Polyethylene Terephthalate and is built to last through years of use. Its unique design helps it stay firmly in place on any type of branch, so you don't have to worry about having hangers slip off due to weight or windy weather.
These premium anchor hooks secure up to 10 pounds! The ornament hooks have a modifiable fastener that secures your favorite ornaments firmly in place. These ornament hooks hold up to the heaviest Christmas ornaments.
The holiday season is just around the corner, and it's time to start getting ready for Christmas decorations. Whether you are an experienced decorator or a novice, one of the most essential tools are Ornament Anchor hooks. These hooks provide a secure way to hang your treasured Christmas decorations without worrying about them slipping or falling down.
With its strong construction, these hooks will stay in place – no matter how many times you hang up decorations. The hook also features a unique shape which allows it to be easily detached from any ornament hanger without causing any damage or slipping off.
---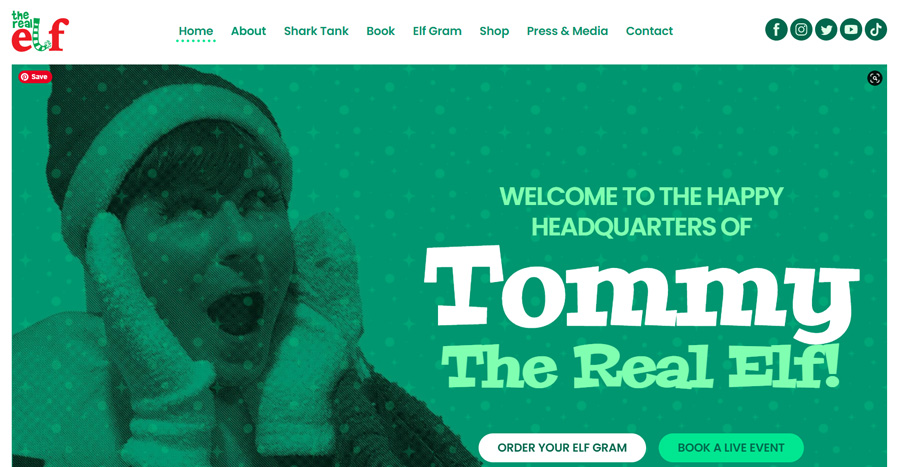 The Real Elf – Online Platform For Spreading Holiday Cheer
| | | |
| --- | --- | --- |
| ASKED FOR | GOT | SHARK |
| $125,000 for 25% | $75,000 as a loan + $50,000 for 35% equity with 50% of sales going to a cancer charity | Barbara Corcoran |
Entrepreneurs: Tommy Holl
The Real Elf is an innovative idea created to help people spread holiday cheer. This holiday season, The Real Elf is here to spread some extra cheer. By utilizing The Real Elf, users are given the opportunity to brighten up the holiday season for those around them with a few simple clicks.
The Real Elf team is passionate about creating a positive experience for everyone who wants to get involved with giving back this year. This way, they can make sure that everyone receives some form of festive cheer at just the right time!
The Real Elf was created with the goal of bringing people together during the holidays. This website allows users to share their stories about how they spread Christmas joy throughout their community – whether that be through playing music in public spaces or helping a neighbor in need. With this platform, users can connect with one another to create a network of holiday cheer! There are also plenty of resources available such as tips on how to make your home more festive and ideas for organizing fun events.
The Real Elf makes it easy to spread love and kindness this season. So gather around your computer screen today and get ready to celebrate some holiday magic!
---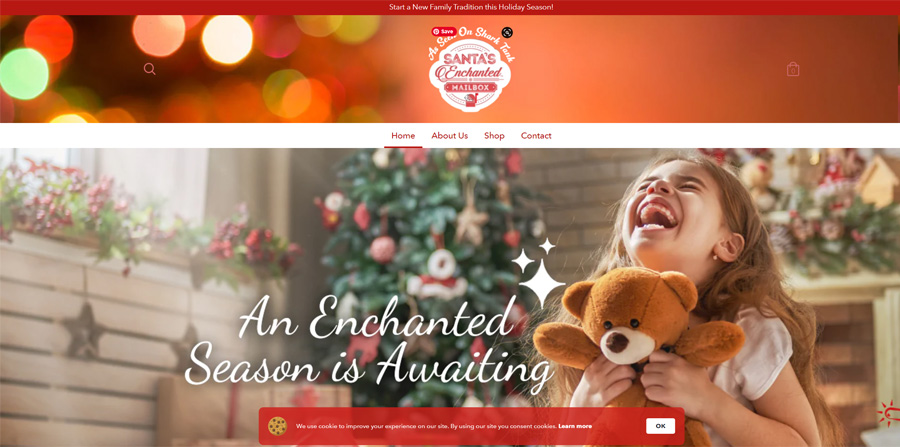 Santa's Enchanted Mailbox
| | | |
| --- | --- | --- |
| ASKED FOR | GOT | SHARK |
| $150,000 For 30% | NO DEAL | NO SHARK |
Entrepreneurs: Elisa and Chris Cirri
Welcome to Mr. Christmas Multicolor Santa's Enchanted Mailbox Decoration! This magical mailbox brings holiday cheer with its bright colors and vibrant design. Crafted from durable plastic, this eye-catching decoration is sure to stand out in your yard or garden. The mailbox features a unique holiday design with colorful patterns on the sides that will bring a smile to everyone who sees it.
This enchanting mailbox is perfect for both indoors and outdoors use, making it a great addition to your home décor during the holiday season! It can also be used as a mailbox for kids' letters to Santa – simply open the lid and let them drop off their wishlists! The festive red and white color scheme will add some extra cheer wherever you choose to display it. So don't wait – get ready for Christmas with Mr.
Include your family's new tradition, by placing a Santa's Enchanted Mailbox on your front step. Write lovely notes thanking your friends for how kind or naughty they've been, or write a list on the gifts you want under the tree. This wooden table ornament will look fantastic in the front hall or anywhere in your home.
Write your holiday desires down, add it to the included envelope and put it in the mailbox. At this time, close the mailbox and simultaneously raise yourself up and listen to what you hear. The door will open, and the letter is gone? This fantastic Christmas mailbox offers joy and wonder to the yuletide season.
---
More from Shark Tank
Recommended
Watch full episodes of shark tank online with Amazon Video
Summary
Executive producer Mark Burnett and Sony Pictures TV and bring another season of the business-themed reality show Shark Tank where major investors, aka "sharks" pitch business ideas from contestants. The show is based on the Japanese reality show "Dragon's Den."