Shark Tank Season 13 Episode 23 brings cosmetics to help clear up imperfections; a water sports apparel brand; a product designed to keep dogs hydrated during any excursion; a solution to drinking a beverage while fishing; an update on Doughp.
Season 13 Episode 23 in depth
Guest sharks this season include Emma Grede, CEO and co-founder of Good American and founding partner of Skims; actor and comedian Kevin Hart; Peter Jones, dragon on Dragons' Den; Daniel Lubetzky, founder and executive chairman of Kind; and Nirav Tolia, co-founder of Nextdoor.
You may also like
Shark Tank Season Episodes
A brilliant idea doesn't guarantee a successful invention. Real magic comes from a brilliant idea combined with willpower, tenacity, and a willingness to make mistakes.

Lori Greiner
We listed below every entrepreneur and business who has appeared on Shark Tank Season 13 Episode 23. Many scammers claim they've received big investments from the Sharks or they have been on the show. They were not actually on Shark Tank if you don't see a business on this list. Some of the top places you can use to check are on Wikipedia and also ABC's episode guide.
List with all the appearances in season 13 episode 23:
---
Shark Tank Air Date: 05/13/22 – Season 13 – Episode 23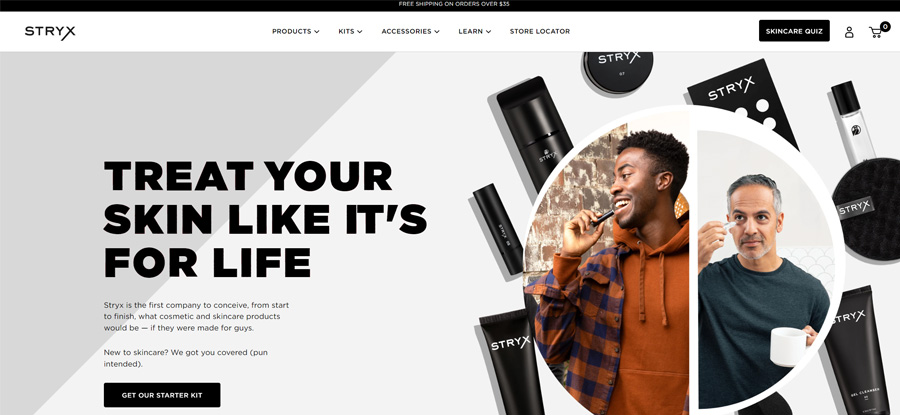 Stryx – Cosmetics and skincare for men
| | | |
| --- | --- | --- |
| ASKED FOR | GOT | SHARK |
| $600,000 for 5% | $600,000 for 10% | Robert Herjavec |
Entrepreneurs: Devir Kahan and Jon Shanahan
Stryx is a revolutionary new line of cosmetics and skincare for men. Developed by experts in the beauty industry, Stryx seeks to provide men with products designed to perfectly match their needs. Whether you're looking for an eye cream or a face scrub, Stryx has something for everyone.
Stryx offers a wide range of products specifically designed with men's skin in mind. From moisturizers and cleansers, to exfoliators and serums, each one is created with natural ingredients that are gentle on your skin while still providing the benefits you're looking for. Not only do their products nourish your skin but they also protect it from the elements and keep it looking its best all day long.
Stryx is a revolutionary new skincare and cosmetics line specifically designed for men. Founded by a New York-based startup Shanahan launched with Devir Kahan, Stryx in 2017. Stryx has taken the beauty industry by storm with its specialized products that cater to everyday grooming needs of men. The mission of Stryx is to provide quality products for all types of skin types and help men better understand their grooming needs.
The range of products offered by Stryx includes facial washes, face creams, acne treatment, eye creams and moisturizers, as well as anti-aging formulas tailored specifically to the needs of male skin. Additionally, the brand offers a wide variety of styling gels and other hair care products specifically created with the man in mind.
---
Driftline – Board shorts lined with wetsuit material
| | | |
| --- | --- | --- |
| ASKED FOR | GOT | SHARK |
| $100,000 for 10% | NO DEAL | NO SHARK |
Entrepreneurs: Wes Horbatuck and Greg Orfe
Driftline is the new brand of board shorts lined with wetsuit material. This revolutionary design allows surfers to remain comfortable in and out of the water, even after long hours paddling and surfing. Its inner lining has been carefully crafted from a neoprene-like material which provides warmth, buoyancy, and flexibility for enhanced mobility during your time in the ocean. It also helps keep you warm as you transition back onto land afterwards.
Driftline surf trunks are the perfect boardshort for watersports enthusiasts. With a built-in 0.5mm neoprene liner, these shorts provide maximum performance in all types of water activities. The lightweight material also offers superior comfort and flexibility while maintaining coverage and warmth in colder temperatures. Not only do Driftline board shorts offer superior comfort and protection, they also come in an array of stylish colors, ensuring you look your best while enjoying all the aquatic adventures life has to offer.
Constructed with high-performance materials to withstand rugged conditions, Driftline board shorts are durable enough to last season after season. Featuring a drawstring waistband for maximum adjustability and ease of use, as well as secure pockets for storing small items like keys or wallets, these shorts make sure you have everything you need for your day out on the water.
The unique blend of materials used by Driftline not only enhances comfort but also keeps you looking stylish while on the beach or at the poolside. With its wide range of sizes available, there's a perfect fit for anyone who wants to stay comfortable while staying active in the water.
---
Springer – Dog Water Bottle
| | | |
| --- | --- | --- |
| ASKED FOR | GOT | SHARK |
| $400,000 for 6% | $400,000 for 10% equity and preferred stock | Lori Greiner |
Entrepreneurs: Griffin Ross and Shannon Ross
Water Bottle is the perfect way to keep your pet hydrated while on the go. Recently seen on the hit TV show Shark Tank, this patented water bottle has been designed with a leak-proof seal to guarantee no messes or spills. The portable design makes it easy to carry around and fit into backpacks when out and about. It's also a safe choice for your furry friend.
Springer is one of the most popular pet products on the market. It's a lightweight, portable water bottle designed to keep your pup hydrated wherever you go. The Springer Dog Water Bottle has a simple, ergonomic design that makes it easy for owners to carry and dispense water for their dogs. Plus, it's made with durable stainless steel and BPA-free plastic so you know it will last.
The convenient drinking nozzle is designed to prevent spills, allowing your pup to drink from any angle or direction. With one press of the button at the top of the bottle, you can fill your dog's bowl with a specific amount of water – no need for messy pours! And when you're done using it just rinse off the lid and place in its carrying case.
The Springer company offers different water bottle capacity to ensure you have the right water bottle for your dog and can be easily refilled at home or away from home should you need to do so. Its unique one-handed flip open lid allows you to refill quickly and easily without having any contact with the contents inside which helps keep your hands clean during use.
---
Chill-N-Reel
| | | |
| --- | --- | --- |
| ASKED FOR | GOT | SHARK |
| $300,000 for 10% | NO DEAL | NO SHARK |
Entrepreneurs: Chris Diede, Jake Rutledge, and Chase Terrell
Chill-N-Reel has revolutionized the way we fish with its innovative fishing can cooler and hand line reel attachment. This hard shell drink holder is designed to fit any standard insulator sleeve or coozie, making it ideal for a day of fishing fun. It features a unique design that allows you to store your drinks and snacks in the same container as your equipment, so you won't have to worry about carrying extra bags on your travels.
The convenient size makes it perfect for camping trips or hiking excursions, while the adjustable line tension feature ensures you always have a smooth casting experience. The bait tray prevents tangles and keeps baits organized, while the built-in rod holders make sure your rods stay secure during breaks in action.
Chill-N-Reel is a unique outdoor activity that's taking the nation by storm. It combines the best of both worlds with the thrill of fishing and relaxed atmosphere of camping. Whether you're looking for a quick getaway from your daily life or an adventure full of new experiences, Chill-N-Reel is perfect for all types of people.
This one-of-a-kind outing allows you to relax while still having fun. You can experience nature in its purest form while also enjoying some quality time with friends and family. Fishing doesn't have to be a solo activity anymore—now you can share it with loved ones and create memories that will last a lifetime! With Chill-N-Reel, everyone is bound to have an amazing time no matter their skill level.
---
More from Shark Tank
Recommended
Watch full episodes of shark tank online with Amazon Video
Summary
Executive producer Mark Burnett and Sony Pictures TV and bring another season of the business-themed reality show Shark Tank where major investors, aka "sharks" pitch business ideas from contestants. The show is based on the Japanese reality show "Dragon's Den."