Shark Tank season 4 episode 13 introduces a pair of chemical engineers demonstrate a capsule that can keep liquids hot for a longer period of time; a mom has an idea for cleaning stuffed toys; two Oakland men try to drum up interest in their garden-wall system; and a married couple dish out ice cream made with liquid nitrogen. Also: an update on a jewelry business from Season 3.
Season 4 Episode 13 in depth
---
In season 4 sharks are Lori Greiner, Daymond John, Kevin O'Leary, Barbara Corcoran, Mark Cuban, and Robert Herjavec and there are no guest sharks this season.
In season 4 episode 13, there is no guest judge.
You may also like
Shark Tank Season 8
You can't study to be an entrepreneur. Sometimes, you just have to jump.

Barbara Corcoran
We listed below every entrepreneur and business who has appeared on Shark Tank Season 4 Episode 13. Many scammers claim they've received big investments from the Sharks or they have been on the show. They were not actually on Shark Tank if you don't see a business on this list. Some of the top places you can use to check are on Wikipedia and also ABC's episode guide.
List with all the appearances in season 4 episode 13:
---
Shark Tank Air Date: 01/11/13 – Season 4 – Episode 13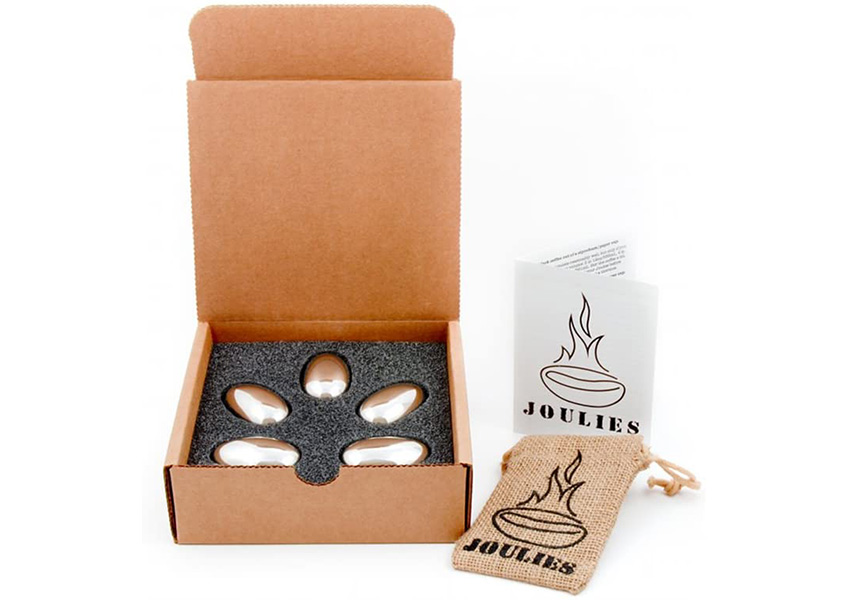 Coffee Joulies Keep Coffee at Perfect Temperature
| | | |
| --- | --- | --- |
| ASKED FOR | GOT | SHARK |
| $150,000 for 5% | $150,000 for $6 per unit royalty until $150,000 is repaid | Kevin O'Leary, Lori Greiner, Daymond John, and Robert Herjavec |
Entrepreneurs: Dave Jackson and Dave Pertrillo
Coffee Joulies are an inventive new way to keep your coffee at its ideal temperature for hours. Simply drop the silver-colored "beans" into your coffee and they will absorb heat when it is too hot, and later release this heat as your drink cools off. Coffee Joulies get your coffee ready to drink (without burning your tongue) sooner and keep it comfortably hot for over five hours.
Coffee Joulies use a non-toxic proprietary "phase change material" that is encased in foodsafe stainless steel shells. The material absorbs heat above 140 degrees Fahrenheit and releases heat below that threshold. The set of Coffee Joulies includes five Joulies and a carrying pouch.
Each Coffee Joulie works with 4 ounces of hot beverage, so toss one in your espresso, two in your double-short vanilla latte, three in your tall drip, four in your vacuum thermos and five in your venti or xl coffee right when it's poured. The material sealed inside the Joulie will begin to melt, absorbing energy from your coffee.
When used in a high-quality vacuum thermos, Coffee Joulies can keep your coffee in the right temperature range for over five hours. Coffee Joulies set includes set of 5 Coffee Joulies.
---
Teddy Needs a Bath – Laundry Bag for Stuffed Animals
| | | |
| --- | --- | --- |
| ASKED FOR | GOT | SHARK |
| $50,000 for 10% | $100,000 for 30% until investment is repaid + 10% royalty | Mark Cuban |
Entrepreneurs: Nicole Townend
Teddy Needs a Bath is a washer and dryer bag specifically designed to protect children's beloved stuffed animals from damage in the wash.
Dust mites build up in stuffed toys just like in pillows and mattresses, and elimination of dust mites is important because dust mite allergen can be a contributing factor to eczema or asthma flare-ups. The 100% cotton 10″x15″ canvas bag keeps pet's toys from snagging or becoming misshapen during washing.
Give your Pet's toys a second chance in Teddy Needs a Bath for Pets. Protect everyone in your home by removing harmful bacteria and allergens at least once a month. Also washes tennis balls, leashes, collars, pet clothes and more!
---
Urbio Modern Wall Planters
| | | |
| --- | --- | --- |
| ASKED FOR | GOT | SHARK |
| $300,000 for 12% | $300,000 for 15% | Lori Greiner |
Entrepreneurs: Jared Aller and Beau Oyler
Urbio is an innovative modular solution for urban gardening and small space organization. Made with light-weight and durable polypropylene plastic and neodymium magnets, Urbio is a recyclable product available in a variety of vessel sizes.
Urbio's verticality takes advantage of the surface area of your walls while adding a design kick to your dwelling. Urbio is equipped with neodymium magnets that are strong enough to hold a variety of weights to your wall or any magnetic surface.
Organize plants, magazines, craft supplies, bathroom products, or anything into a modern, vertical work of art. The wall plate mounts fasten to your wall, then the easily configured containers stay in place via strong magnets. Re-position and move the arrangement any way you like.
---
Sub Zero Ice Cream
| | | |
| --- | --- | --- |
| ASKED FOR | GOT | SHARK |
| $300,000 for 12% | NO DEAL | NO SHARK |
Entrepreneurs: Jerry Hancock and Naomi Hancock
Sub Zero Ice Cream is a chain of ice cream shops where the ice cream is made-to-order using liquid nitrogen for rapid freezing. Sub Zero has nine other locations in the Houston area.
Sub Zero Ice Cream is the nation's first liquid nitrogen ice cream franchise. Sub Zero can customize ice cream upwards of 2.5 million combinations and also sells pies and shakes.
---
More from Shark Tank
Recommended
Watch full episodes of shark tank online with Amazon Video
Summary
---
Executive producer Mark Burnett and Sony Pictures TV and bring another season of the business-themed reality show Shark Tank where major investors, aka "sharks" pitch business ideas from contestants. The show is based on the Japanese reality show "Dragon's Den."