Shark Tank Season 12 Episode 23 introduces an athlete from Houston, Texas, pitches his portable basketball shooting machine. An entrepreneur from Los Angeles pitches her no-bake and nutritious snacks. Two entrepreneurs from Elmore and Chagrin Falls, Ohio, respectively, share how to keep their sneakers clean. A pair of entrepreneurs from Boulder, Colorado, pitch their all-in-one beer-making device.
Season 12 Episode 23 in depth
Guest sharks this season 12 include Blake Mycoskie, founder of TOMS and co-founder of Madefor, and Kendra Scott, founder and CEO of Kendra Scott LLC. Returning guest Sharks include Alex Rodriguez, baseball player and founder and CEO of A-Rod Corp, and Daniel Lubetzky, founder and executive chairman of Kind.
You may also like
Shark Tank Season 8
I've always believed you hire character and train skill.

Lori Greiner
We listed below every entrepreneur and business who has appeared on Shark Tank Season 12 Episode 23. Many scammers claim they've received big investments from the Sharks or they have been on the show. They were not actually on Shark Tank if you don't see a business on this list. Some of the top places you can use to check are on Wikipedia and also ABC's episode guide.
List with all the appearances in season 12 episode 23:
---
Shark Tank Air Date: 05/07/21 – Season 12 – Episode 23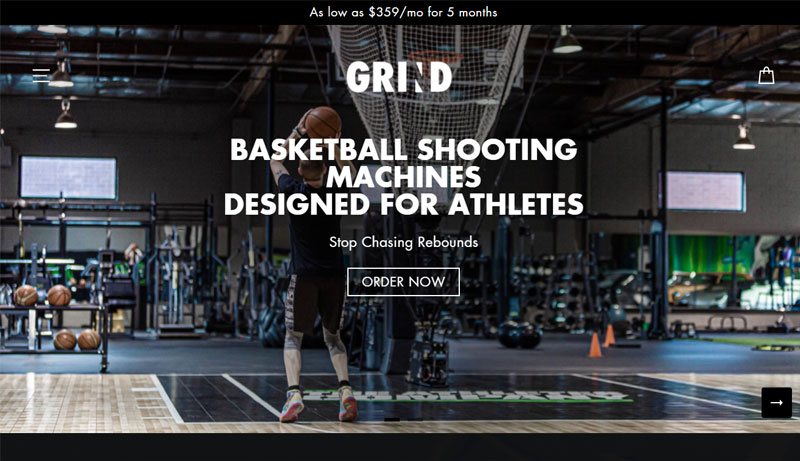 Grind Machine – Portable Basketball Training Machine
| | | |
| --- | --- | --- |
| ASKED FOR | GOT | SHARK |
| $250,000 For 5% | $250,000 For 25% | Mark Cuban And Barbara Corcoran |
Entrepreneurs: Thomas Fields
In Shark Tank Season 12 Episode 23 Thomas Fields introduces Grind Machine – a portable basketball shooting machine. The Grind Machine forces players to work smart and hard simultaneously and uses one ball. This helps players develop a great shot. This is the world's first portable shooting machine and within 90 seconds can collapse down into the size of a large duffel bag. Grind Machine captures missed shots and automatically passes the ball back to the shooter.
Thomas Fields, founder of the company partnered with Hatch Duo, an product engineering company to bring his idea to life and help him with industrial design. Grind Machine hit the market in early 2020, and just within a few months sold $215,000.
You can purchase the Grind Machine from their website for $1,795.00 and pay it fully or take advantage of their payment options. Thomas has great visions to continue improving his portable basketball training machine and add more features such as counting made and missed shots, adding software so players can track their analytics, sharing shooting stats with college coaches and recruiters, adding a shot tracking through a smartphone app
---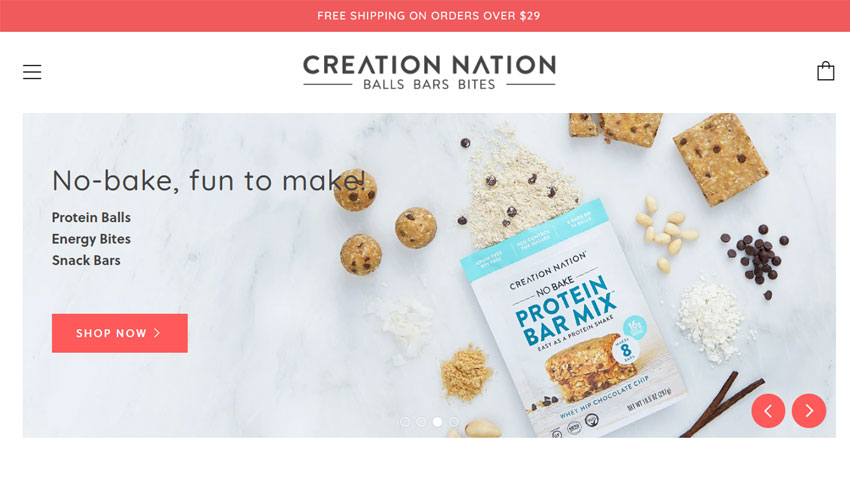 Creation Nation – Organic Cookie Mix
| | | |
| --- | --- | --- |
| ASKED FOR | GOT | SHARK |
| $300,000 For 12% | NO DEAL | NO SHARK |
Entrepreneurs: Karen Nation
Creation Nation is an organic cookie mix that tastes like homemade cookies. Simply add water and you can make delicious protein balls, energy bites, and no-bake cookies and improvise with nut butter, or syrup you can have as many delicious possibilities as you want. Creation Nation cookie mix is gluten-free, vegan, non-GMO, free of artificial sweeteners and preservatives, and uses only high-quality premium ingredients.
Creation Nation has many recognitions and wins including the winner of the organic, sustainable, and health food industry focus online magazine "NOSH Live Pitch Slam 5" product competition. Named Best New Category Development in the Sports and Performance Nutrition category, by organization Bridge2Food. winner of Delicious Living – Best Sports Product, and featured in Popsugar Fitness.
Even there are many protein powders on the market most of them have a lot of sugar or are not no-bake protein treats. The Creation Nation offers a few different tastes as the Protein Bar Mix comes in peas love and cocoa, as well as whey hip chocolate chip, while the Energy Bite Mix comes in cocoa, coconuts, and Oat Yes Chocolate Chip.
---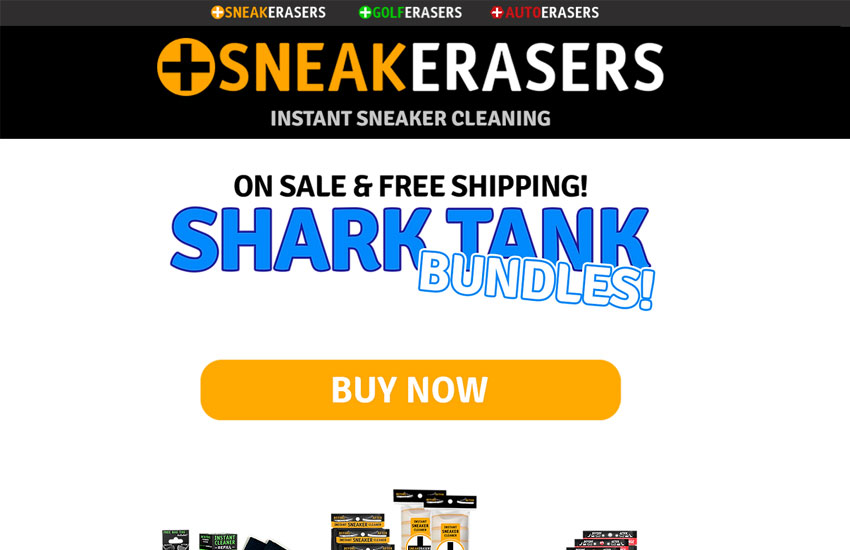 SneakERASERS – Instant Sole and Sneaker Cleaner
| | | |
| --- | --- | --- |
| ASKED FOR | GOT | SHARK |
| $200,000 For 8% | $200,000 For 20% | Lori Greiner And Alex Rodriguez |
Entrepreneurs: Chris Pavlica And Kevin Consolo
In this Shark Tank Season 12 Episode 23, the founders of SneakERASERS, Chris Pavlico and Kevin Consolo, present their unique design of the dual-sided sponge. This patent-pending solution is a great way to keep shoes looking clean and sleek with this portable sponge. You just have to add water to this affordable, pre-moistened sponge and start witnessing the scuff marks, blemishes, dirt and grime magically disappear.
Prior to the Shark Tank airing, they have sold $1.1 million year-to-date, which really impressed the sharks. They are projecting till the end of that year to sell $1.8 million in sales. Their main focus is to strengthen their e-commerce presence and start selling directly to consumers and reduce their dependence on retail markets.
SneakERASERS sells their Sneaker Cleaner at $10 for a pack of 3 sponges, $14.49 for a pack of 5, and $34.49 for a pack of 14 $9.99 through Amazon, Walmart and other online retailers.
The sponge is reusable and if it begins to dry, simply add more water to fully reactivate and powerful micro-scrubbers, and proprietary cleaning formula will remove tough marks, scuffs, and dirt.
---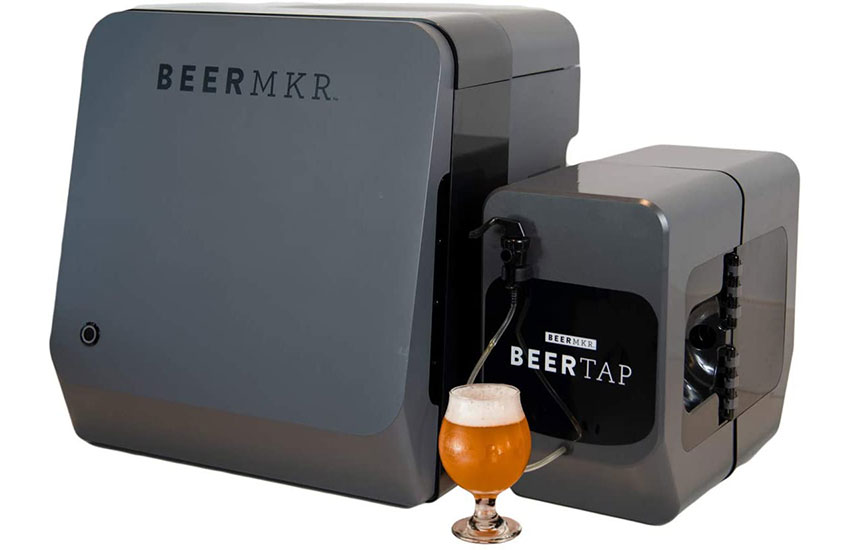 BEERMKR – Home Beer Brewing
| | | |
| --- | --- | --- |
| ASKED FOR | GOT | SHARK |
| $500,000 For 2% | NO DEAL | NO SHARK |
Entrepreneurs: Aaron Walls and Brett Vegas
BeerMKR is a home brewing system that lets people brew craft beers at their homes using the brewing kits. The company was founded back in 2013, under the name BrewJacket. Aaron Walls and Brett Vegas are the founders of the company. According to them, this is "the world's first automatic beer-brewing machine" and it can make over a gallon of craft beer in a week's time.
BEERMKR can use barley, oats, and wheat, but you can also use rice, fruits, powdered sugars and syrups, dry as well as liquid yeast and pellet hops and allows precise temperature control throughout the beer-making process. During brewing, BEERMKR activates all of the enzymes present in the grains to break down starch and protein while achieving system-wide pasteurization.
The founders started a successful Kickstarter campaign that received nearly $400,000 in funding from 1,000 orders.
---
More from Shark Tank
Recommended
Watch full episodes of shark tank online with Amazon Video
Summary
Executive producer Mark Burnett and Sony Pictures TV and bring another season of the business-themed reality show Shark Tank where major investors, aka "sharks" pitch business ideas from contestants. The show is based on the Japanese reality show "Dragon's Den."