Shark Tank Season 12 Episode 25 introduces a husband and wife from Philadelphia, Pennsylvania, who pitch life-sized, scientifically accurate, animatronic dinosaurs! An entrepreneur from Los Angeles, California, pitches the virtues of a popular caffeinated Vietnamese beverage. An entrepreneur from Buna, Texas, pitches her beverage coolers. A pair of entrepreneurs from San Andrés, Colombia, and Simpsonville, South Carolina, introduce their tool that helps parents conquer potty training.
Season 12 Episode 25 in depth
Guest sharks in season 12 include Blake Mycoskie, founder of TOMS and co-founder of Madefor, and Kendra Scott, founder and CEO of Kendra Scott LLC. Returning guest Sharks include Alex Rodriguez, baseball player and founder and CEO of A-Rod Corp, and Daniel Lubetzky, founder and executive chairman of Kind.
You may also like
Shark Tank Season 13
Don't you dare underestimate the power of your own instinct.

Barbara Corcoran
We listed below every entrepreneur and business who has appeared on Shark Tank Season 12 Episode 25. Many scammers claim they've received big investments from the Sharks or they have been on the show. They were not actually on Shark Tank if you don't see a business on this list. Some of the top places you can use to check are on Wikipedia and also ABC's episode guide.
List with all the appearances in season 12 episode 25:
---
Shark Tank Air Date: 05/21/21 – Season 12 – Episode 25
Dino Don – Life Size Dinosaur Animatronics
| | | |
| --- | --- | --- |
| ASKED FOR | GOT | SHARK |
| $500,000 For 10% | $500,000 For 25% | Mark Cuban |
Entrepreneurs: Don Lessem and Valerie Jones
Don Lessem and his wife, Valerie Jones, pitch their company, Dino Don, Inc. to the sharks in the Shark Tank Season 12 Episode 25. Dino Don Inc. is producing accurate, life-sized dinosaur robotics. The company Dino Don offers almost any full-sized dinosaur of a total of 16 dinosaurs and prehistoric creatures including sabre-tooth tigers, wooly mammoths, tyrannosaurus rex, velociraptors, and stegosaurus.
The price for a dinosaur starts at $12,000 for a 7-foot velociraptor to $50,000 for a 40-foot tyrannosaurus rex. Lessem's numbers were impressive despite the pandemic and they generated revenue of $1.6 million in 2020 and and $1.8 million in 2021. The company's profit was around $250,000 a year.
Don Lessem and Valerie Jones are changing their business model and has partnered with several zoos, museums and learning centers and instead of paying for dinosaurs upfront, amusement parks and zoos will be paying a percentage of their ticket sales.
With his impressive background as a dinosaur advisor to Steven Spielberg Jurassic Park films, authored over 40 books and been part of the excavations of the world's largest dinosaurs along with their pretty good sales, Don Lessem successfully made a deal with the shark Mark Cuban.
---
Copper Cow Coffee
| | | |
| --- | --- | --- |
| ASKED FOR | GOT | SHARK |
| $600,000 For 4% | $600,000 For 8% | Robert Herjavec |
Entrepreneurs: Debbie Wei Mullin
The founder of Copper Cow Coffee is Debbie Wei Mullin with Vietnamese-American who studied sustainability in college. Copper Cow Coffee brings the delicious and slightly bitter Vietnamese coffee brewed by the pour-over method and mixed with sweetened condensed milk creamer.
Copper Cow Coffee company also focus on sustainability and is using 100% natural and organic beans. Also works directly with farmers from Central Highlands of Vietnam where the volcanic soil is perfect for growing coffee, and provide them twice the pay for their quality products.
After its appearance on the show Debbie is getting more orders than ever. You can find Copper Cow Coffee products in retailers across United States including Walmart, Whole Foods, Nordstrom, Bloomingdale, Sprouts and H-E-B.
With this coffee you can always have good coffee even if you are on the go – just pour hot water into the dripper filter, and enjoy!
---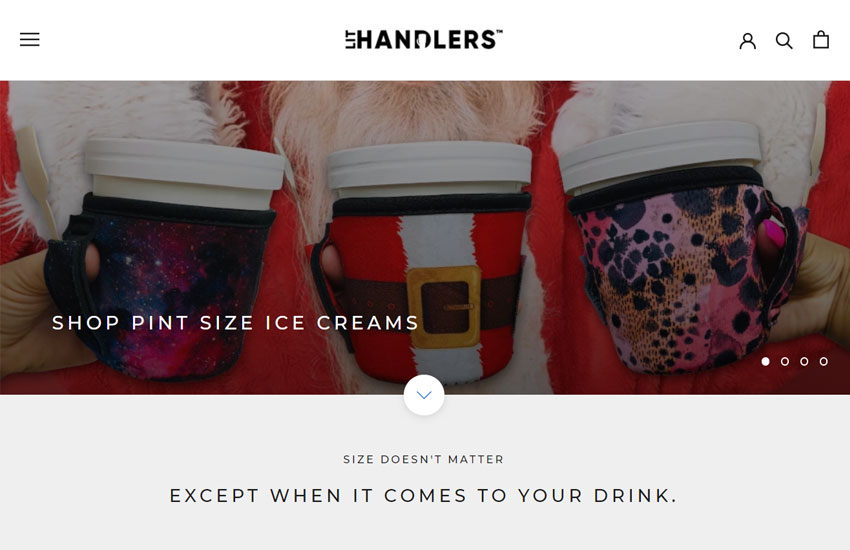 Lit Handlers
| | | |
| --- | --- | --- |
| ASKED FOR | GOT | SHARK |
| $200,000 For 10% | $200,000 For 20% | Daymond John |
Entrepreneurs: Destiny Padgett
Destiny Padgett is the founder of Lit Handlers with patent pending Handlers™ that keeps cold beverages cold and hot beverages stay hot, but protect your hands freezing or burning when holding it. It can fit different beverage and comes in a variety of designs, shapes, sizes, and colors.
If we have to describe it with just a few words it is a drink koozie with a holder. The easy to grip handle built right into the sleeve to help redistribute the weight. You can also keep your small essentials into the pocket inside the reinforced handle.
According to her, she'd made $630,000 in sales before her appearance on the show and she needed help for licensing and further expanding the brand recognition. Lit Handlers is expanding products with sleeves without handles, the neoprene totes, and accessories. Some of the varieties include wine tumbler, pint size ice cream, bottleneck, can, pint glass, and small to medium coffee.
---
Super Potty Trainer
| | | |
| --- | --- | --- |
| ASKED FOR | GOT | SHARK |
| $300,000 For 10% | $300,000 For 50% | Lori Greiner and Daymond John |
Entrepreneurs: Judy Abrahams and Chris Guerrera
The Super Potty Trainer appears on Shark Tank Season 12 Episode 25 and it is presented by Judy Abrahams and Chris Guerrera. It is non-skid pads that can be adjusted as your child grows and are recommended by a Pediatric Colorectal Surgeon. According to them it helps your child's "colon" by helping prevent constipation and allowing it to be positioned correctly.
The Super Potty Trainer is made of high-quality silicone right in USA and it is patented. The cost to make the product is $2.30 and has $60,000 in sales and inventory of about 55,000 units. But prior to its appearance they also landed a deal with Walmart for purchase worth of $1.1 million.
Because it can move forward or backward on the toilet seat, the product is a perfect potty training tool for toddlers and kids. It is very easy to install just lift the toilet seat, place the Super Potty Trainer on the rim of the bowl, and close the lid.
---
More from Shark Tank
Recommended
Watch full episodes of shark tank online with Amazon Video
Summary
Executive producer Mark Burnett and Sony Pictures TV and bring another season of the business-themed reality show Shark Tank where major investors, aka "sharks" pitch business ideas from contestants. The show is based on the Japanese reality show "Dragon's Den."