Shark Tank Season 12 Episode 5 brings a unique fitness system; a high-tech headband designed to provide the brain with a boost of energy; festive party hats; a wine made from honey.
Season 12 Episode 5 in depth
Guest sharks this season include Blake Mycoskie, founder of TOMS and co-founder of Madefor, and Kendra Scott, founder and CEO of Kendra Scott LLC. Returning guest Sharks include Alex Rodriguez, baseball player and founder and CEO of A-Rod Corp, and Daniel Lubetzky, founder and executive chairman of Kind.
You may also like
Shark Tank Season 8
Success is waking up every day and doing what you want to do.

Daymond John
We listed below every entrepreneur and business who has appeared on Shark Tank Season 12 Episode 5. Many scammers claim they've received big investments from the Sharks or they have been on the show. They were not actually on Shark Tank if you don't see a business on this list. Some of the top places you can use to check are on Wikipedia and also ABC's episode guide.
List with all the appearances in season 12 episode 5:
---
Shark Tank Air Date: 11/06/20 – Season 12 – Episode 5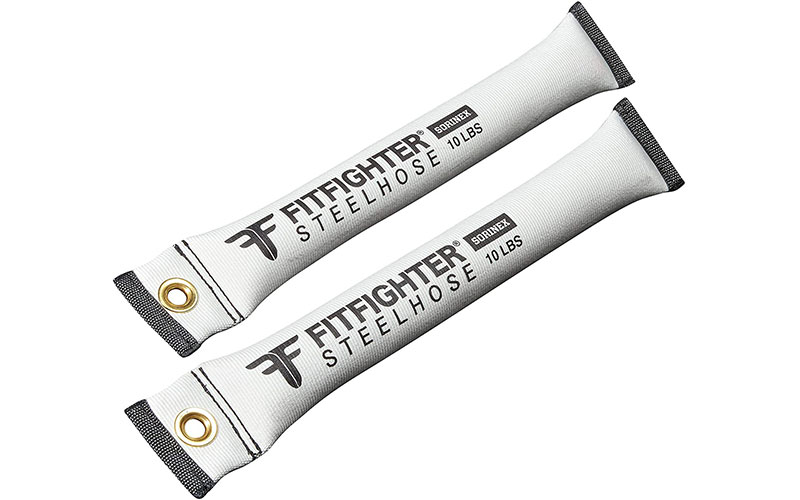 FitFighter – Recycled Fire Hose Weights
| | | |
| --- | --- | --- |
| ASKED FOR | GOT | SHARK |
| $250,000 for 15% | $250,000 for 25% | Daniel Lubetzky |
Entrepreneurs: Sarah Apgar
On Shark Tank Season 12 Episode 5, Sarah Apgar introduced her company FitFighter that makes recycled fire hose weights. Depending on the length of the hose, the Steel Hose ranges in weight from five to 50 pounds, and it can be used in a variety of different workouts.
Steelhoses are both free weights and resistance tools that you can lift, swing, drag, toss, and drop. Sarah Apgar shared that in 10-weeks selling online she generated $45,000 in sales. There is also a free Fitfighter app with online training videos that offer free and paid plans. The paid subscription costs $19 a month and prior of her presentation there were just over 300 subscribers.
Because Steelhoses are soft on the outside and semi-soft all around they're safe on hardwood floors and won't break toes when dropped. Sarah Apgar successfully made a deal with the guest shark Daniel Lubetzky for 25% of her company. After airing of the show in just a few months FitFighter company earned $900,000 in sales.
---
LIFTiD – Transcranial Neuro-Stimulation Device
| | | |
| --- | --- | --- |
| ASKED FOR | GOT | SHARK |
| $200,000 for 10% | NO DEAL | NO SHARK |
Entrepreneurs: Ken Davidov and Alyson Davidov
Ken and Alyson Davidov pitched their product LIFTiD into the Shark Tank Season 12 Episode 5. This neurostimulation product uses mild electro-currents to the frontal lobe to stimulate focus and memory. LIFTiD allows you to maintain a positive mindset and FOCUS on the present to help reduce stress and brain fog.
The transcranial direct current stimulation (tDCS) used by the device is a great alternative to the chemical stimulants such as sugar, or caffeine. LIFTiD is backed by a world renowned neuroscience team and supported by thousands of studies, including clinical trials.
Studies show that enhancing neurotransmitter release and activating neurons by increasing blood flow due to altered brain function by tDCS. The use of the device is pretty simple – you just place it on your forehead for 20 minutes a day while you're doing some type of mental activity. This product was interesting for the sharks but noone were able to make an offer.
---
Bee D'Vine – Honey Wine from Sonoma Valley
| | | |
| --- | --- | --- |
| ASKED FOR | GOT | SHARK |
| $750,000 for 20% | $750,000 for 40% | Mark Cuban, Lori Greiner, Robert Herjavec, Daniel Lubetzky |
Entrepreneurs: Ayele Solomon
On Shark Tank Season 12 Episode 5, Ayele Solomon introduced the Bee D'Vine. Bee d'Vine is produced from just two ingredients in small batches. A raw local honey and pure spring water are mixed and aged for at least 15 months in the barrel. Then in next stage for another one to two years in the bottle before sending to the market.
Ayele was inspired by Ethiopia's national drink is t'ej. The combination of spring water and honey make it abuzz with a lively minerality. The product has been selling for over the six years but only had $400,000 in sales. However, $115,000 worth of Bee D'Vine wine came in the past 12 months.
Honey wine is a sustainable beverage because no land or grape is used, and no chemicals or pesticides. Bee D'Vine bottle sells for $39-$49, while the manufacturing cost is only $5. Bee d'Vine Honey Wine also won gold medal from different competitions around the world.
He was able to attract the sharks and make a deal for $750,000 not with one but with four sharks including Mark Cuban, Lori Greiner, Robert Herjavec, and Daniel Lubetzsky for 40% equity.
---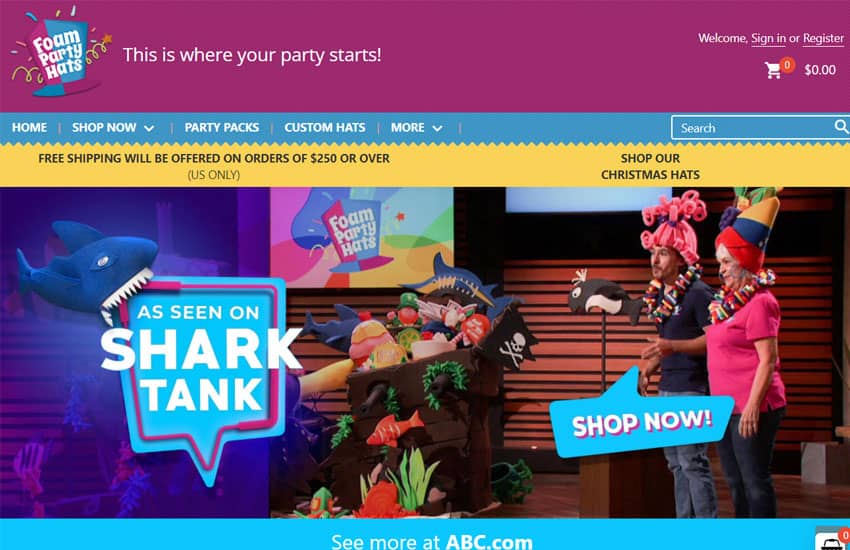 Foam Party Hats
| | | |
| --- | --- | --- |
| ASKED FOR | GOT | SHARK |
| $100,000 for 15% | $100,000 for 25% | Mark Cuban and Lori Greiner |
Entrepreneurs: Manuel Rojas and Grace Rojas
Foam Party Hats appeared on Shark Tank Season 12 Episode 5 presented by the mother and son team Grace Rojas and Manuel Rojas. They are Venezuelan immigrants who came to the US back in 2010. Their company offers wide variety of goofy party hats includes patriotic hats, foam wigs and food hats for any occasion. The idea came while Grace Rojas was at a wedding in a small town in Venezuela where she noticed how much fun can bring wearing, feather boas and crazy hats.
Manuel studied in Houston, Texas for chemical engineer while his mother has a MA from the University of the Pacific in California.
In 2019 Foam Party Hats generated $145,000 in sales and it will surpassed that numbers in 2020. The company's product line to include Foam Face Shields for kids and can be ordered from their website and Amazon. Grace and Manuel were able to close a deal with Mark Cuban and Lori Greiner the help them scale their business.
---
---
More from Shark Tank
Recommended
Watch full episodes of shark tank online with Amazon Video
Summary
Executive producer Mark Burnett and Sony Pictures TV and bring another season of the business-themed reality show Shark Tank where major investors, aka "sharks" pitch business ideas from contestants. The show is based on the Japanese reality show "Dragon's Den."