Shark Tank season 13 episode 1 introduces an entrepreneur from Monrovia, California, who wants to bring back the old fashion ice cream man, with a modern flair. Next into the Shark Tank is a couple from Santa Monica, California, who pitches the idea of a coffee shop that will provide basic legal services; unfortunately, Kevin O'Leary mocks them for their poorly executed plan. In another coffee-related pick, a man pitches a product he has created that will be able to determine whether a cup of coffee contains caffeine or not. Finally, a woman hopes that the unique way of recycling small amounts of left-over lipstick will sway the Sharks into making an investment.
Season 13 Episode 1 in depth
---
Guest sharks this season include Emma Grede, CEO and co-founder of Good American and founding partner of Skims; actor and comedian Kevin Hart; Peter Jones, dragon on Dragons' Den; Daniel Lubetzky, founder and executive chairman of Kind; and Nirav Tolia, co-founder of Nextdoor.
You may also like
Shark Tank Season 8
Success is about making your life a special version of unique that fits who you are, not what other people want you to be.

Mark Cuban
We listed below every entrepreneur and business who has appeared on Shark Tank Season 13 Episode 1. Many scammers claim they've received big investments from the Sharks or they have been on the show. They were not actually on Shark Tank if you don't see a business on this list. Some of the top places you can use to check are on Wikipedia and also ABC's episode guide.
List with all the appearances in season 13 episode 1:
---
Shark Tank Air Date: 10/08/21 – Season 13 – Episode 1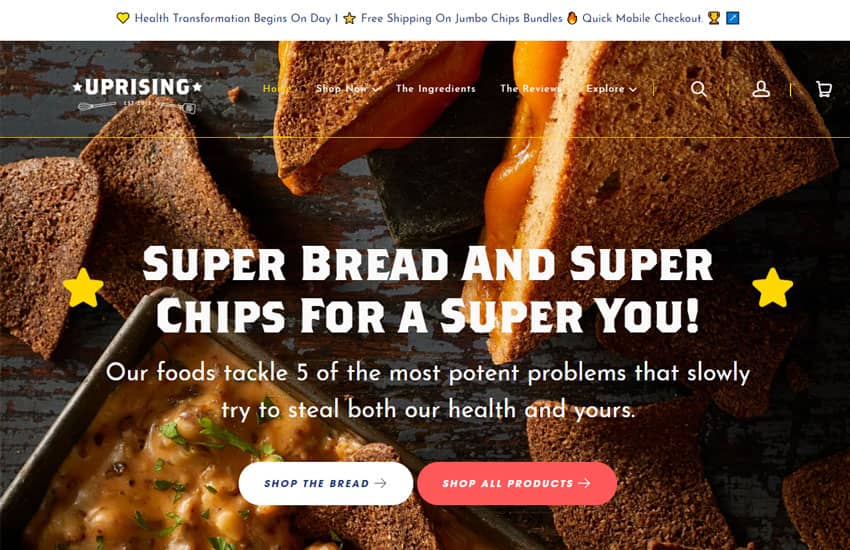 Uprising Bread
| | | |
| --- | --- | --- |
| ASKED FOR | GOT | SHARK |
| $500,000 For 3% | NO DEAL | NO SHARK |
Entrepreneurs: Kristen And William Schumacher
Kristen and William Schumacher started Uprising in 2021 and presented in Shark Tank during Season 13 Episode 1 their product – a paleo and keto-friendly bread and chips. Founded in March 2019, Uprising Food's products are dairy and gluten-free. Their bread is also low in carbs, boosts gut health, and is an excellent source of fiber, made with superfood ingredients.
With no experience in baking, Kristen Schumacher, who has worked in marketing and communications, and her husband, William, a former P&G manager William Schumacher created this packed with superfoods and extend shelf life bread, especially if kept in a freezer. All-natural ingredients such as egg whites, almonds, flax seeds, salt, psyllium husk, baking powder, apple cider vinegar, and water. With a price tag of around $12 this bread could be quite expensive for most people.
A bread cube and chips are the current products that sell Uprising Food via their website as through a subscription model. Although they sold just under $1 million in sales in 2020 and over $2 million in the first six months of 2021, Uprising Food has lost $1 million in the last 12 months, and they only make $3 per order, after shipping.
Unfortunately, the founders, Kristen and William did not impress the sharks and left without a deal, due to not impressive margins and the high cost of $50 to acquire a customer.
---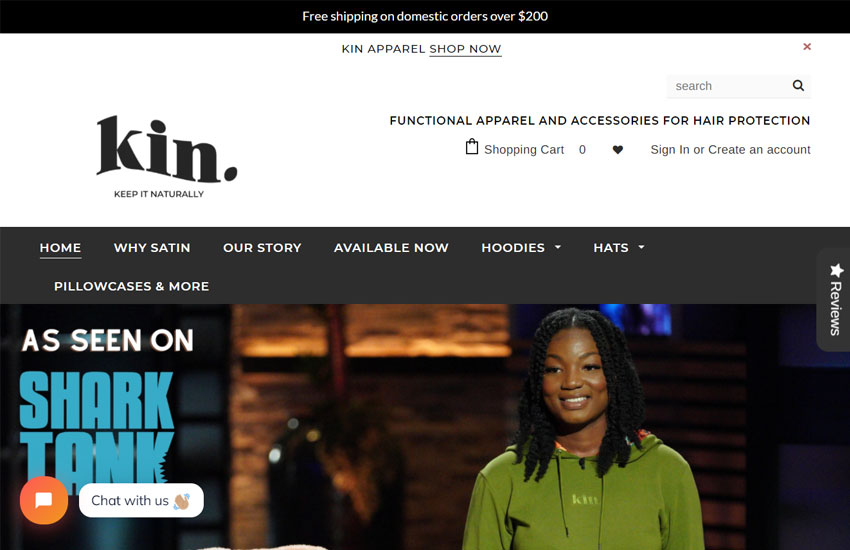 KIN Apparel
| | | |
| --- | --- | --- |
| ASKED FOR | GOT | SHARK |
| $200,000 For 10% | $200,000 For 30% | Emma Grede And Lori Greiner |
Entrepreneurs: Philomina Kane
Philomina Kane, born in the Bronx but grew up in Ghana, created a line of satin-lined hooded apparel to help combat frizzy, dry hair. Kin Apparel is also including sweatshirts for hair maintenance.
Before creating the company in April 2020, she had a well-established YouTube channel with nearly 200,000 subscribers and a strong social media following base. This helped her to reduce to cost of customer acquisition, but she still needed help with supplying enough inventory to fulfill the demand for her products.
The entrepreneur chose satin because is a much softer and silkier material, compared to cotton. Your hair stays moisturized and protected because satin doesn't absorb moisture and it allows it to naturally retain. This leads to a stronger and healthier her. Philomina has a great margin with around $60 profits and with a total of sales in the last year and a half of around $550,000 she grabbed the Sharks' attention.
---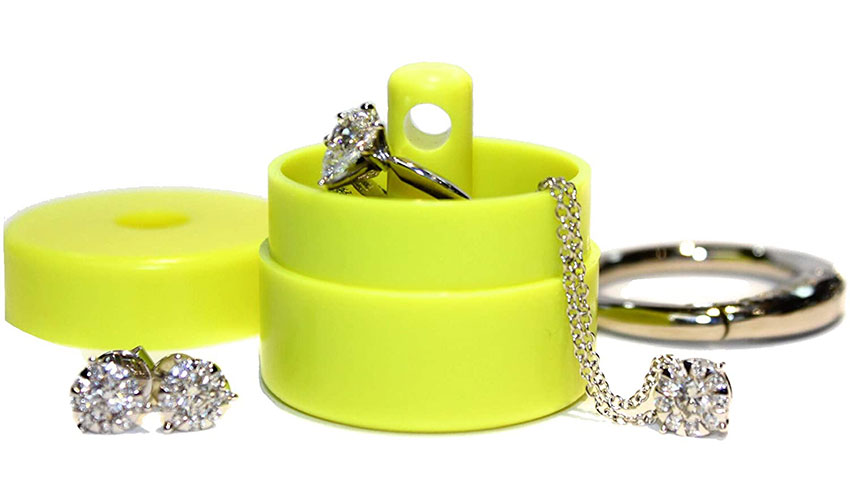 Lion Latch – Jewelry Storage Container
| | | |
| --- | --- | --- |
| ASKED FOR | GOT | SHARK |
| $150,000 For 15% | NO DEAL | NO SHARK |
Entrepreneurs: Lerin Lockwood
Lerin Lockwood is an art teacher that came up with the idea after playing softball and had the ring repaired and the stone replaced due to a ball that bent the setting of her engagement ring. And this is how Lion Latch was born – a jewelry storage container made of a two-piece hard plastic container. It's great to store any necklaces, earrings, rings, or pendants and the carabiner keeps it securely locked. You can easily tie it to your keychain or a bag.
The Lion Latch is unique because it does not come unscrewed, so you must physically remove the carabiner in order to pull the lid off.
Before its appearance on Shark Tank, the company has sold about 8,000 latches in different colors on their website or Amazon. The product has been featured on Good Morning America Deals and Steals and won the GOTEXAN's 2020 People's Choice Award, but couldn't close a deal with the Sharks because they think the business was not big enough.
---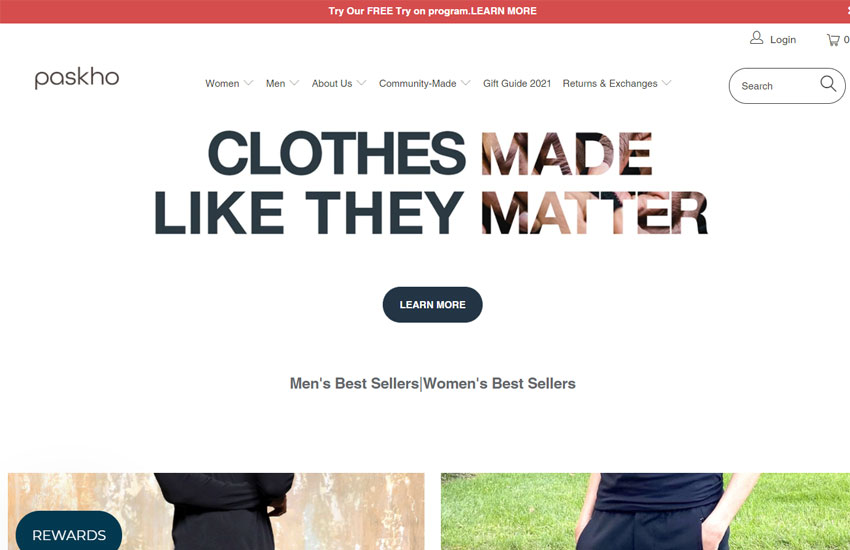 Paskho Apparel
| | | |
| --- | --- | --- |
| ASKED FOR | GOT | SHARK |
| $500,000 For 2.5% | NO DEAL | NO SHARK |
Entrepreneurs: Patrick Robinson
The last entrepreneur on Shark Tank Season 13 Episode 1 is Patrick Robinson with his company Paskho Apparel. Paskho is a clothing brand focused on the ultimate travel pants that emphasize comfort and relaxed elegance. The company is proud of bringing jobs back to communities and fighting the racial and social inequality in the United States.
Robinson wanted to create a clothing line with the main focus on sustainability that would bring a change to much of the fashion industry. Only 14% of clothes and shoes can actually be reused or recycled.
After graduating from the Parsons School of Design, Robinson worked for numerous brands in the fashion industry in Milan and Paris as well as a head designer for Gap and in 2015 he started a Kickstarter campaign. It ended up surpassing his goal of $50 000 and set the base for his company adventure. His idea is to design comfortable, simple and beautiful clothing.
---
More from Shark Tank
Recommended
Watch full episodes of shark tank online with Amazon Video
Summary
Executive producer Mark Burnett and Sony Pictures TV and bring another season of the business-themed reality show Shark Tank where major investors, aka "sharks" pitch business ideas from contestants. The show is based on the Japanese reality show "Dragon's Den."