Shark Tank Season 14 Episode 4 brings a solution to make moving to and from college easier; an African-inspired home-decor line; a natural nonalcoholic beverage; a product for bringing clean air into homes; update on the Mad Rabbit tattoo aftercare line.
Season 14 Episode 4 in depth
Guest sharks this season include Emma Grede, CEO and co-founder of Good American and founding partner of Skims; Gwyneth Paltrow, actress and founder of goop; Peter Jones, dragon on Dragons' Den; Daniel Lubetzky, founder and executive chairman of Kind; Kendra Scott, founder and CEO of Kendra Scott LLC; and Tony Xu, CEO and co-founder of DoorDash.
You may also like
Shark Tank Season Episodes
Nobody has a monopoly on good ideas.

Kevin O'Leary
We listed below every entrepreneur and business who has appeared on Shark Tank Season 14 Episode 4. Many scammers claim they've received big investments from the Sharks or they have been on the show. They were not actually on Shark Tank if you don't see a business on this list. Some of the top places you can use to check are on Wikipedia and also ABC's episode guide.
List with all the appearances in season 14 episode 4:
---
Shark Tank Air Date: 10/14/22 – Season 14 – Episode 4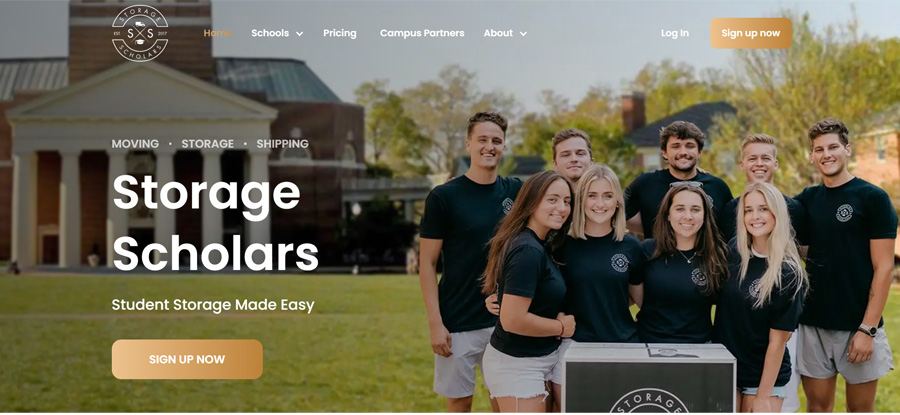 Storage Scholars – Storage and Moving for Students
| | | |
| --- | --- | --- |
| ASKED FOR | GOT | SHARK |
| $250,000 for 5% | $250,000 for 10% | Mark Cuban |
Entrepreneurs: Sam Chason and Matt Gronberg
Storage Scholars is a storage and moving company providing exceptional service to college students. From summer storage to storing dorm room items, Storage Scholars is the go-to source for student needs. Their mission is to provide top quality service at an affordable price, backed by their extensive experience in the industry.
Storage Scholars offers a variety of services for college students including long-term storage, short-term storage, packing supplies, and even packing services. They understand that student schedules can be tight and offer flexible pickup times so that your belongings are safely stored away while you focus on classes or other activities. Moreover, they guarantee competitive prices so that you don't break the bank when dealing with moving and storage needs.
If you are looking for reliable and professional help with your move or need extra space during the semester then Storage Scholars has got you covered!
The company started by Sam Chason and Matt Gronberg in 2017 and since has helped move thousands of students and hold an amazing 4.8 rating. The sharks were impressed by the business model and the idea and Mark Cuban offered them a deal $250,000 for 10%, that they accepted.
---
GHIA – Non Alcoholic Drinks
| | | |
| --- | --- | --- |
| ASKED FOR | GOT | SHARK |
| $250,000 for 5% | NO DEAL | NO SHARK |
Entrepreneurs: Melanie Masarin
GHIA is a company that specializes in creating non-alcoholic drinks for those looking for an alternative to the traditional alcohol-based beverages. Founded by Melanie Masarin who wanted to create something unique and special, GHIA offers a range of non-alcoholic beverages with varied flavours and ingredients, and it is committed to providing consumers with healthy, delicious alternatives to alcoholic drinks.
GHIA's range of products are designed with health in mind, and all their ingredients are sourced from sustainable sources. The company also uses natural sweeteners like stevia and agave nectar instead of artificial sugars or high fructose corn syrup which can have negative health effects. GHIA's variety of non-alcoholic drinks has 0 sugar added, no artifical flavors and its taste has a pithy, ginger flavor with rooty herbal notes.
The most exceptional natural ingredients, carefully sourced from around the world, are used in their line of Ghia products. They use unique blend of herbs, fruits, and roots that are known to strengthen and protect the body. GIA provides a nourishing tonic for body and soul, evoking feelings of relaxation and calmness while energizing or invigorating as needed.
---
Expedition Subsahara – Decorative Baskets
| | | |
| --- | --- | --- |
| ASKED FOR | GOT | SHARK |
| $500,000 for 10% | NO DEAL | NO SHARK |
Entrepreneurs: Sofi Seck
Established to recognize and celebrate African Senegal arts and crafts through radical respect, Expedition Subsahara was founded by Sofi Seck. The founder and owner of Expedition Subsahara, was born in Senegal, in West Africa, came to the United States at early age to seek for higher education.
Historically, African art has been disregarded as simple travel photography rather than taken seriously as an amazing and complex artists' medium. In Senegal, weaving techniques is a craft that begins in childhood and it is passed between grandmothers, mothers and daughters.
For generations, African craftsmanship has been passed down from one generation to the next. Now, Sofi wants to retell the tale of African craftsmanship and showcase its extraordinary talent and knowledge on a larger scale. She works with over 120 Senegalese weavers to continue the tale of African craftsmanship to create these colorful handmade baskets.
Sofi Seck aims to bring together a collective of artisans from various regions in Senegal – each with their own unique cultural backgrounds – to create something beautiful that speaks to the traditional culture and customs of Africa. With this initiative, Sofi hopes not only to celebrate the talent of these master craftsmen but also provide them with an opportunity for economic growth. She believes that by providing a platform where they can showcase their abilities, it will lead to more exposure for their work which could then lead to bigger projects and potential income opportunities in the future.
SoFi is committed to providing future generations with the opportunities they need to become tomorrow's innovative leaders. By creating a program for young women that is focused primarily on STEAM instruction, SoFi seeks to instill this capacity for leadership in future generations.
---
Woosh – Smart Air
| | | |
| --- | --- | --- |
| ASKED FOR | GOT | SHARK |
| $500,000 for 10% | $500,000 for 10% equity + $0.50 cent royalty | Kevin O'Leary |
Entrepreneurs: Winston Mok
Woosh – Smart Air is a revolutionary product that has the potential to revolutionize how we access air in our homes. Woosh provides clean, fresh air, faster and more efficiently than any other ventilation system. It does this using a combination of advanced technology, including an advanced filtration system and an intelligent climate control algorithm.
The Woosh system is easy to install and requires minimal maintenance. Its built-in sensors detect changes in temperature and humidity levels, allowing it to adjust its settings accordingly for optimal air quality. The device also features Wi-Fi connectivity so you can control it from your smartphone or laptop. Additionally, Woosh's app allows users to monitor their indoor air quality in real time, as well as schedule purification cycles for better air management over time.
When paired with a Nest or Ecobee smart thermostat, Woosh actively checks air quality and will circulate filtered air when bad air quality is detected. Room air purifiers are unable to improve air quality over the entire home. Room air purifiers are only a Band aid for that problem. The real solution is to use the HVAC system for whole-house clean air, not a band aid.
The Woosh Air Quality Monitor (AQM) tracks the air quality of your home or office and alerts you if a potential air quality crisis develops. When the air quality gets too dirty, the AQM switches off your air conditioning system and turns on the HVAC fan to filter the air and remove air pollutants.
Woosh has used Fold filters of MERV 13, which are recommended by the CDC and EPA to decrease the spread of coronavirus and to remove wildfire smoke. These filters have twice as many filter materials as air filters made of cardboard, resulting in lower pressure drop of 30 and a higher air flow.
---
More from Shark Tank
Recommended
Watch full episodes of shark tank online with Amazon Video
Summary
Executive producer Mark Burnett and Sony Pictures TV and bring another season of the business-themed reality show Shark Tank where major investors, aka "sharks" pitch business ideas from contestants. The show is based on the Japanese reality show "Dragon's Den."