Shark Tank Season 14 Episode 2 features a kit for teaching how to create cuddly animal characters; a trussing device designed to cook the perfect bird; a company that provides convenient personal storage for medical necessities; an update on Beatbox Beverages.
Season 14 Episode 2 in depth
Guest sharks this season include Emma Grede, CEO and co-founder of Good American and founding partner of Skims; Gwyneth Paltrow, actress and founder of goop; Peter Jones, dragon on Dragons' Den; Daniel Lubetzky, founder and executive chairman of Kind; Kendra Scott, founder and CEO of Kendra Scott LLC; and Tony Xu, CEO and co-founder of DoorDash.
You may also like
Shark Tank Season Episodes
It's not about money or connections–it's the willingness to outwork and outlearn everyone when it comes to your business. And if it fails, you learn from what happened and do a better job next time.

Mark Cuban
We listed below every entrepreneur and business who has appeared on Shark Tank Season 14 Episode 2. Many scammers claim they've received big investments from the Sharks or they have been on the show. They were not actually on Shark Tank if you don't see a business on this list. Some of the top places you can use to check are on Wikipedia and also ABC's episode guide.
List with all the appearances in season 14 episode 2:
---
Shark Tank Air Date: 09/30/22 – Season 14 – Episode 2
The Woobles – Crochet kits for kids
| | | |
| --- | --- | --- |
| ASKED FOR | GOT | SHARK |
| $250,000 for 5% | $450,000 for 6 | Lori Greiner and Mark Cuban |
Entrepreneurs: Adrian Zhang and Justine Tiu
The Woobles are the newest line of DIY craft kits designed to get kids excited about crocheting. With easy-to-follow instructions and fun accessories, The Woobles offer children a chance to explore their creativity while learning an engaging new skill. Perfect for any age, these sets come with everything needed to make colorful characters that can be customized with clothes and accessories.
Crafting has been proven to have numerous benefits for children including improved problem solving skills and fine motor development. The Woobles sets provide hours of creative play as kids crochet their very own toys. Each kit comes with bright colored yarns, decorative pieces, fabric markers and more for customizing the characters' style. In addition, each character has its own story created by talented authors that will provide an even more immersive experience for little crafters!
Their Beginners Crochet Kit with Easy Peasy Yarn and Pierre the Penguin is perfect for those just starting out. Not only does this kit come with all the materials needed to create your own unique project, but also includes step-by-step video tutorials for each stage of the process. With easy-to-follow instructions, you'll soon be creating amazing gifts and keepsakes in no time.
The kit includes everything from yarn, needles and all the necessary accessories, to an adorable Pierre The Penguin amigurumi pattern – so there's something for everyone in this awesome craft bundle! From cuddly toys to blankets and clothing, this crochet set has everything you need to make your project a success.
---
Banana Phone – Bluetooth phone shaped like a banana
| | | |
| --- | --- | --- |
| ASKED FOR | GOT | SHARK |
| $250,000 for 10% | NO DEAL | NO SHARK |
Entrepreneurs: Brian Brunsing, Max Brown, and Charlie Katrycz
Bananas have long been a source of joy, laughter and nutrition for all. Now, a new device has taken the banana to exciting heights. Introducing the Banana Phone – an innovative Bluetooth phone shaped like a banana!
This unique phone is perfect for those who want to stay connected with their friends and family without sacrificing their sense of fun and style. With its bright yellow color and curved shape, the Banana Phone offers users more than just good looks. It boasts advanced features such as bluetooth connectivity, hands-free functionality, voice recognition technology and even supports video calls. The phone also comes with an integrated camera for capturing special moments on the go.
The Banana Phone Bluetooth Handset is the latest in mobile device technology. This revolutionary product allows iPhone and Android users to enjoy the convenience of a hands-free headset, while also having a bit of fun with its quirky banana design. The Banana Phone features an adjustable headband, lightweight construction, and an ergonomic earpiece that provide maximum comfort for long-term use. Equipped with a powerful Bluetooth connection, this device offers crystal clear audio quality and superior sound isolation for enhanced music listening or phone calls.
Whether you're having a casual chat or enjoying your favorite tunes, the Banana Phone ensures that you can stay connected without sacrificing comfort or sound quality. With its stylish design and user-friendly features, it's easy to see why the Banana Phone has become such a popular choice among tech enthusiasts around the world.
The Banana Phone is the perfect accessory for anyone looking to turn heads while staying connected.
---
Turbo Trusser – Turkey trusser
| | | |
| --- | --- | --- |
| ASKED FOR | GOT | SHARK |
| $100,000 for 10% | $100,000 for 33% equity + $1 dollar royalty in perpetuity | Kevin O'Leary |
Entrepreneurs: Brian Halasinski and Kirk Hyust
When it comes to trussing poultry, the Turkey Trusser from Turbo Trusser is a must-have kitchen tool. This innovative device makes it easy to quickly and safely prepare poultry for roasting. Unlike other trussers on the market, the Turbo Trusser features a reinforced nonslip grip handle, allowing users to securely hold onto the tool while they work. The sturdy construction also ensures that the trusser won't bend or break even under pressure.
The unique design of the Turbo Trusser enables users to quickly and easily truss their poultry with perfect results each and every time. With its sharp stainless steel prongs, this device securely grabs onto both ends of the bird's legs so that they can be evenly tied together without difficulty. In addition, its ergonomic shape fits comfortably in your hand for hassle-free use.
They also have a Turbo Trusser for Chicken. As seen on Shark Tank, this innovative product securely holds chicken while it cooks, ensuring even cooking and perfect results every time.
It's easy to use – simply place the chicken into the trusser, and secure it with the strong steel clips. Put it in your oven or smoker, and let it do its magic! The Turbo Trusser keeps the bird upright and opens up more surface area of skin to be cooked directly by heat or smoke. This helps crisp up that perfect golden-brown skin you know and love! Plus, there's no need to worry about soggy skin from steam or uneven cooking when using the Turbo Trusser for Chicken.
---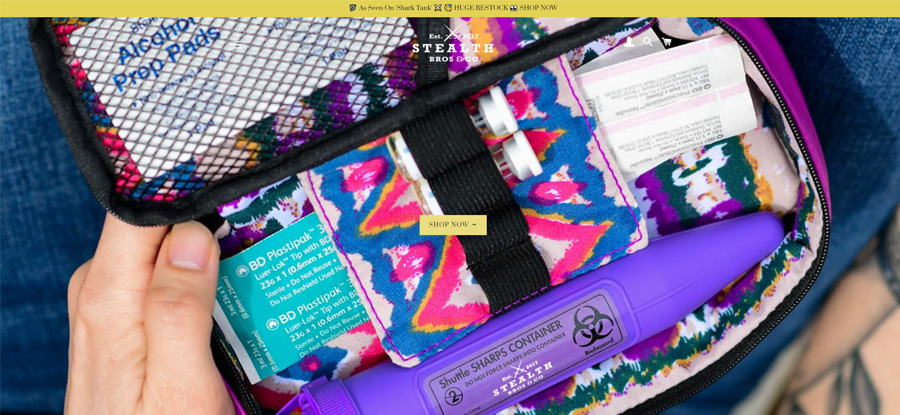 Stealth Bros & Co – Luxury Dopp Kits
| | | |
| --- | --- | --- |
| ASKED FOR | GOT | SHARK |
| $200,000 for 15% | $200,000 for 20% | Barbara Corcoran and Mark Cuban |
Entrepreneurs: Braxton Flemin
Introducing Stealth Bros & Co, a line of luxury dopp kits perfect for the modern man. With sleek and sophisticated designs, these exclusive bags will keep all your grooming products organized and safe on any journey.
Stealth Bros & Co offer dopp kits made from high-quality materials to ensure durability and long-lasting use. Every bag features a unique look that is sure to turn heads while still offering ample space to store all essentials from cologne to razors. Plus, each bag has been designed with an eye for detail with sturdy zippers, interior pockets in various sizes, and adjustable straps for easy transportability. With such quality design, these luxury dopp kits are must-haves for any modern man who wants more than just a simple toiletry bag.
Stealth Bros & Co.'s mission is to provide luxurious, long-lasting necessities that are designed with convenience and style in mind, making it easier for men on-the-go or those who simply want an upgraded look for their everyday routine.
Stealth Bros. & Co. is revolutionizing the daily-use medical supplies industry by creating stylish sharps containers that don't make people feel ashamed or embarrassed to use them. With these new containers, those who require daily access to medical supplies can now do so with added confidence and security.
Using a unique blend of fashion, function, and affordability as their guiding principles, Stealth Bros. & Co has developed innovative designs for sharps containers and bags for home personal storage for hormone replacement therapy and other medical necessities that are attractive and discreet yet still meet the needs of those using them for medical purposes.
The company uses high quality materials that have been tested for safety and durability against extreme temperatures and shock-resistance in order to provide maximum protection from spills or injuries while still looking great on any desk or countertop. In addition they offer a range of colors and styles giving users the option to customize their own container according to personal preference.
Braxton's passion for providing only high-quality products to his customers led him to create Stealth Bros. & Co., which has quickly become one of the premier Dopp kit suppliers in the market today. He successfull made a deal with the sharks Barbara Corcoran and Mark Cuban for $200,000 for 20%.
---
More from Shark Tank
Recommended
Watch full episodes of shark tank online with Amazon Video
Summary
Executive producer Mark Burnett and Sony Pictures TV and bring another season of the business-themed reality show Shark Tank where major investors, aka "sharks" pitch business ideas from contestants. The show is based on the Japanese reality show "Dragon's Den."