Shark Tank Season 12 Episode 17 an entrepreneur from Brooklyn, New York, pitches his eco-friendly approach to sausage making. Two entrepreneurs from Los Angeles pitch their ultra-portable product designed to keep things cool. A family from San Clemente, California, pitch their unique take on riding the waves. A father and daughter from Naperville, Illinois, pitch a stress-free solution for a common problem parents face while shopping with their newborn.
Season 12 Episode 17 in depth
Guest sharks this season include Blake Mycoskie, founder of TOMS and co-founder of Madefor, and Kendra Scott, founder and CEO of Kendra Scott LLC. Returning guest Sharks include Alex Rodriguez, baseball player and founder and CEO of A-Rod Corp, and Daniel Lubetzky, founder and executive chairman of Kind.
You may also like
Shark Tank Season 8
Finding opportunity is a matter of believing it's there.

Barbara Corcoran
We listed below every entrepreneur and business who has appeared on Shark Tank Season 12 Episode 17. Many scammers claim they've received big investments from the Sharks or they have been on the show. They were not actually on Shark Tank if you don't see a business on this list. Some of the top places you can use to check are on Wikipedia and also ABC's episode guide.
List with all the appearances in season 12 episode 17:
---
Shark Tank Air Date: 03/12/21 – Season 12 – Episode 17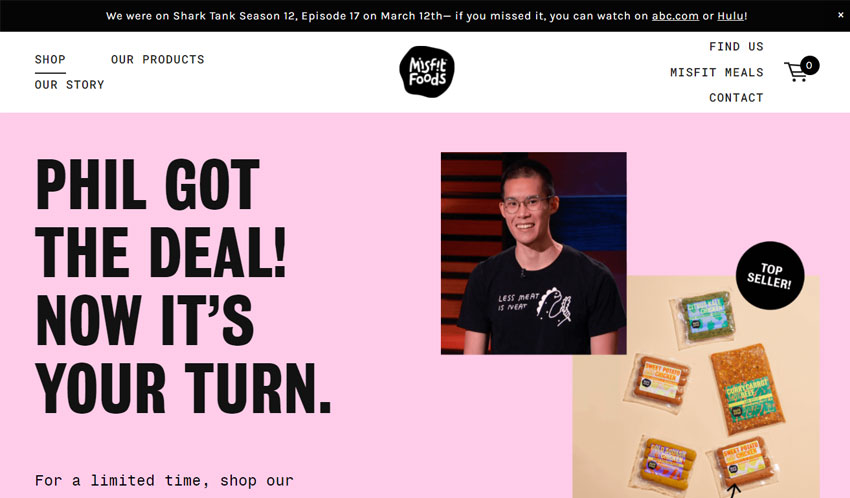 Misfit Foods Sausages
| | | |
| --- | --- | --- |
| ASKED FOR | GOT | SHARK |
| $250,000 For 5% | $300,000 For 15% | Mark Cuban And Daniel Lubetzky |
Entrepreneurs: Phil Wong
On Shark Tank Season 12 Episode 17 the entrepreneur Phil Wong from New York City introduced his Misfit Foods Sausages – a line of sausages made beef or chicken raised within better conditions and the other half of vegetables. What pushed Phil to this idea is to reduce the six billion pounds of produce that is wasted every year and reducing meat consumption and pollution caused by the meat processing industry.
According to Phil Wong, Misfit Foods sausages had been around for less than a year but they already were able to generate $800,000 in sales. His forecast for 2021 was to reach $1.2 million sales of sausage. The sausages are selling for $5.99-$7.99 while it costs him to make $2.91 per sausage sausage.
Two sharks is always better than one and in the end he accepted an offer from Mark and Daniel for $300,000 for 15 percent equity, making him reducing his company valuation. One thing to mention about Misfit Foods packaging is that their are recyclable, and the liner insulation is water-soluble and composable.
---
Chill Systems Beverage Cooler
| | | |
| --- | --- | --- |
| ASKED FOR | GOT | SHARK |
| $150,000 For 15% | NO DEAL | NO SHARK |
Entrepreneurs: Chase Mitchell And Brian Bloch
Chill Systems is a new-generation drink cooler founded by Chase Mitchell and Brian Bloch. This lightweight, ultra-portable and compact beverage cooler system is revolutionary the traditional cooler. They are also focused on eliminating the need for single-use plastic bags of ice and reduce plastic pollution. In two years they had sold well over 100,000 dollars.
The Chill Systems uses freezing gel built inside and it doesn't require ice or gel packs to cool your drinks. You can use easily care it with you to the beach or when you travel. A portion of every Chill Systems purchase is also donated to support around the world different sanitation and cleaning water infrastructure projects.
The Chiller comes in a different designs and allows you to cool a wide variety of beverages such as beer, kombucha, soda, wine, spirits, coffee, sports drinks, and more. The two models are The Pack can cool a 6-pack of 12 oz cans or two 750 ml bottles, while the model The Tote can cool twelve 12oz cans or bottles, or four 750 ml bottles of wine or spirits.
---
Totes Babies – Car Seat Carrier
| | | |
| --- | --- | --- |
| ASKED FOR | GOT | SHARK |
| $100,000 For 10% | $100,000 For 25% | Lori Greiner |
Entrepreneurs: Lindsey Fleischhauer and Stanley Valiulis
Lindsey Fleischhauer and Stanley Valiulis are the founders of Totes Babies. The Totes Babies Car Seat Carrier has reinventing shopping with babies by this one-of-a-kind hammock style car seat carrier allows babies to stay snug and sleeping in their car seat while parents shop.
The Totes Babies Car Seat Carrier invented by the the father-daughter team from the city of Naperville, Chicago has made shopping with babies more simple than ever before. Totes Babies carrier is durable and strong and has gone through rigorous testing and meets all CPSC safety standards.
It is compatible with shopping carts at most chain stores in USA and Canada including Walmart, Target, Home Depot, Costco, Publix, and has has a 75lb weight limit. They launched Totes Babies in middle of 2018 and had sold $220,000 at $39.95, while it costs $9.90 to make.
---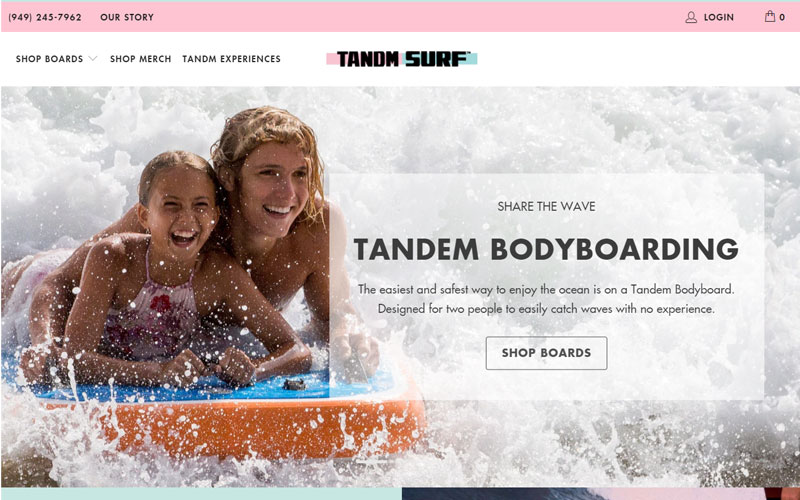 Tandem Boogie – Bodyboard for Two People
| | | |
| --- | --- | --- |
| ASKED FOR | GOT | SHARK |
| $100,000 For 10% | $100,000 For 35% | Robert Herjavec And Daniel Lubetzky |
Entrepreneurs: Clark Family
The Tandem Boogie is great for people with or without experience and it is a bodyboard designed for two people to jump and surf together. One of the major targets for this product are families, surf schools, and sea enthusiasts.
Tandem Boogie has a patent pending for its Dynamic AIR Inflatable Design allows you to roll it up and fit it into your travel bag. To memories all the experience soft EVA safe handles are included and a built-in camera mount. The soft handles are great for holding on during big rides and are soft and safe for kids and all ages.
Before pitching their product at Shark Tank the Clark Family had the business for only two months, but were able to generate $43,000 worth of sales. The product came to life after a successful Kickstarter campaign. Going forward, the family shared that the plan is to expand their online presence and try to land in some beach-related retail stores. Tandem Boogie is selling for $459 while it cost to manufacture $150 per board.
---
More from Shark Tank
Recommended
Watch full episodes of shark tank online with Amazon Video
Summary
Executive producer Mark Burnett and Sony Pictures TV and bring another season of the business-themed reality show Shark Tank where major investors, aka "sharks" pitch business ideas from contestants. The show is based on the Japanese reality show "Dragon's Den."