Shark Tank Season 13 Episode 15 brings all-natural personal care products; a customizable fashion design for sports fans; support system exclusively for women; Nigerian immigrants celebrate their African heritage with their children's fashion clothing line.
Season 13 Episode 15 in depth
Guest sharks this season include Emma Grede, CEO and co-founder of Good American and founding partner of Skims; actor and comedian Kevin Hart; Peter Jones, dragon on Dragons' Den; Daniel Lubetzky, founder and executive chairman of Kind; and Nirav Tolia, co-founder of Nextdoor.
You may also like
Shark Tank Season Episodes
Everyone has an idea, but it's taking those first steps toward turning that idea into a reality that are always the toughest.

Daymond John
We listed below every entrepreneur and business who has appeared on Shark Tank Season 13 Episode 15. Many scammers claim they've received big investments from the Sharks or they have been on the show. They were not actually on Shark Tank if you don't see a business on this list. Some of the top places you can use to check are on Wikipedia and also ABC's episode guide.
List with all the appearances in season 13 episode 15:
---
Shark Tank Air Date: 03/11/22 – Season 13 – Episode 15
Ade + Ayo
| | | |
| --- | --- | --- |
| ASKED FOR | GOT | SHARK |
| $175,000 for 10% | $200,000 for 33.3% equity + $500,000 line of credit | Barbara Corcoran |
Entrepreneurs: Temidayo Adedokun
A Nigerian Brazilian woman known as Temidayo and currently living in the United States, debuted on Shark Tank Season 13 with her clothing line for children with design reflects African culture as a community and alliance.
This young entrepreneur has made waves on the business scene by appearing on the popular TV show Shark Tank. The design shares African culture and history as a community and union. In 2015, she earned a Doctor of Law (JD) degree from Yale Law School after previously earning her bachelor's degree in economics from the University of California, Davis.
As she happily started decorating her son's nursery and closet, the search for nursery accessories and attractive baby clothing that reminded her of her hometown and would introduce him to the beauty of the continent drained their finances. She could not find special garments in the aesthetic and colors she would like that would fit her son's busy lifestyle, and any African-inspired nursery supplies she found were either too low-quality or too expensive.
Many people may believe it would not be smart to start their own business in the middle of a pandemic and also endure a drop in income. Nonetheless, for Adedokun and her husband Abisola, seeing these events come together represented a hopeful sign and in October of 2020 Ade + Ayo was launched.
---
Curie Body Care – Aluminum-free deodorants and hand sanitizers
| | | |
| --- | --- | --- |
| ASKED FOR | GOT | SHARK |
| $300,000 for 5% | $300,000 for 12% equity + 2% in advisory shares | Mark Cuban and Barbara Corcoran |
Entrepreneurs: Sarah Moret
Curie Body Care, the innovative health and hygiene brand, recently made its appearance at the Shark Tank show. The company's mission is to provide safe, aluminum-free deodorants and hand sanitizers that are both effective and affordable. By using natural ingredients Curie Body Care products are designed to keep you feeling fresh and hygienic throughout the day.
Their products are designed to provide long lasting protection without any of the harsh chemicals found in traditional body care products. They believe that everyone should have access to quality body care that is safe for their skin and free from potential toxins. This is a great alternative to traditional deodorant and hand sanitizers on the market today.
The sharks were impressed with Sarah Moret' story and her products, and they ultimately gave her a deal. Sarah was able to close a deal with Mark Cuban and Barbara Corcoran. Thanks to the Shark Tank deal, the company has been able to expand their product line and reach a wider audience.
After appearing on ABC's hit show Shark Tank, Sarah made waves as she pitched her product to the Sharks and earned a record-breaking deal.
---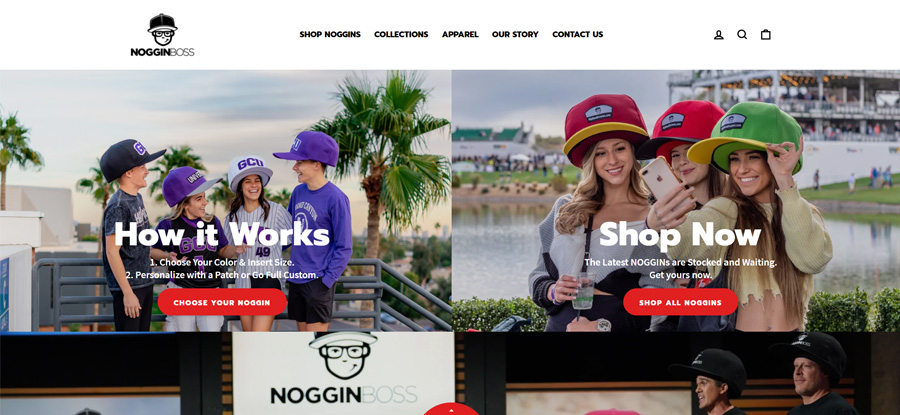 Noggin Boss Custom Hats
| | | |
| --- | --- | --- |
| ASKED FOR | GOT | SHARK |
| $50,000 for 25% | $50,000 for 30% | Daymond John |
Entrepreneurs: Gabe Cooper and Sean Starner
For entrepreneurs looking to take the plunge into the world of business with the Noggin Boss Custom Hats, Shark Tank Show is an excellent opportunity. With their unique range of custom-made hats, Noggin Boss has become a household name in fashion and apparel. The company has gained a wide following due to its innovative designs and high-quality materials.
Noggin Boss is a unique business that creates custom hats for people who want to express their individual style. This company stands out from the competition by giving customers the chance to design and customize their own headwear.
The product is 100% made in the USA and the Flasky can be ordered with either their exclusive dry foam sphere made for artificial flowers or wet foam for a genuine flower arrangement. Their primary sale channel is through their website although they have an Etsy store. After their appearance on Shark Tank they sold out in 15 minutes.
Founded by creative entrepreneurs Gabe Cooper and Sean Starner, Noggin Boss Custom Hats recently made its debut on the hit show Shark Tank. On the show, viewers were able to witness firsthand the Martin's custom-designed hats and caps. You can customize your Noggin with your business logo, favorite charity, or choose a patch directly from their website online!
---
Behave Bras – Supportive bras for larger breasts
| | | |
| --- | --- | --- |
| ASKED FOR | GOT | SHARK |
| $150,000 for 15% | $150,000 for 20% | Kevin O'Leary |
Entrepreneurs: Athena Kasvikis
Behave Bras is a revolutionary new product that is revolutionizing the lingerie industry. It is a line of bras specifically designed to provide maximum comfort and support while also maintaining an attractive, fashionable look. Unlike traditional bras, Behave Bras are constructed with special fabrics and designs that reduce movement and restrict bouncing, giving women the confidence they need to tackle any activity with comfort and style.
This innovative, wire-free line of bras has been designed to cater specifically to women with bigger busts, offering sizes DD-I cups. Behave Bras provides maximum support and comfort while still maintaining a stylish look and feel. By listening to the needs of their customers, they have managed to create bras that are both functional and fashionable, providing an effortless fit regardless of size.
---
More from Shark Tank
Recommended
Watch full episodes of shark tank online with Amazon Video
Summary
Executive producer Mark Burnett and Sony Pictures TV and bring another season of the business-themed reality show Shark Tank where major investors, aka "sharks" pitch business ideas from contestants. The show is based on the Japanese reality show "Dragon's Den."