Shark Tank Season 14 Episode 6 brings a luxury apparel line designed to elevate one's office look; a portable way to enjoy beverages on tap; a fruit preservation device; a fruit-infused wine collection; an update on Curie, a natural product line; guest shark Peter Jones.
Season 14 Episode 6 in depth
Guest sharks this season include Emma Grede, CEO and co-founder of Good American and founding partner of Skims; Gwyneth Paltrow, actress and founder of goop; Peter Jones, dragon on Dragons' Den; Daniel Lubetzky, founder and executive chairman of Kind; Kendra Scott, founder and CEO of Kendra Scott LLC; and Tony Xu, CEO and co-founder of DoorDash.
You may also like
Shark Tank Season Episodes
If you can't come clean and tell investors how and why you failed, that raises a red flag. They need to see that you learned from it and came back stronger.

Daymond John
We listed below every entrepreneur and business who has appeared on Shark Tank Season 14 Episode 6. Many scammers claim they've received big investments from the Sharks or they have been on the show. They were not actually on Shark Tank if you don't see a business on this list. Some of the top places you can use to check are on Wikipedia and also ABC's episode guide.
List with all the appearances in season 14 episode 6:
---
Shark Tank Air Date: 11/11/22 – Season 14 – Episode 6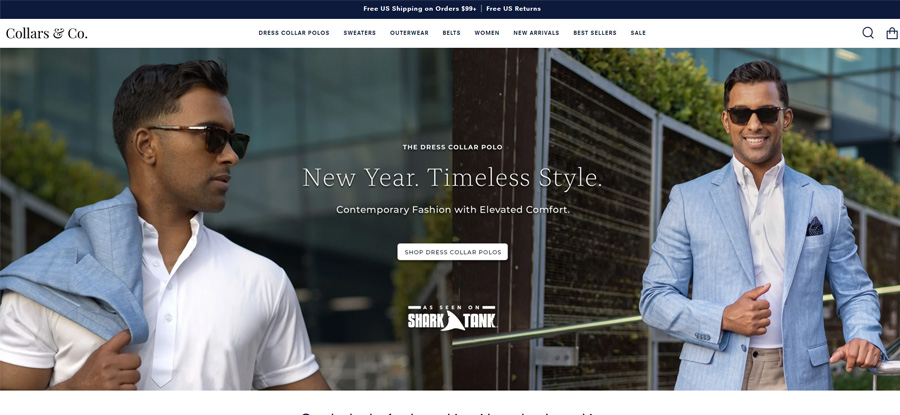 Collars & Co.
| | | |
| --- | --- | --- |
| ASKED FOR | GOT | SHARK |
| $300,000 for 4% | $300,000 for 10% equity + $700k line of credit | Mark Cuban and Peter Jones |
Entrepreneurs: Justin Baer
Collars and Co is an apparel brand that is taking the world of fashion by storm. Their specialty lies in the production of high-quality polo shirts and dress collars, designed to provide superior comfort for the wearer. Known for their meticulous attention to detail, Collars and Co ensures that each piece looks perfect, right down to the collar. This has made them a favourite among fashion-lovers, who appreciate the effortless style that only Collars and Co can provide.
Whether you're looking for shirts, sweaters, underwear, belts or any other accessory, they are sure to have it. Recently they have added long sleeve semi-spread collar polo shirts priced at $72 to their selection. Not only is the selection varied but also the prices which range from affordable to high end.
Justin Baer made an impressive appearance on Shark Tank Season 14 Episode 6 when he presented his company, Collars and Co. He was looking for $300K in exchange for 4% equity at a whopping $7.5 Million valuation from the sharks.
Justin is a professional businessperson with a successful track record of success. His ambitious proposal stunned the sharks and intrigued them to hear more about Collars and Co and its motivated founder. He was able to make a deal with Mark Cuban and Peter Jones for $300,000 for 10% equity + $700k line of credit.
---
Square Keg – Beverage / Keg
| | | |
| --- | --- | --- |
| ASKED FOR | GOT | SHARK |
| $300,000 for 10% | $300,000 for 20% | Kevin O'Leary |
Entrepreneurs: Tim Loucks
SquareKeg is a company that has revolutionized the world of beer and beverage storage. Their product, SquareOne Mini Keg, is a unique device that fits easily into any fridge or cooler and keeps beer or beverages cold and fresh for a long time.
The launch of SquareKeg is making waves in the beer industry. This innovative, patent-pending mini keg is designed to be the only one of its kind: it's square and it fits perfectly in any home refrigerator. Now, beer enthusiasts can enjoy 1 gallon of their favorite brew on tap, anytime they please – no need to worry about running out of space!
SquareKeg's Square One Mini Keg, Stainless Steel Keg and Tap System is perfect for home brewers and beer lovers. This keg and tap system has a two-times 64oz Growlers or one gallon capacity, making it ideal for sharing your favorite brews with friends. It fits easily in refrigerators or coolers so you can keep your beer cold without taking up too much space. The stainless steel design is both stylish and durable, so you won't have to worry about any leaks or damage! Plus, its convenient size makes it great for parties and events.
SquareKeg stands apart from traditional round mini kegs thanks to its unique design. The pressurized tank ensures that your beverage stays carbonated and fresh for up to 3 months at a time, while the square shape offers more surface area for cooling and improved ease of storage. Plus, due to its compact size (it measures just 13 inches tall), you can serve cold drinks without taking up too much counter space or cluttering your fridge.
---
Nana Hats – Banana Preservation
| | | |
| --- | --- | --- |
| ASKED FOR | GOT | SHARK |
| $150,000 for 10% | $150,000 for 20% | Lori Greiner and Peter Jones |
Entrepreneurs: Sean Adler
Have you ever heard of the innovative product called Nana Hats? It is a revolutionary BPA-free silicone cap that has revolutionized the way we store and ripen bananas. This cap comes with an attached crochet hat that gives it a beautiful, decorative look. Not only does it help to slow down the banana ripening process, but it also allows you to keep your bananas organized in a neat bundle- perfect for storage or transportation!
Sean Adler made a bold entrance into Shark Tank Season 14 as he presented his company, Nana Hats, and declared himself the king of banana preservation. As the sharks looked on in surprise, Adler outlined his request for an investment of $150,000 for 10% equity in his business. Nana Hats is a revolutionary product designed to make it easier than ever before to preserve bananas and other fruits for extended periods of time.
Nana Hats provide a unique, reusable solution that is both stylish and effective. These hats are magnetically attached and easily interchangeable, making it simple to swap in different designs whenever you like. The patented design ensures that your bananas stay safe and secure, while providing an eye-catching look for any kitchen space.
---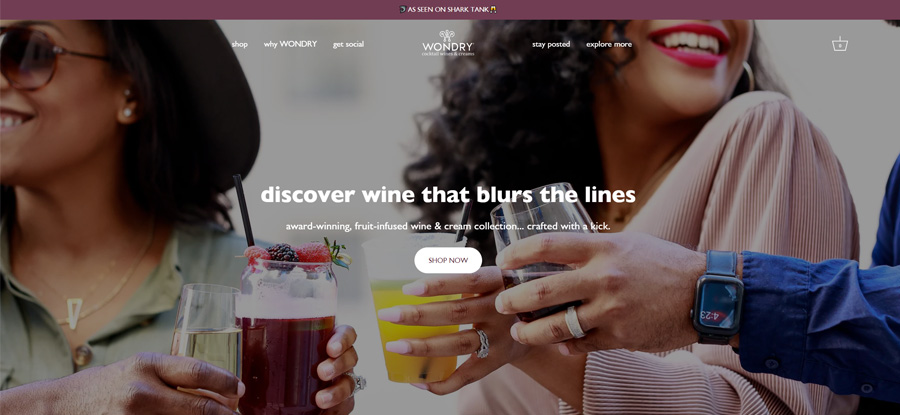 WONDRY – Cocktail Wines
| | | |
| --- | --- | --- |
| ASKED FOR | GOT | SHARK |
| $185,000 for 8% | $225,000 for 15% | Mark Cuban |
Entrepreneurs: Chaz Gates and Whitney Gates
On Shark Tank Season 14, Wondry made a memorable appearance. The company was looking for an investment of $185,000 for 8% equity from the sharks. However, what really caught the attention of the investors was when the couple presenting Wondry began talking about their unique cocktail wines. This was enough to peak their interest and allowed them to present what Wondry had to offer in more detail.
Wondry wine is an innovative and unique spin on a classic beverage. This 100% natural wine is made with organic berry, citrus, and exotic fruit, with no artificial ingredients added in the process. It is crafted with care to bring out the best flavor and aroma of its all-natural ingredients.
As the couple presented their cocktail wines to the four sharks, they were intrigued by the flavor combinations and potential of the business. Wondry is a company focused on creating unique and flavorful beverages for customers to enjoy. Their goal is to bridge the gap between traditional wine and craft cocktails by combining high-quality ingredients with modern technology.
---
More from Shark Tank
Recommended
Watch full episodes of shark tank online with Amazon Video
Summary
Executive producer Mark Burnett and Sony Pictures TV and bring another season of the business-themed reality show Shark Tank where major investors, aka "sharks" pitch business ideas from contestants. The show is based on the Japanese reality show "Dragon's Den."