Shark Tank Season 14 Episode 10 brings a healthier version of a favorite breakfast indulgence; a product designed to keep beverages crisp and cool; a low-calorie superfood alternative; an eco-friendly version of a baby product; guest shark Gwyneth Paltrow.
Season 14 Episode 10 in depth
Guest sharks this season include Emma Grede, CEO and co-founder of Good American and founding partner of Skims; Gwyneth Paltrow, actress and founder of goop; Peter Jones, dragon on Dragons' Den; Daniel Lubetzky, founder and executive chairman of Kind; Kendra Scott, founder and CEO of Kendra Scott LLC; and Tony Xu, CEO and co-founder of DoorDash.
You may also like
Shark Tank Season Episodes
If you're emotional and you're great at something, the money will follow.

Robert Herjavec
We listed below every entrepreneur and business who has appeared on Shark Tank Season 14 Episode 10. Many scammers claim they've received big investments from the Sharks or they have been on the show. They were not actually on Shark Tank if you don't see a business on this list. Some of the top places you can use to check are on Wikipedia and also ABC's episode guide.
List with all the appearances in season 14 episode 10:
---
Shark Tank Air Date: 01/06/23 – Season 14 – Episode 10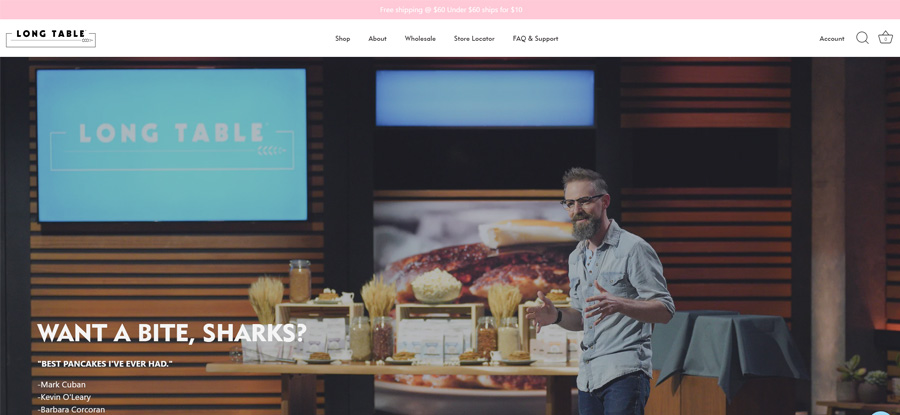 Long Table Pancakes
| | | |
| --- | --- | --- |
| ASKED FOR | GOT | SHARK |
| $140,000 for 15% | NO DEAL | NO SHARK |
Entrepreneurs: Samuel Taylor
Long Table Pancakes is a pancakes business that specializes in vegan, healthy and tasty pancakes. All of the pancakes are made with all-natural ingredients to ensure they are as healthy as possible while still tasting delicious. The company also offers organic maple syrup, making it easy for customers to get their pancake fix without sacrificing on health or flavor.
Long Table Pancakes prides itself on its commitment to creating healthier options without compromising on taste. They use nutritious ingredients like almond milk, applesauce and whole wheat flour while still making sure the pancakes have a light and fluffy texture. In addition to their vegan options, they offer classic buttermilk pancakes for those who prefer traditional recipes.
Those looking for a healthier alternative can rest assure that Long Table Pancakes are providing their customers with the highest quality of products, made from all-natural ingredients without any artificial chemicals.
Samuel Taylor started his pancake company, Long Table Pancakes, in February 2015. In 2010 Taylor met acrobat and wanted to make a good impression, decided to show off his cooking skills. He made popcorn pancakes, an unusual combination of fried pancakes with crunchy popcorn mixed into the batter. The acrobat was so impressed by the treat that she knew then and there that she wanted to marry Taylor.
Long Table Pancakes is dedicated to making the best-tasting pancakes that everyone can enjoy. With quality ingredients sourced locally, Samuel Taylor creates delicious flavors such as blueberry and banana nut that are sure to satisfy any palette. Customers can visit their website or visit one of their physical locations and get their hands on a plate of these tasty treats. All profits go back into keeping the business running and helping out local suppliers as well.
---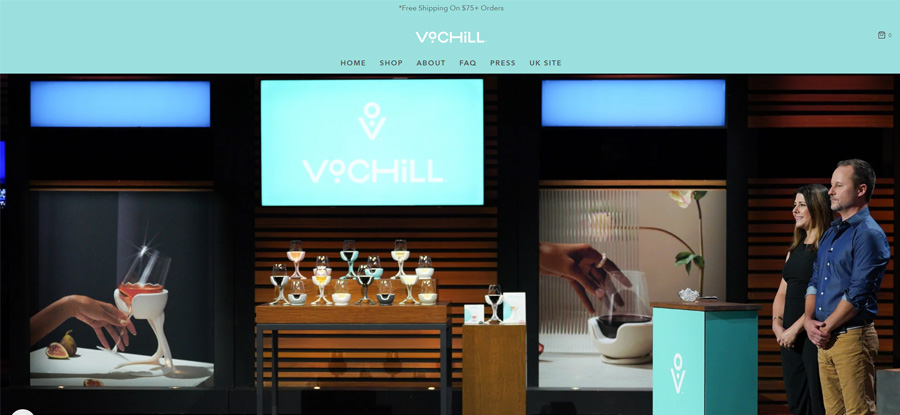 VoChill – Vine Glass Chiller
| | | |
| --- | --- | --- |
| ASKED FOR | GOT | SHARK |
| $300,000 for 5% | NO DEAL | NO SHARK |
Entrepreneurs: Lisa Pawlik and Randall Pawlik
The newest way to keep your wine chilled without giving up your stemmed glass is here. VoChill, the revolutionary new wine accessory, was designed with convenience and style in mind. This ingenious device ensures that your wine stays at its optimal temperature for hours on end.
The VoChill is a revolutionary new device that keeps your wine cool while you enjoy it. The sleek and modern design of the device makes it an ideal addition to any home bar or kitchen countertop. The VoChill is designed specifically for the safe chilling of wine glasses. It works by drawing in ambient air, cooling it to the desired temperature and then circulating it inside the chiller's internal chamber.
This innovative system ensures that all sides of each glass are evenly cooled so that they stay at their optimal temperature for as long as possible. The device also features adjustable settings, allowing users to select their desired chill level depending on their preference or type of wine being served.
Whether you're hosting a dinner party or just relaxing after a long day, the VoChill stem chiller is the perfect solution to ensure that every sip of your favorite vino is as refreshing as it should be. Its innovative design fits securely around any size stemmed glass and features an adjustable stainless steel cooling rod which can be filled with ice or cold water to keep your beverage chilled for up to three hours. Best of all, this clever little gadget takes up minimal space in storage and can easily be transported wherever you go!
---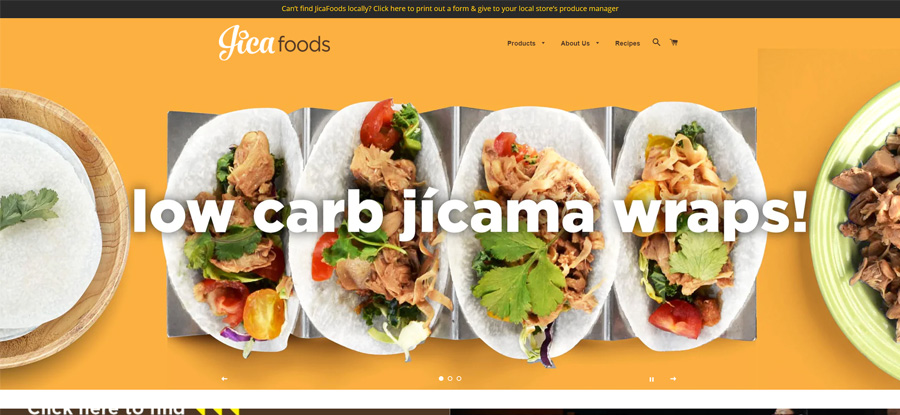 JicaFoods
| | | |
| --- | --- | --- |
| ASKED FOR | GOT | SHARK |
| $300,000 for 3% | $300,000 for 6% equity + 3% advisory shares | Barbara Corcoran |
Entrepreneurs: Xin Wang and Melissa Colella-Wang
Jica Foods was founded in 2015 by Melissa Colella-Wang and Xin Wang. This inspiring couple first tasted Jicama foods during a trip to Mexico and it inspired them to create their own spin on the traditional Mexican dish. Jica Foods is an innovative snack made from jicama vegetables. Native to Mexico, jicama is a round, white root vegetable that looks like a turnip and has a sweet, nutty flavor.
Jica Foods has revolutionized the way people experience the traditional Mexican root vegetable. They have re-imagined the concept of jicama into unique and delicious snacks that make it easy for anyone to enjoy its flavors without having to buy or prepare the raw vegetable.
Jica Foods is revolutionizing the way we eat tacos. Their newest product, JicaWraps, are thin slices of jicama cut into tortilla shapes. These wraps are only 8 calories and contain 2 carbs (1 net carb), making them a healthy alternative to traditional taco shells.
The wraps come from the root vegetable jicama, which is known for its crisp texture and sweet flavor. It's also packed with vitamins C and B6, fiber and potassium – so you can feel good about what's going in your body. Plus, they're vegan friendly!
JicaWraps make it easy to turn any meal into a delicious taco-inspired dish without sacrificing taste or nutrition.
---
Kudos Diapers – Premium Disposable Baby Diapers
| | | |
| --- | --- | --- |
| ASKED FOR | GOT | SHARK |
| $250,000 for 5% | $250,000 for 12% | Gwyneth Paltrow and Mark Cuban |
Entrepreneurs: Amrita Saigal
Kudos Diapers is the number one choice for parents when it comes to finding a premium disposable baby diaper. Kudos Diapers are designed with the comfort and safety of your baby in mind, while also delivering superior absorbency and leak protection. With their unique soft-touch material, Kudos Diapers provide gentle comfort for even the most sensitive skin.
Not only do Kudos Diapers keep babies feeling dry and comfortable, but they also offer superior performance features such as anti-leak guards and wetness indicators that let you know when your baby needs changing. Plus, each diaper is made from materials that are free from chemicals, harsh dyes or fragrances that can irritate a baby's sensitive skin.
Kudos Diapers, a company dedicated to designing a more sustainable approach to disposable diapers, recently came to Shark Tank Season 14 with founder Amrita Saigal. The innovative new product is designed to remove plastic from the traditional diaper design and replace it with a natural cotton-based alternative. According to Saigal, this process reduces the amount of plastic waste in landfills by up to 85%, creating an eco-friendly alternative for parents who want their children's diapers free of harmful chemicals.
In addition to its eco-friendly features, Kudos Diapers also offer numerous health benefits. Without plastics in the material composition, parents can rest assured that their children are not exposed to potential irritants found in traditional diaper designs.
---
More from Shark Tank
Recommended
Watch full episodes of shark tank online with Amazon Video
Summary
Executive producer Mark Burnett and Sony Pictures TV and bring another season of the business-themed reality show Shark Tank where major investors, aka "sharks" pitch business ideas from contestants. The show is based on the Japanese reality show "Dragon's Den."