Shark Tank Season 12 Episode 8 introduces an entrepreneur from Surfside, Florida, pitches a classic dessert with a healthy twist. Two safety-oriented engineers from Littleton, Colorado, share their product designed to boost visibility while navigating the streets. An entrepreneur from Los Angeles pitches a hands-free gadget. Three entrepreneurs from Miami pitch an educational robot.
Season 12 Episode 8 in depth
Guest sharks this season include Blake Mycoskie, founder of TOMS and co-founder of Madefor, and Kendra Scott, founder and CEO of Kendra Scott LLC. Returning guest Sharks include Alex Rodriguez, baseball player and founder and CEO of A-Rod Corp, and Daniel Lubetzky, founder and executive chairman of Kind.
You may also like
Shark Tank Season 8
Big challenges are an accumulation of small challenges.

Anne Wojcicki
We listed below every entrepreneur and business who has appeared on Shark Tank Season 12 Episode 8. Many scammers claim they've received big investments from the Sharks or they have been on the show. They were not actually on Shark Tank if you don't see a business on this list. Some of the top places you can use to check are on Wikipedia and also ABC's episode guide.
List with all the appearances in season 12 episode 8:
---
Shark Tank Air Date: 12/11/20 – Season 12 – Episode 8
Peekaboo – Premium Organic Ice Cream
| | | |
| --- | --- | --- |
| ASKED FOR | GOT | SHARK |
| $800,000 for 8% | NO DEAL | NO SHARK |
Entrepreneurs: Jessica Weiss Levison
Peekaboo is a vegetable Ice Cream made from high-quality, organic ingredients. Jessica Levison presented her product Peekaboo in Season 12 Episode 8 of Shark Tank. This Ice Cream has no artificial flavors or colors, and it is no GMOs.
Peekaboo vegan ice cream is was available in 900 stores across the country prior to the airing of the how and according to Jessica it will be in 3,000 by the end of the year, including Safeway, Whole Foods, Bristol Farms, Kroger, Shop-Rite, Lazy Acres, and Amazon. She generated $450,000 in sales last year, but her projection for the next years is over $5 million in sales.
An interesting fact worth mentioning is that the Peekaboo Organics was awarded the main award in the Real California Milk Snackcelerator dairy snack innovation challenge. Peekaboo is an OU-certified Kosher Dairy.
---
Click & Carry – Bag Carrier Handle
| | | |
| --- | --- | --- |
| ASKED FOR | GOT | SHARK |
| $225,000 for 15% | $225,000 for 40% | Mark Cuban and Barbara Corcoran |
Entrepreneurs: Kim Meckwood
Founder Kim Meckwood with Click & Carry, appeared on Shark Tank Season 12 Episode 8 with her product Click & Carry. You can gather and carry multiple bags at once. Click & Carry's patented design allows for equal weight distribution of bags and other heavy objects with comfortable gel padding to cushion your shoulders and hands. 
Easily clip and carry grocery bags to this grocery bag carrier handle. The rotating top twists to easily load and unload bags, locking them into place while providing a comfortable cushion grip. Kim was able to make a deal with Mark Cuban and Barbara Corcoran for 40% of her business.
In five years since Click & Carry has been on the market, Kim generated $625,000 in sales. Click & Carry is available for purchase from their website, Amazon or QVC, and retail stores such as Kroger, Walmart, and The Container Store.
---
Brake Free – Motorcycle Helmet Brake Light
| | | |
| --- | --- | --- |
| ASKED FOR | GOT | SHARK |
| $200,000 for 10% | $200,000 for 20% | Mark Cuban and Robert Herjavec |
Entrepreneurs: Henry Li and Alex Arkhangelskiy
Brake Free is an ultra-bright smart LED brake light that instantly improves a motorcycle's visibility. Henry Li and Alex Arkhangelskiy are behind this innovative product in Season 12 Episode 8. The Brake Free's sensors work automatically to let others know whenever you slow down–braking, engine braking, or downshifting.
Easily swap between helmets when you buy additional helmet mounts. No need to wire anything to your motorcycle or install any apps! Fully self-contained with sensors and batteries inside, just power it on and ride.
The battery is a high-capacity 18650 rechargeable Lithium Ion cell from Samsung and with the included micro-USB cord takes approximately 2 hours to recharge. Each Brake Free light costs to be manufactured for $42 and is selling for $169.
Brake Free created a successful IndieGoGo campaign where they had raised $240,000. Mark Cuban and Robert Herjavec offered a deal to Henry Li and Alex Arkhangelskiy for 20% of their company.
---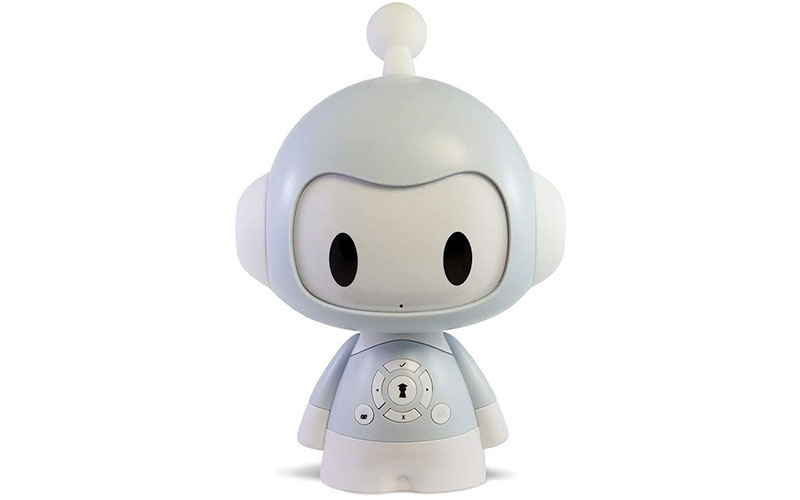 Pillar Learning – Codi AI Smart Educational Robot for Kids
| | | |
| --- | --- | --- |
| ASKED FOR | GOT | SHARK |
| $500,000 for 10% | $500,000 for 25% | Robert Herjavec |
Entrepreneurs: William Mock, Dayu Yang, and Chris Oslebo
In Season 12 Episode 8, William Mock, Dayu Yang, and Chris Oslebo presented their Pillar Learning Codi Robot product Before the show Pillar Learning had sold over 2,500 units of its Pillar Learning features stories and music to help engage kids and their socio-emotional skills. The 8.5-inch robot is perfect for children one year of age or older and helps with children's vocabulary or teaching them simple tasks.
Codi's own voice as well as all its stories are performed by voice actors experienced with children's media. There is a free Codi Parent app available on iOS and Android that you'll be able to send and receive messages with your child, send interactive habits. The founders plan to release a paid version of its app but Codi will never play any ads or unsafe content for your child. All data is stored on our encrypted servers to protect your family's privacy.
Codi interacts using voice and buttons to avoid the potential negative effects of screen time. Listen to Codi or pair stories and songs with other activities. The robot is cloud-enabled and useable offline, while its battery life can last for 8-10 hours of play.
---
More from Shark Tank
Recommended
Watch full episodes of shark tank online with Amazon Video
Summary
Executive producer Mark Burnett and Sony Pictures TV and bring another season of the business-themed reality show Shark Tank where major investors, aka "sharks" pitch business ideas from contestants. The show is based on the Japanese reality show "Dragon's Den."