Shark Tank Season 14 Episode 9 feature a customizable home decor delivery service; a hand-held product made for children; a better way to learn how to play a classic game; a reusable home decor design; an update on Ready Set Foods, a system for preventing food allergies in children.
Season 14 Episode 9 in depth
Guest sharks this season include Emma Grede, CEO and co-founder of Good American and founding partner of Skims; Gwyneth Paltrow, actress and founder of goop; Peter Jones, dragon on Dragons' Den; Daniel Lubetzky, founder and executive chairman of Kind; Kendra Scott, founder and CEO of Kendra Scott LLC; and Tony Xu, CEO and co-founder of DoorDash.
You may also like
Shark Tank Season Episodes
I had 22 jobs before I started my own business at the age of 23, and I didn't want one more boss telling me what to do. So I was motivated simply because I didn't want a boss.

Barbara Corcoran
We listed below every entrepreneur and business who has appeared on Shark Tank Season 14 Episode 9. Many scammers claim they've received big investments from the Sharks or they have been on the show. They were not actually on Shark Tank if you don't see a business on this list. Some of the top places you can use to check are on Wikipedia and also ABC's episode guide.
List with all the appearances in season 14 episode 9:
---
Shark Tank Air Date: 12/09/22 – Season 14 – Episode 9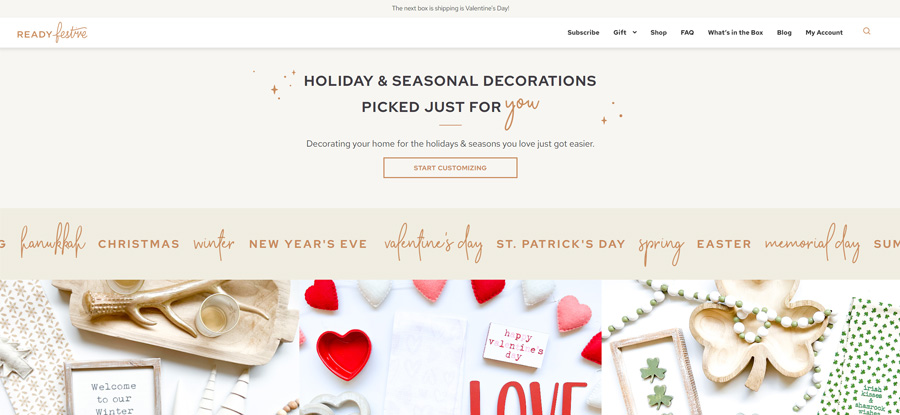 ReadyFestive
| | | |
| --- | --- | --- |
| ASKED FOR | GOT | SHARK |
| $250,000 for 10% | $250,000 for 18% | Robert Herjavec |
Entrepreneurs: Liz Voelker and Kristina Barnes
Decorating for the holidays can be a hassle, but ReadyFestive makes it easy! They provide personalized home decor for all your seasonal needs. From traditional to modern, we've got something for everyone.
Ready Festive appeared on the Shark Tank episode in season 14, and was represented by entrepreneurs Liz Voelker and Kristina Barnes, two San Francisco locals. They were looking to raise $250,000 for 10% shares in their company that made available accessible home decor-centered boxes based on the latest trends.
ReadyFestive is the perfect way to spruce up your home this holiday season! Whether you're looking for a complete festive makeover or just a few touches of seasonal warmth, they've got you covered. With their personalized holiday decor, you can create a look that's uniquely yours – delivered right to your doorstep.
With ReadyFestive, you don't have to worry about finding the perfect decorations. They'll customize their designs just for you, ensuring that your home looks amazing no matter what the season.
---
ZipString
| | | |
| --- | --- | --- |
| ASKED FOR | GOT | SHARK |
| $100,000 for 10% | $100,000 for 20% | Robert Herjavec and Kevin O'Leary |
Entrepreneurs: Austin Hillam and Stephen Fazio
ZipString recharges via micro USB, so you do not have to hassle with batteries, or with reconnecting enclosures to them. Put it on a charger, and it is ready to go. The rope slides gently following the shape of the object it interacts with.
Since ZipString imitates you, you can make endless, varied movements. With ZipString, you can explore unlimited-length strings that have never been thinner. At first, you may not recognize the possibilities with a very long string, but as time passes, you will be amazed to see the amazing things you can achieve with a little bit of string.
Because ZipString pretends to cover your activities, there are numerous possibilities. You'll be amazed what you can do with an extension cord for a short period of time. As your skills improve, you will be able to use longer ropes.
ZipString had launched on Kickstarter where successfully pledged over $90k from over 1600 people. The sharks were also impressed and Austin Hillam and Stephen Fazio were able to make a deal for $100k for 20% of their company with Robert Herjavec and Kevin O'Leary.
---
ChessUp – Chess Game with AI Technology
| | | |
| --- | --- | --- |
| ASKED FOR | GOT | SHARK |
| $300,000 for 5% | $300,000 for 5% equity plus a 3% royalty | Lori Greiner |
Entrepreneurs: Jeff Wigh and Adam Roush
ChessUp is an electronic board for digital chess has a built-in chess engine and machine learning program that enables you to practice in accordance with established guidelines. With ChessUp, playing chess is easier than ever.
Bryght Labs is proud to present ChessUp, their revolutionary electronic chess board. It features a built-in chess engine and instructor, as well as specialized Chess Set TouchSense pieces that respond to your every touch.
With ChessUp, you can play against the built-in engine or go online and challenge your friends with the wireless play feature. Plus, the companion app allows you to access tutorials, tips, and track your progress in the game.
Improve your game and challenge yourself with the advanced and intuitive features of ChessUp. With its sleek design, you can take it with you wherever you go and enjoy a classic game of chess.
Join vast networks of chess players around the globe as every movement of your opponent's lights up in real time on the playing board. The companion application enables you to play with friends and choose the level of assistance for additional competition.
---
Garage Celebrations
| | | |
| --- | --- | --- |
| ASKED FOR | GOT | SHARK |
| $200,000 for 20% | $200,000 for 30% | Mark Cuban |
Entrepreneurs: Bill Webster Sr. and Bill Webster Jr.
Bill Webster Sr. and Bill Webster Jr. recently appeared on Shark Tank to pitch their business Garage Celebrations. The father-son duo from Los Angeles had a unique and exciting idea for a fun and original way to celebrate special occasions that turned into a business in 2021.
The Websters presented their concept to the Sharks with enthusiasm and passion, and the Sharks were impressed with their presentation and idea. They were especially taken with the Websters' commitment to providing a one-stop shop for creating the perfect garage celebration.
The Websters received several offers from the Sharks, and after some negotiation they ultimately accepted Mark Cuban's offer of a $200,000 investment in exchange for 30% equity in the business.
Since their appearance on Shark Tank, Garage Celebrations has continued to grow and thrive. The Websters have also been able to expand their offering. Bill Webster Sr. and Bill Webster Jr. have truly achieved success with their business, and Shark Tank provided them with the opportunity to take it to the next level. With their innovative idea, commitment to excellence, and Mark Cuban's investment, Garage Celebrations is now a household name in the party planning industry.
---
More from Shark Tank
Recommended
Watch full episodes of shark tank online with Amazon Video
Summary
Executive producer Mark Burnett and Sony Pictures TV and bring another season of the business-themed reality show Shark Tank where major investors, aka "sharks" pitch business ideas from contestants. The show is based on the Japanese reality show "Dragon's Den."